St Benedict's Music Festival 2019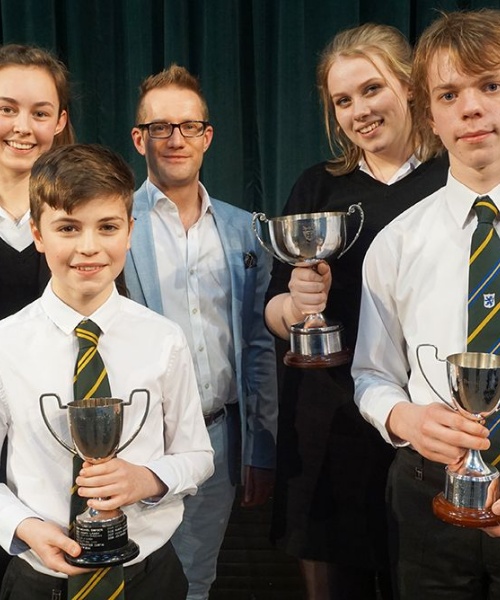 The St Benedict's Music Festival concluded with the Finalists' Concert on Friday 15th March in the Orchard Hall, with excellent performances from the winners of each heat.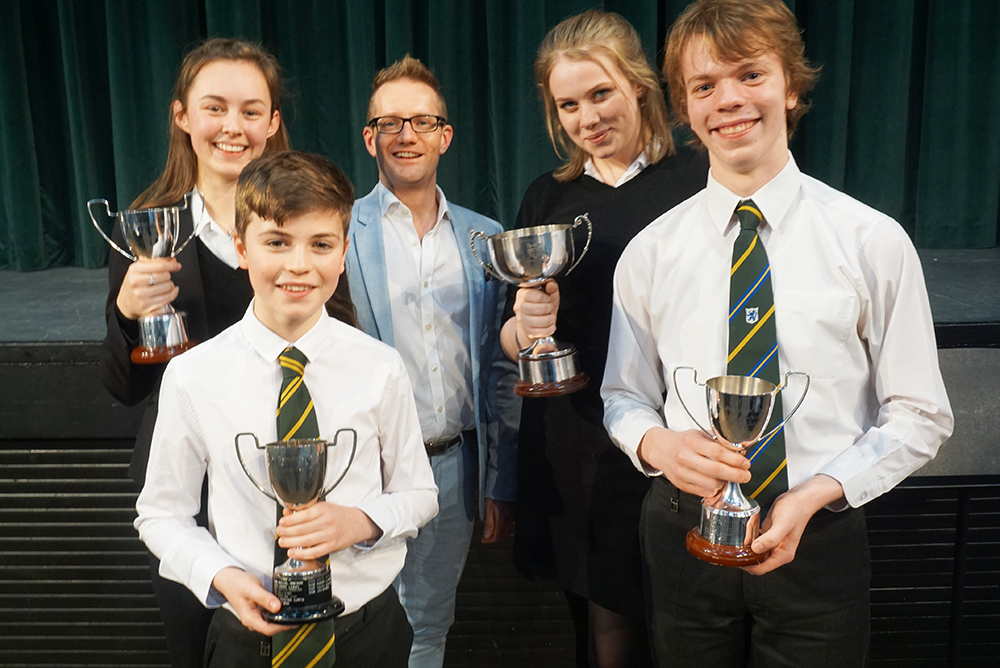 The Festival had been running throughout the week, with over 260 solo and group entries adjudicated by tenor and composer Philip O'Meara.
This year's Finalists' Concert adjudicator was the tenor, choral animateur and vocal coach Charles MacDougall.
A range of extremely impressive performances presented Mr MacDougall with a formidable task. He congratulated each and every musician as he announced the winners, giving valuable feedback and noting all the elements of a good musical performance, such as communication with the audience, tone, phrasing and how to convey the character and mood of the music.
Music Festival 2019 Results from the Final
Flohouse Cup Katie Gibson (Voice)
Senior Section Cup (Sixth Form)
1 Valentina Elner-Kupcha (Clarinet)
2 Jack Edis (Piano)
3 Conor Moon (Guitar)
Intermediate Section Cup (Years 10 and 11)
1 Duncan Ashby (Marimba)
2 Finley Carty-Howe (Voice)
3 Murdo Duguid (Guitar)
Junior Section Cup (Years 7 to 9)
1 Henry Rust (Clarinet)
2 Grace Rodericks (Voice)
3 Helena Ramsden (Violin)
Concert Programme
Junior Voice
Grace Rodericks Memory Andrew Lloyd Webber
Junior Percussion
Ayodenu Dosumu (Marimba) Arrival of the Queen of Sheba G F Handel
Junior Strings
Helena Ramsden (Violin) Surprising Variations on a theme J Haydn/Blackwell
Junior Woodwind
Henry Rust (Clarinet) In Rhythm Alec Templeton
Junior Guitar
Harry Manners Etude No.6 Leo Brouwer
Junior Brass
Luke Hearth (Trombone) Send in the Clowns from A Little Night Music Stephen Sondheim
Junior Piano
Saho Matsushita Deux Arabesques Claude Debussy
Intermediate Piano
Duncan Ashby Doctor Gradus ad Parnassum Claude Debussy
Intermediate Brass
Finley Carty-Howe (Trumpet) It Don't Mean a Thing Duke Ellington
Intermediate Guitar
Murdo Duguid Una limosnita por Amor de Dios Agustin Barrios Mangore
Intermediate Woodwind
Lucas Holmes (Oboe) Gabriel's Oboe from The Mission Ennio Morricone
Intermediate Strings
Henry Saunders (Violin) Introduction and Polonaise Carl Bohm
Intermediate Percussion
Duncan Ashby (Marimba) La muerte de Angel Astor Piazzolla
Intermediate Voice
Finley Carty-Howe Empty Chairs at Empty Tables Boublil & Schonberg
Senior Strings
Bettina Dow (Harp) Shule Aroon Robertson
Senior Brass
Benedict King (Trumpet) Concerto in Eb, 3rd Movement Joseph Haydn
Senior Voice
Katie Gibson Art is calling for me Victor Herbert
Senior Guitar
Conor Moon There's only so much oil in the ground Tower of Power
Senior Piano
Jack Edis Rhapsody in G Minor Johannes Brahms
Senior Woodwind
Valentina Elner- Kupcha (Clarinet) Concerto in A, 2nd Movement Wolfgang A Mozart
Senior Percussion
Jack Leonard (Drum kit) Silly Putty Stanley Clarke
Benedict King (Xylophone) Xylophonia Green, arr. Noguchi
St Benedict's School forthcoming events
Sunday 31 March 7.30pm
Mozart Concert
St John's Smith Square
Tickets available from the St John's Smith Square Box Office
https://www.sjss.org.uk/events/mozart-celebration
Wednesday 3 April 11.05am
Junior School Lenten Reflection
Abbey Church
Friday 3 May 7.15pm
Senior School Summer Concert
Orchard Hall
Friday 14 June 7.15pm
Middle School Concert
Orchard Hall
Tuesday 9 July to Saturday 13 July
Senior School Music Tour
Sorrento, Italy