Lord Duncan of Springbank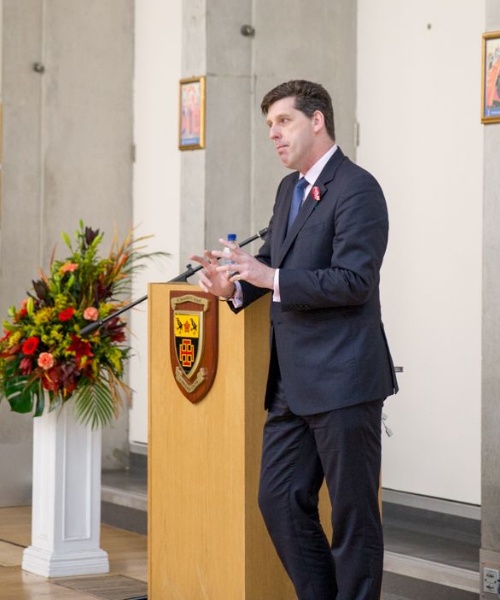 Lord Duncan of Springbank, UK Government Minister for Scotland and Northern Ireland, gave a talk to the Sixth Form at St Benedict's on October 31st.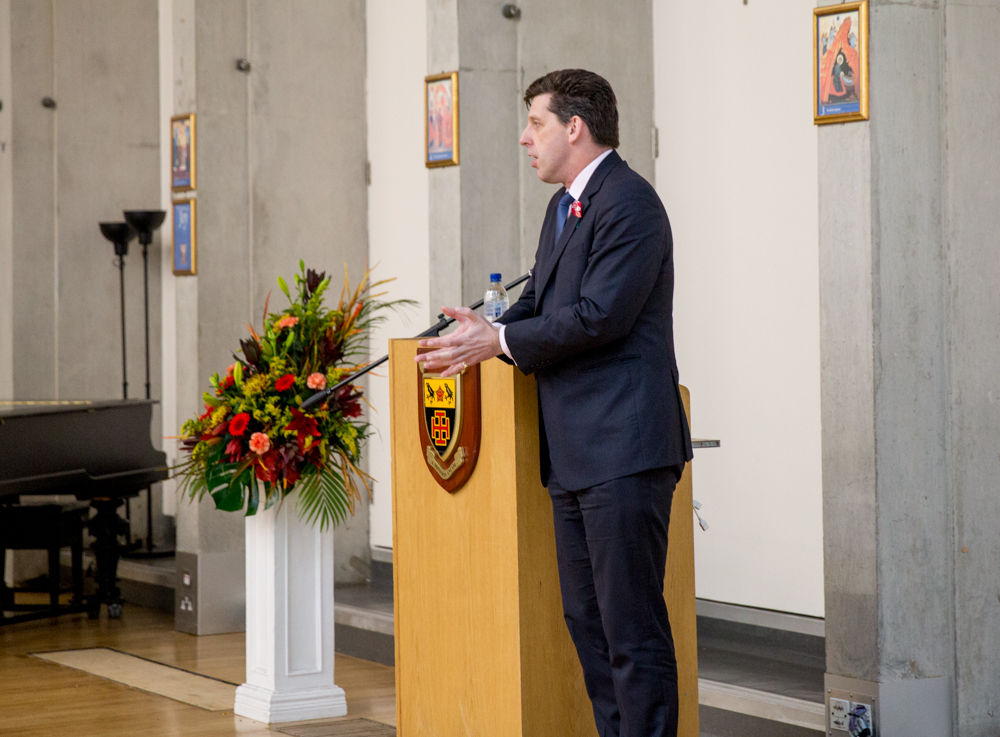 Lord Duncan began by outlining his career, which he described as "a series of accidents" – from geology student at St Andrew's University to work in the Scottish Fisheries, the Scottish Refugee Council, and as an MEP. He was selected by the Scottish Conservatives as their candidate for Perth and North Perthshire for the UK General Election in 2017, but narrowly lost to the SNP incumbent by a cruel 21 votes.
Speaking with refreshing clarity, humour and lightness of touch, Lord Duncan covered a great deal of ground, from his work as an MEP, and an insight into the workings of the EU, to climate change, the work of the House of Lords and, inevitably, Brexit (having declared himself "a reluctant Remainer", hopeful of reform from within.)
Debating at St Andrew's had led him towards politics; it was, he said, "one of the most useful things you will ever learn to do, allowing you to discover where you sit on the bigger issues", with its demands of forensic analysis and critical thought. Lord Duncan told his Sixth Form audience that it was "important to be passionate about issues, and to get involved in politics".
Many questions followed the talk, reflecting students' concern about Brexit and its implications for their future: Will it lead to the break-up of the UK? (No: "the Scottish are conservative by nature and generally dislike huge change"; in his view, it would also lead to "austerity on stilts".) Will Brexit weaken environmental protection? (No: the EU utters fine words about the environment but doesn't always follow through with effective action; it was the United States Environmental Protection Agency which had revealed Volkswagon's emissions scandal, he said.)
Stating that the UK is the 5th largest economy in the world ("powered by migration"), his view of Brexit was cautiously optimistic; difficulties in the early stages would eventually be resolved, he believed.
What about climate change? His response to this one probably took the students by surprise, as he turned the question around: "What are you doing about it?" The consequences of our carbon use is massive, he said, giving the all-year-round availability of strawberries, flown in from all over the world, as just one example. "There are lots of challenges, some of which rest with government, and some with you."
Finally, in answer to a question about the House of Lords, he outlined an average day: prayers at 11.30am open proceedings, which tend to intensify at 5pm, and frequently last into the early hours. No wonder peers steal the odd nap in their library.