St Benedict's Cadet nominated for UK-Baltic States exchange selection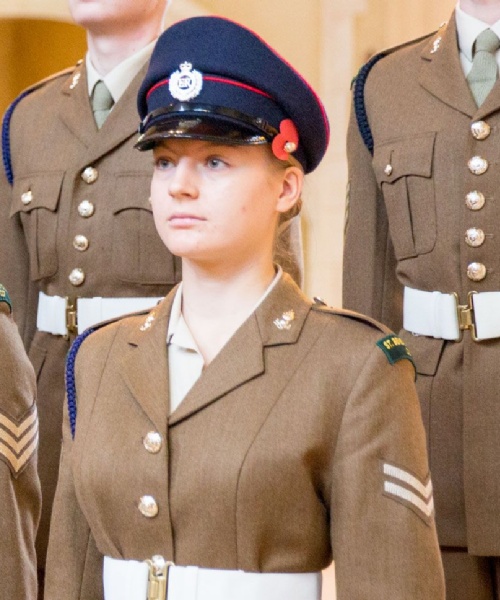 St Benedict's Cadet, Sgt Emilia McFadzean, has been called to attend a selection training weekend for Ex BALTIC GUARD in Lithuania. She is one of four cadets nominated from London District, and one of 46 cadets nominated nationally.
St Benedict's Cadet, Sgt Emilia McFadzean, has been called to attend a selection training weekend in April for Ex BALTIC GUARD in Lithuania. This is a great mark of distinction for her and the Contingent as a whole, since London District were only allowed to nominate four cadets for this exchange, and in total only 46 cadets have been nominated nationally. The best 30 will travel to Lithuania in July; we are confident that Emilia will be one of them.
Background
The Baltic Guard is an annual cadet exchange with cadets from Latvia, Lithuania, and Estonia, run by the UK. The exchange was established in 2016 and is the Army Cadets' main contribution to International Defence Engagement between the UK and the Baltic States.
Each year 30 UK Army Cadets are invited to travel to the Baltic States over the summer. This year Ex BALTIC GUARD will take place from 22-26 July at Camp Kaunas in Lithuania, where the UK cadets will attend a one week camp during which they are fully integrated with the Baltic Guard cadets. The camp language is English.
Ex BALTIC GUARD provides an outstanding opportunity for cadets to experience a range of challenging activities in a foreign environment. Only high calibre cadets are selected who will make the most of the opportunity and who will be positive ambassadors for the UK's Cadet Forces.
From 12-14 April 2019 Emilia will attend the national selection weekend at Altcar Training Camp on Merseyside, having just returned from her Gold DofE practice expedition! The selection weekend will test cadets with activities designed to identify those best suited to deploy on Ex BALTIC GUARD, such as command tasks, close-quarters battle paintballing, casualty evacuation scenarios, and fitness tests.
Mr Shaun Hullis, Contingent Commander of the CCF, said: "All things being equal, Emilia has a two-thirds chance of being selected for the exchange; we are confident that this outstanding cadet will be selected."
If selected, Emilia will attend deployment briefing and final administration in London on Saturday 20 July before flying to Lithuania on Sunday 21 July. She will return from the exchange on Saturday 27 July.