St Benedict's Lecture Series: Developing COVID-19 treatments
We welcomed Professor Anthony Gordon from Imperial College London to St Benedict's on Tuesday 11th October, to talk about the UK's rapid, focused and successful research into COVID-19 treatments from the start of the global pandemic.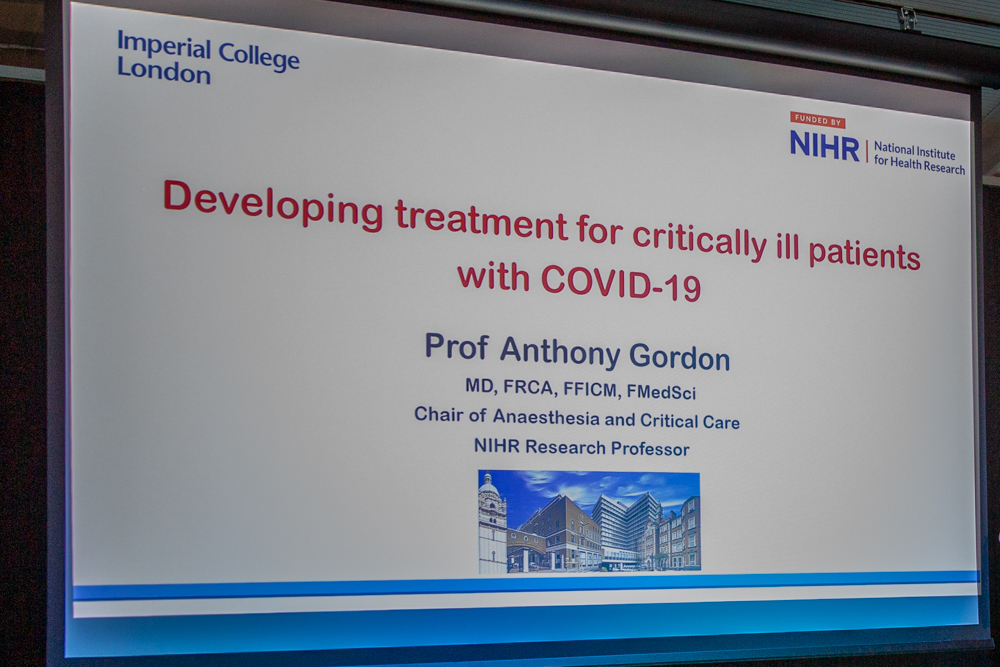 Professor Gordon, a National Institute for Health and Care Research (NIHR) professor, outlined the delivery of a range of research into potential COVID-19 treatments from the start of the pandemic - prioritised studies which placed the UK at the forefront of global efforts to establish effective treatments against the disease.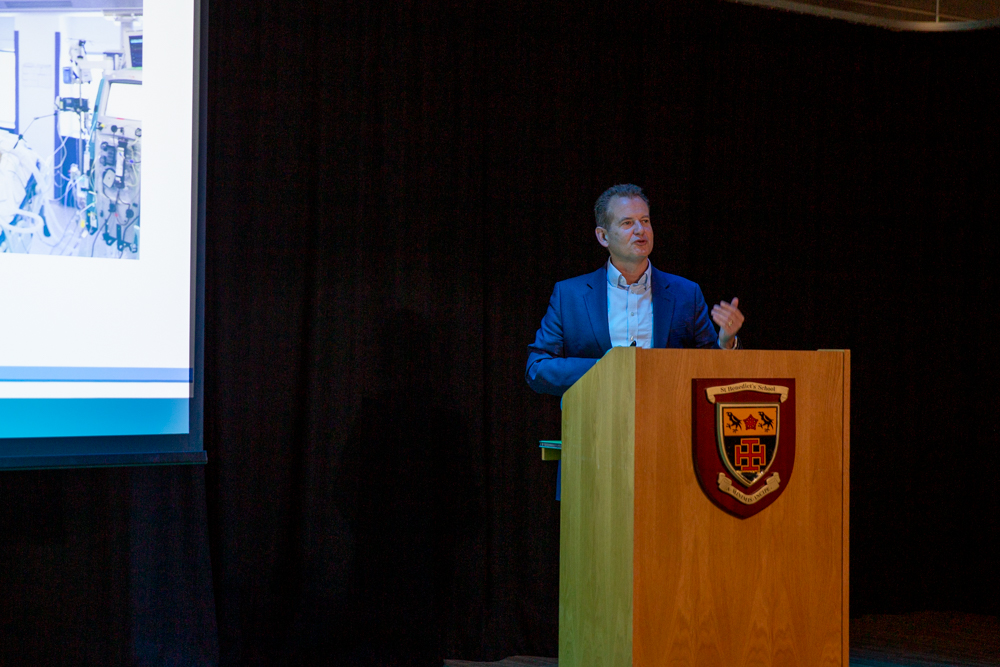 Within months of the first, urgent public health studies, UK researchers had published evidence to establish the world's first proven treatments for patients with COVID-19.
Professor Gordon described the wide range of studies which took place at hospitals across the UK, the sheer pace and scale of which had never been seen before.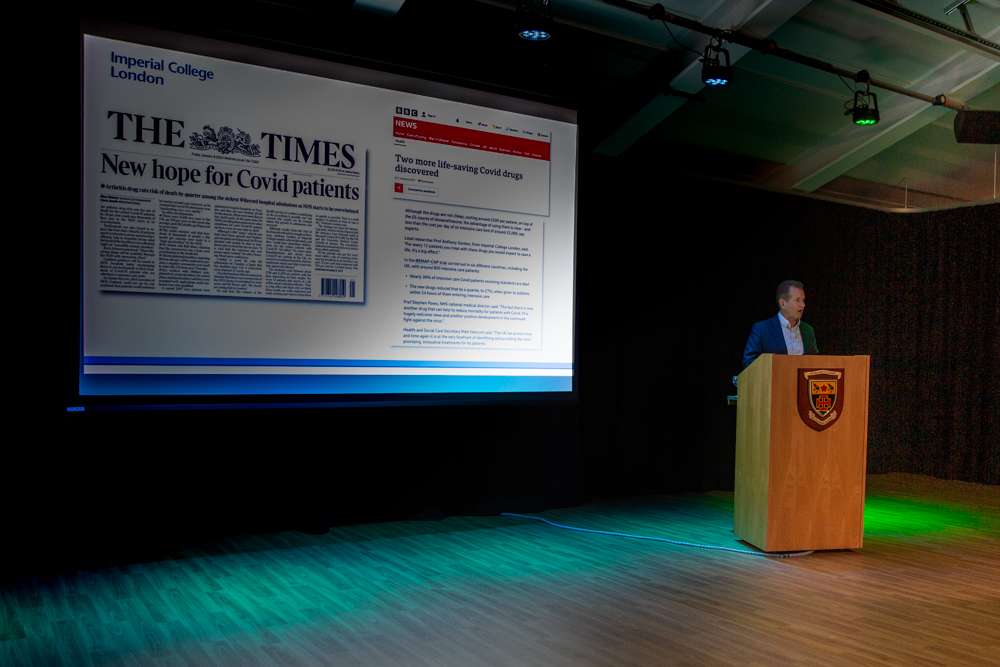 The audience of students (A Level scientists and aspiring medics amongst them) teachers and parents learnt about REMAP-CAP - Randomised, Embedded, Multi-factorial, Adaptive Platform Trial for Community-Acquired Pneumonia. This trial showed that a seven-day course of hydrocortisone led to improved survival rates and reduced the need for intensive care support for seriously ill patients with COVID-19.
As a result, dexamethasone and hydrocortisone are now used as treatments for hospitalised COVID-19 patients, not only by the NHS, but also many other countries across the world.
REMAP-CAP also showed that two existing anti-inflammatory drugs commonly used to treat arthritis; tocilizumab and sarilumab, can cut deaths by a quarter amongst the most seriously ill COVID-19 patients, reducing the average length of hospital stay and speeding up recovery time.

Zach Kahn (Lower Sixth) reviews the talk:
Innovative professor fascinates staff and students alike!
The Tuesday lecture had all who attended captivated, as Professor Anthony Gordon delivered a compelling and fascinating talk on his research work during Covid times.
Professor Gordon began by discussing his work, providing us with an engrossing picture of an intensive care unit, to enable us to visualise the core concepts of critical care. This was a truly awe-inspiring introduction to the complicated nature of his work as an NIHR research professor and Chair of Anaesthesia and Critical Care at Imperial College London.
Professor Gordon's career pre-Covid focused on helping, and looking after patients, and research. Both exciting and innovative, his research is conducted through use of clinical trials, known as REMAP-CAP (Randomised, Embedded, Multi-factorial, Adaptive Platform Trial for Community-Acquired Pneumonia). Going into detail about the trials, he explained how drugs were developed and tested to treat the COVID-19 virus. Certainly admirable, considering the extent of damage COVID-19 caused, illustrated by the CT Scans we were shown, of those in critical care suffering from the virus- a frightful sight indeed!
There followed a discussion on methods of statistics and data analysis used. Professor Gordon also talked about Artificial Intelligence (appealing to Physics students) as a focused way to treat patients, and store their monitored data in a safe and reliable way. Through the use of AI, Professor Gordon explained, doctors are now able to collectively use their experience and treat patients in a precise, and personalised fashion.
We at St Benedict's thank Professor Gordon for his fascinating and insightful talk. His achievements are particularly commendable, through the work he has done in developing drugs that have saved many patients suffering from COVID-19 and the subsequent impact of his team's discoveries worldwide as recognised by WHO.
Thank you, Professor; your lecture was beneficial and compelling. We hope to have you back at St Benedict's again!
Zach Khan, Lower Sixth