St Benedict's CCF team wins Royal Engineers competition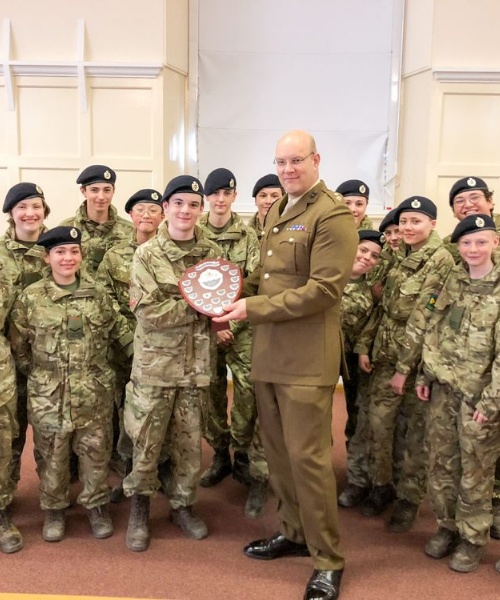 St Benedict's School CCF were invited to send a team of cadets to the Cadet Open Day at Brompton Barracks, Chatham. After a range of activities, including an assault boat time trial and bulldozer driving, the St Benedict's team won the competition.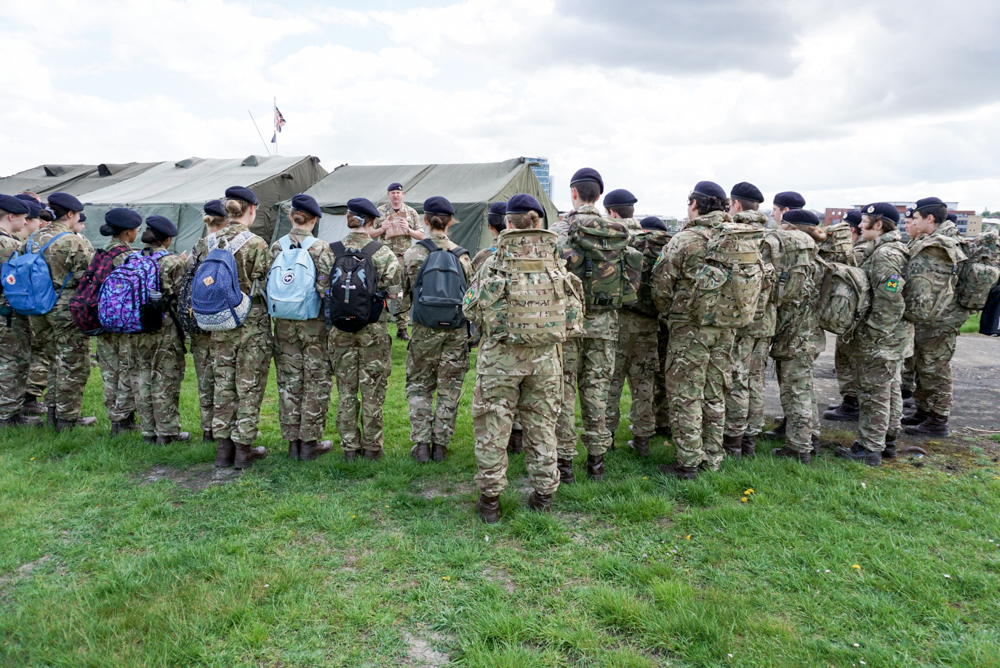 The event was run by the Royal School of Military Engineering Regiment as part of its local community engagement programme. While St Benedict's is not exactly local to Chatham, we are one of the few Royal Engineers-badged cadet units in the region. Eleven schools and one ACF unit also took part.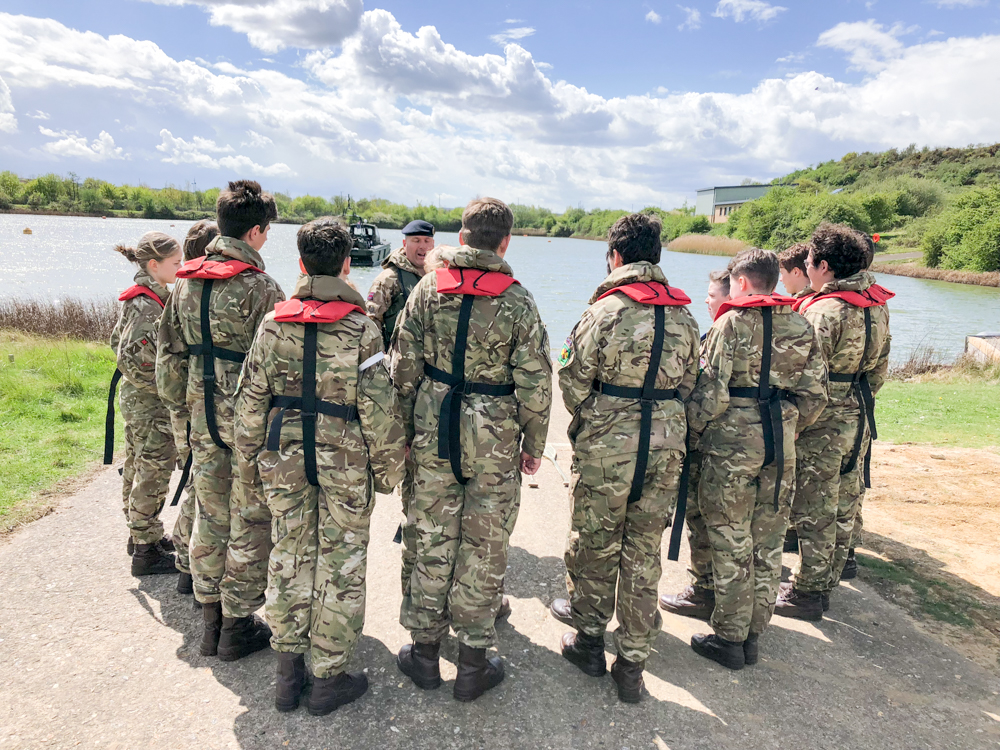 This is the first year St Benedict's has taken part. Our team comprised of sixteen cadets from Lower 5th (Year 10): eleven from St Benedict's and five from Cardinal Wiseman.The cadets assembled at 0600 hrs on Wednesday, April 25th. Once at Chatham, activities ran from 0900 hrs and they had to hit the ground running!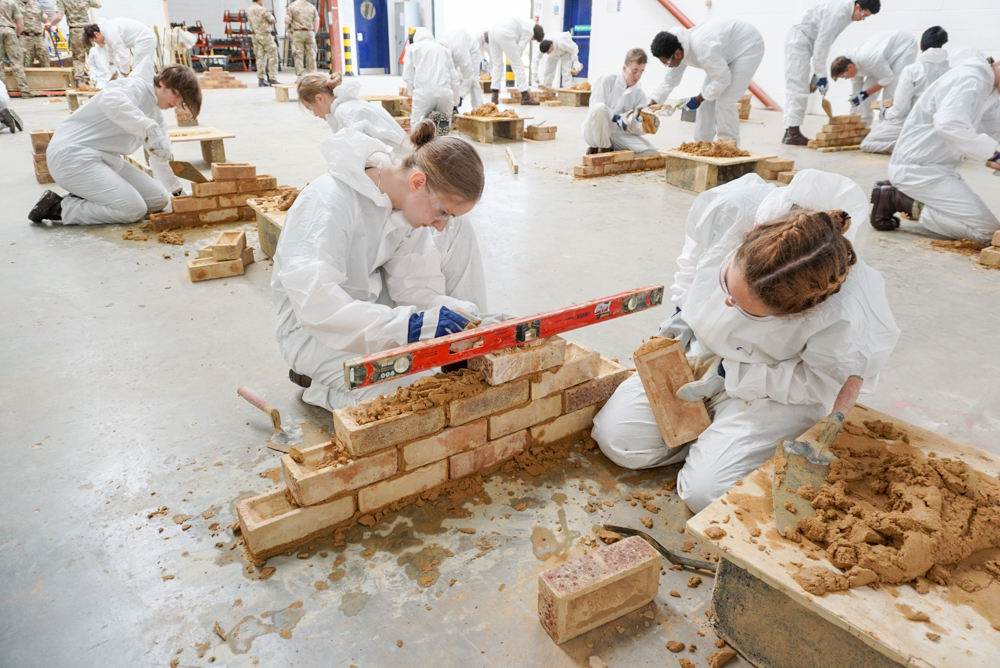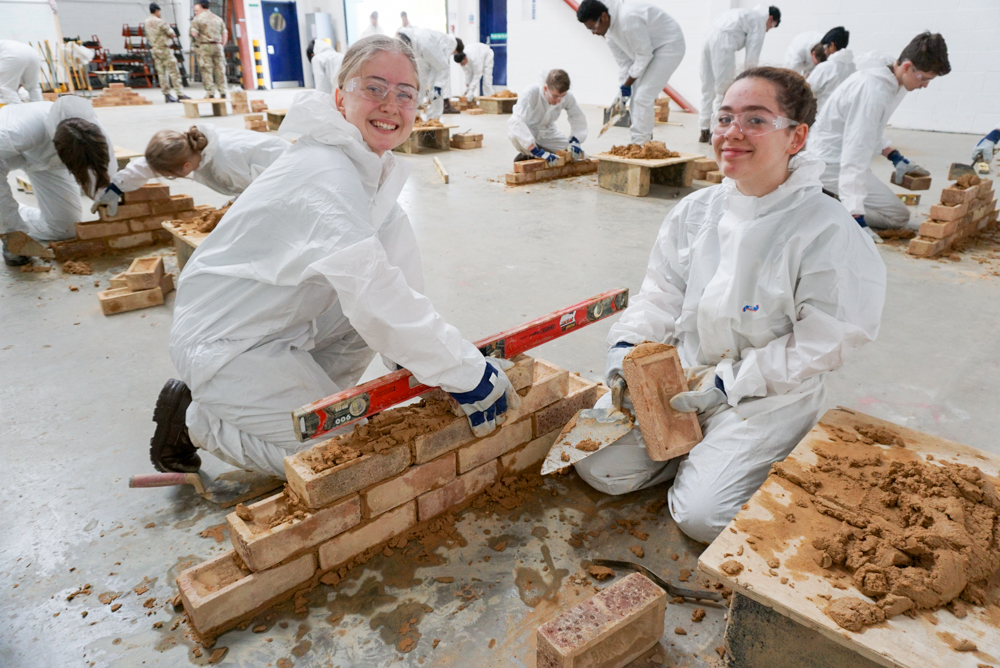 We began with a brick-laying competition, and the St Benedict's cadets came first and second out of sixteen pairs of cadets in our round. (First: L/Cpls Green and Tompkins; second: L/Cpls Cuss and O'Sullivan.)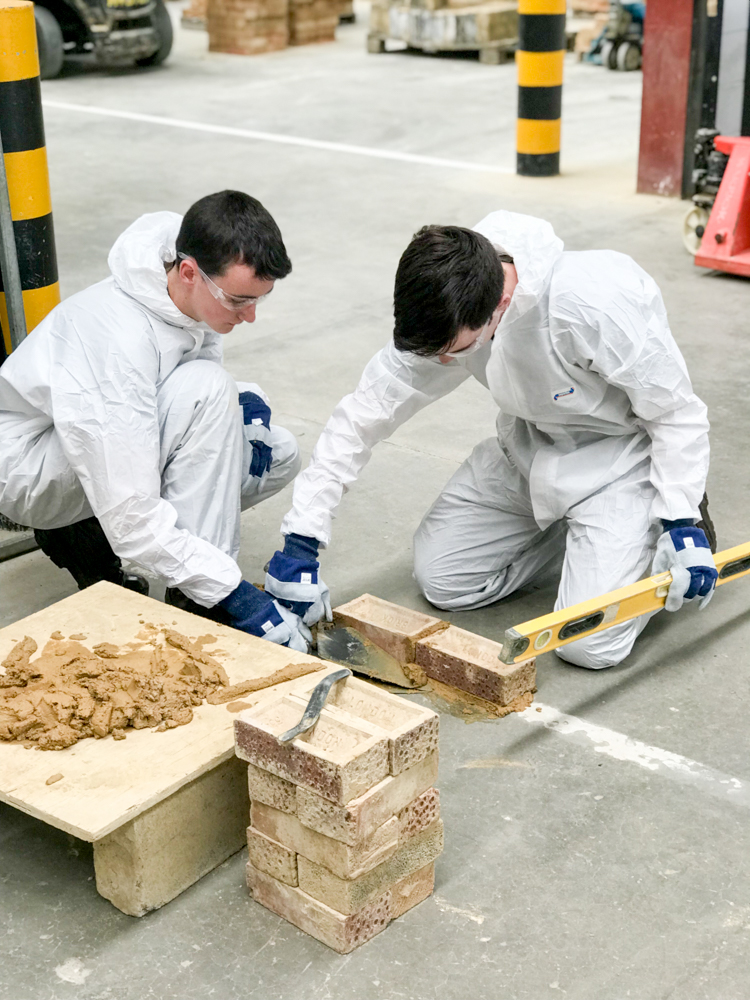 Today was an incredible experience. As we were travelling to Chatham, we were all extremely tired and not entirely sure what the competition would entail, but once we reached the site, we began brick-laying. I learned that being able to complete a task quickly and well, with as much efficiency as possible, is vital, and with that, my partner Harry Tompkins and I won the contest. (L/Cpl Emily Green)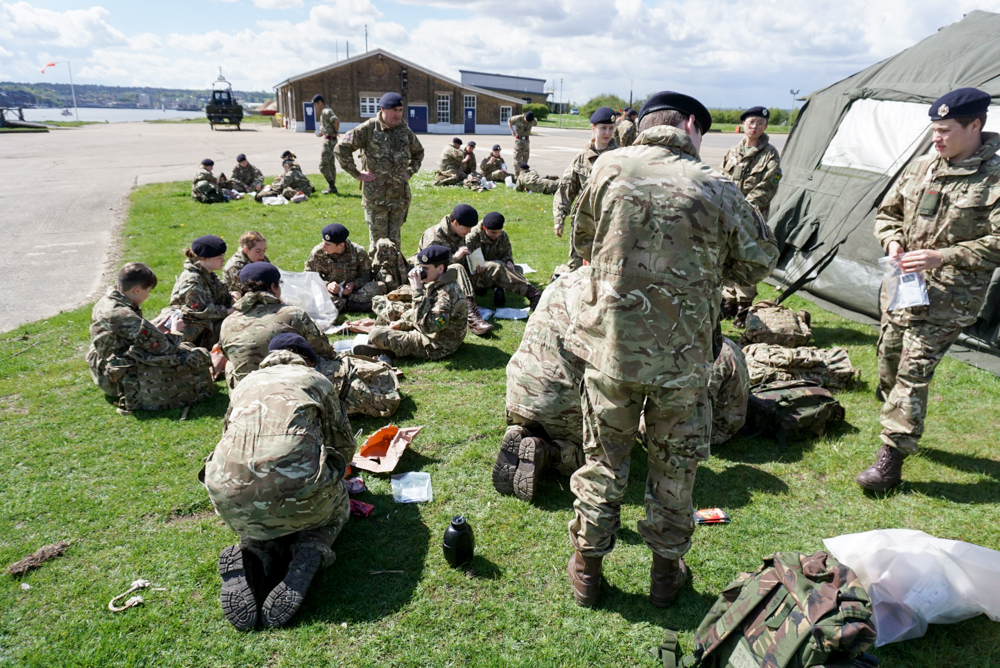 After a tour of the construction, joinery and electrical trades training facilities, we moved site from Brompton Barracks to Upnor Hard. There our cadets had a break for lunch in the form of a quick lesson on the 12-hour ration pack followed by cooking and eating one on the grass beside the Medway. The weather closed in as we moved to the Sea Survival stand, and as the rain began eight cadets at a time boarded a life-raft and floated around getting (in some cases) very wet. Cadets then had the chance to learn about the various types of boat used by the Royal Engineers, from two-man Recce Boats to eight-man Rigid Raiders and Combat Support Boats. Luckily the sun had come out again.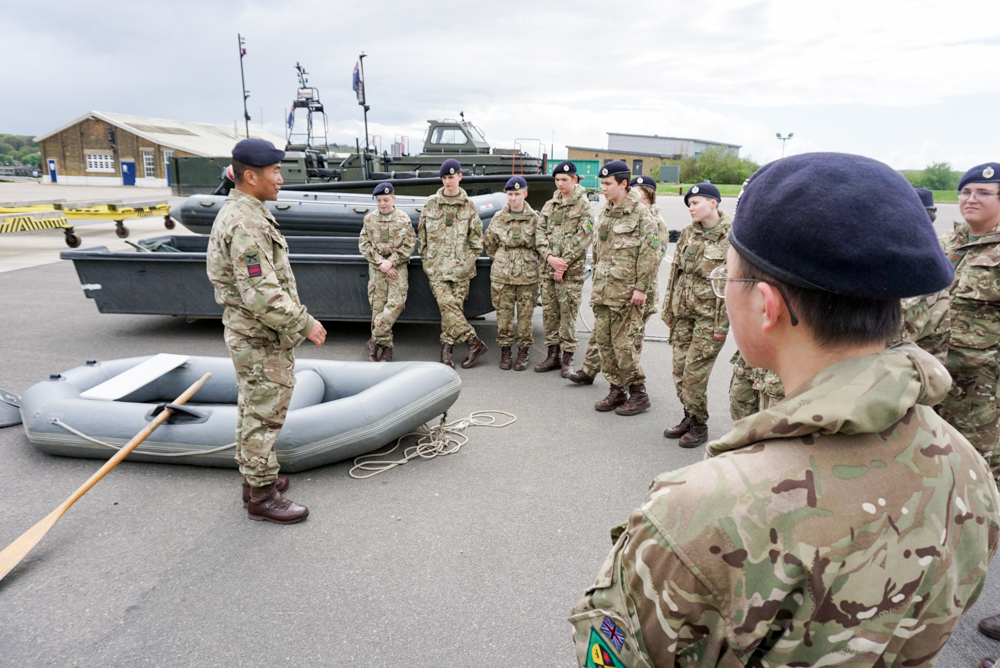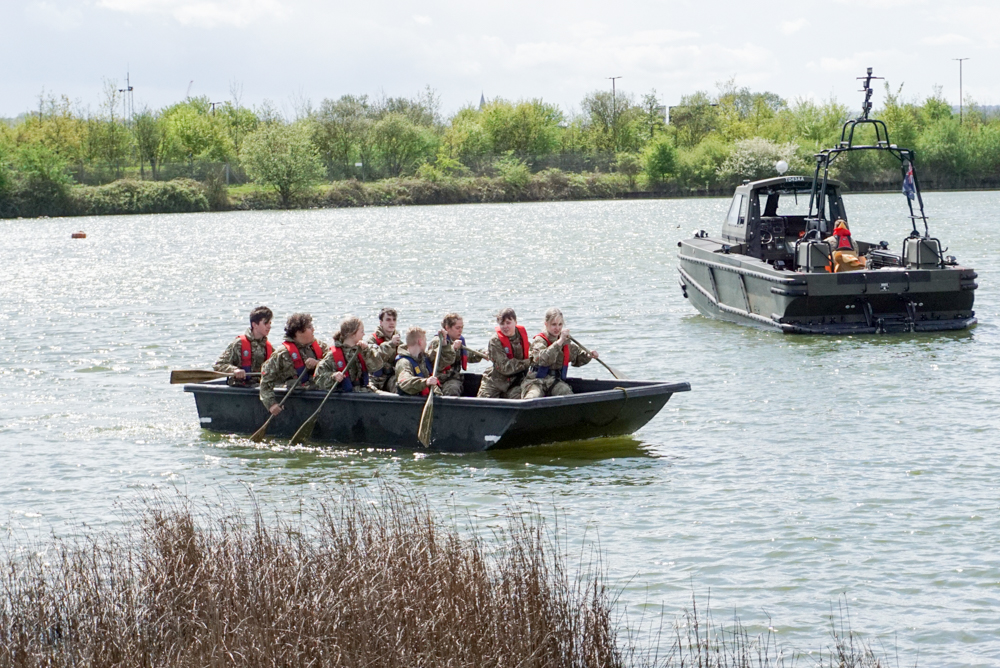 Then came the chance to use an Assault Boat in a time trial, which was a combination of paddling and a command task: the old riddle of the chicken, the fox, and the bags of grain - represented by a Sapper in a chicken costume, a Sapper with paint on his face, and two sandbags. L/Cpl Green knew the answer and took control:
Personally, I think the timed boating competition was the best exercise, as everybody participated and worked together as a team to succeed. We had a great time!
(L/Cpl Emily Green)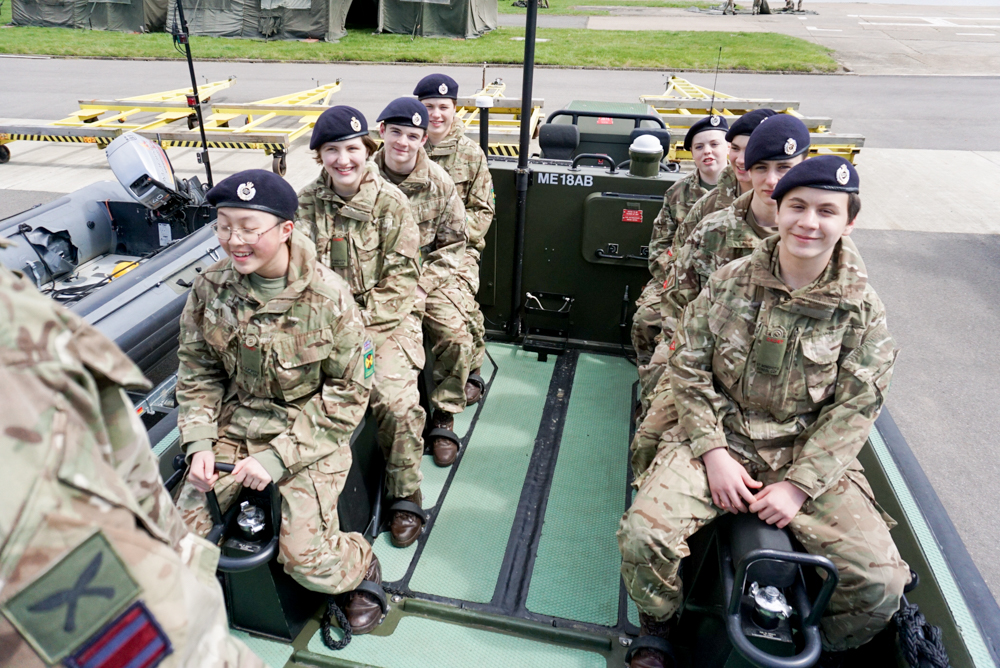 With a time of just over seven minutes, our team had the second-best performance of the day, only thirteen seconds behind the winners.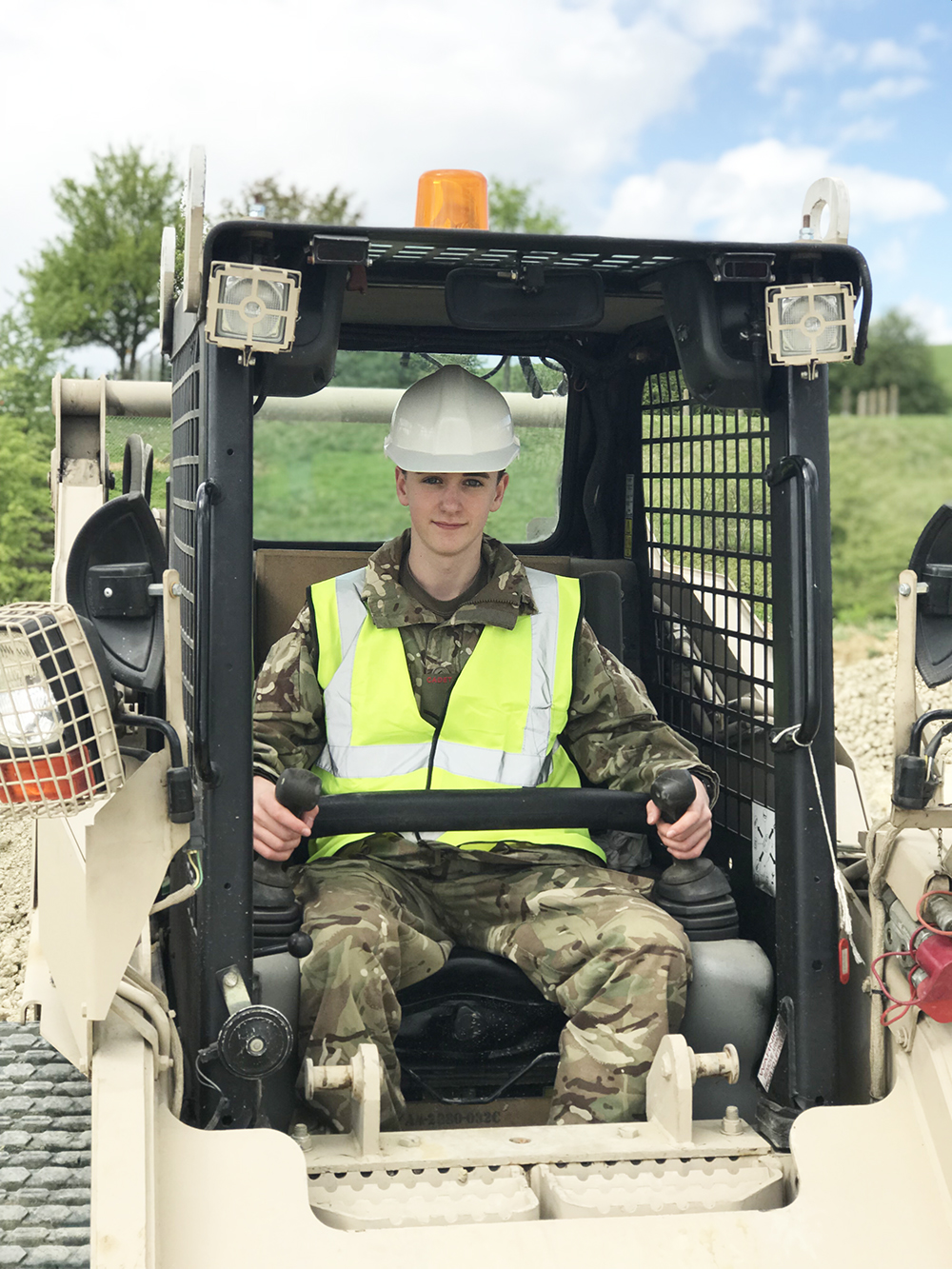 We drove on to Wainscott where trainee sappers learn to use diggers and bulldozers, some of them armoured, and one bulldozer capable of 32 m.p.h. Cadets had the chance to clamber over them, meet trainees, use a digger, and then compete for the fastest time using a claw-grab to stack tyres.
The best part of today was the JCB activity. I really enjoyed seeing the inside of all the vehicles, and moving the tyres with the claw arm. (L/Cpl James Cuss)
L/Cpl Cuss was our fastest, with L/Cpl Tompkins close behind: Tompkins was judged to have been the most skilful cadet whom the instructor had seen all day.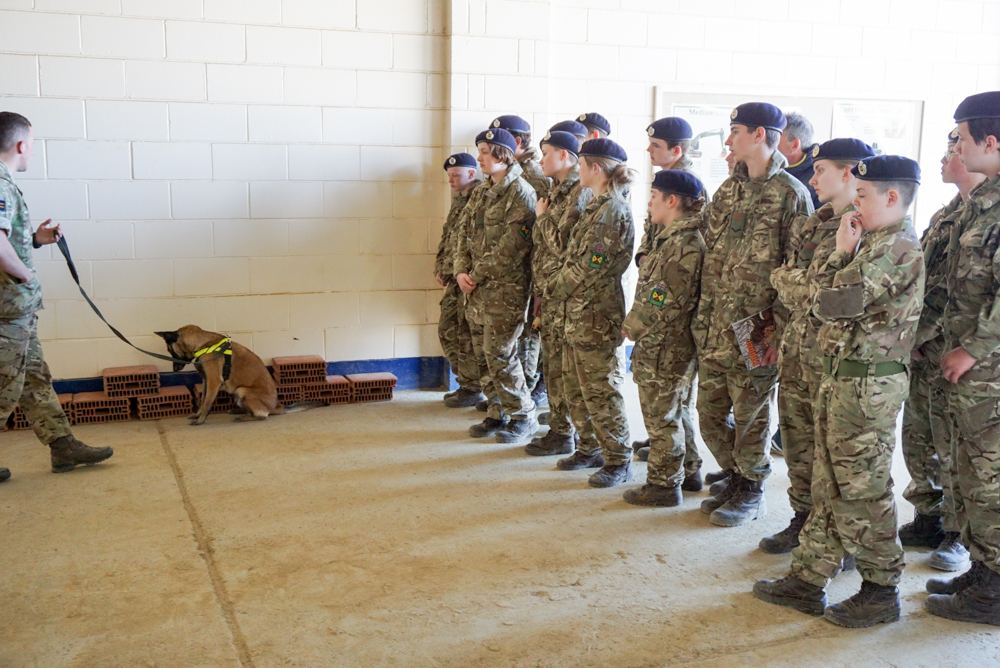 From there we proceeded to a series of stands: the first - officer careers in the Royal Engineers - was followed by search dogs:
I really enjoyed meeting the search dogs. I was thrilled when I got to play with one and search a wall. (Cadet Amy Vaughan)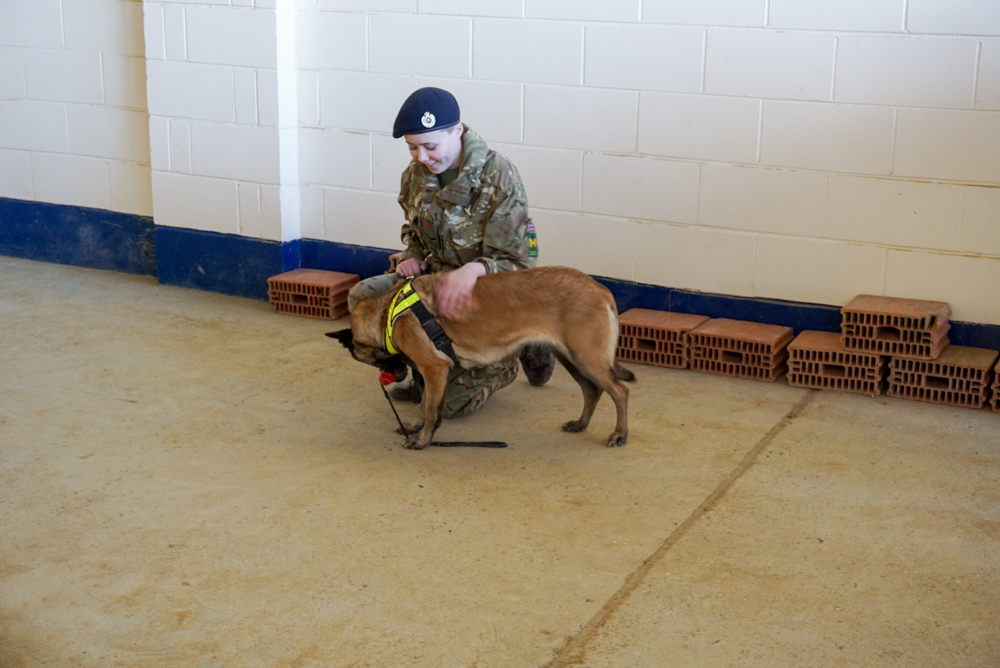 The next stand was led by a Royal Navy diver and an RE expert in Explosive Ordnance Disposal. A selection of bombs, mines, and other ordnance (most of it Soviet in origin) added realism:
The most unique experience of the day was definitely the EOD talks. I had the chance to try on a bomb protection suit, which was something I have always been curious about. (L/Cpl Marta Mucko)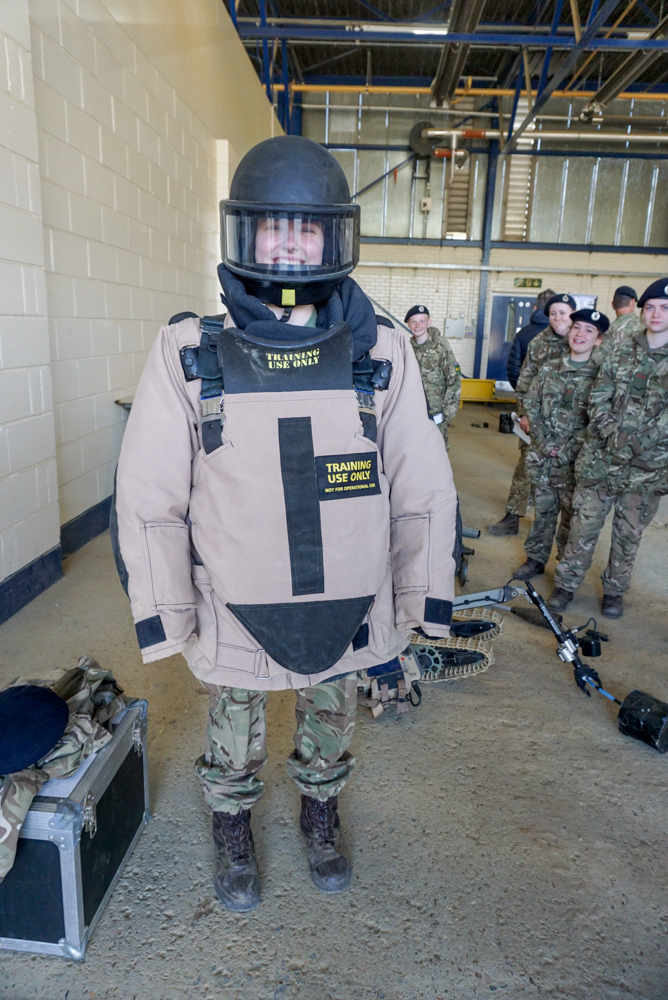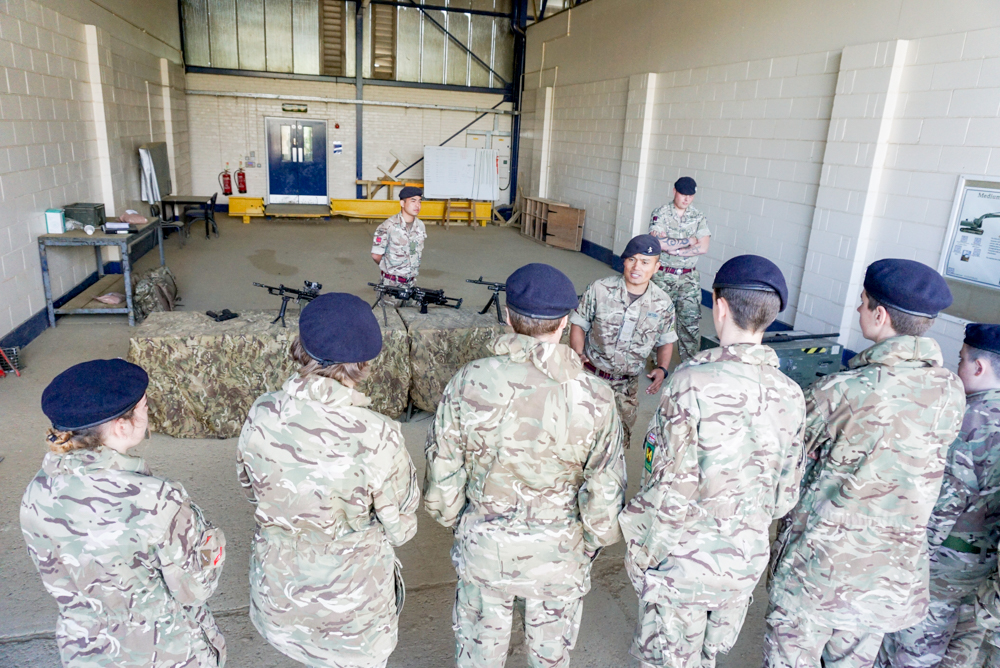 The last stand was a weapons display with a "50-cal", GPMG, Minimi, SA80, and a Glock 17. We rushed back for the prize-giving ceremony, and to our delight discovered that we had won, receiving the shield from the commanding officer of 1RSME. However, our cadets are mature enough to know what the day was really about:
Today was an amazing day of learning and spending quality time with my CCF peers. A great highlight was that we had a chance to spend a day representing St Benedict's CCF and learn many things we wouldn't learn on a daily basis. (L/Cpl Marta Mucko)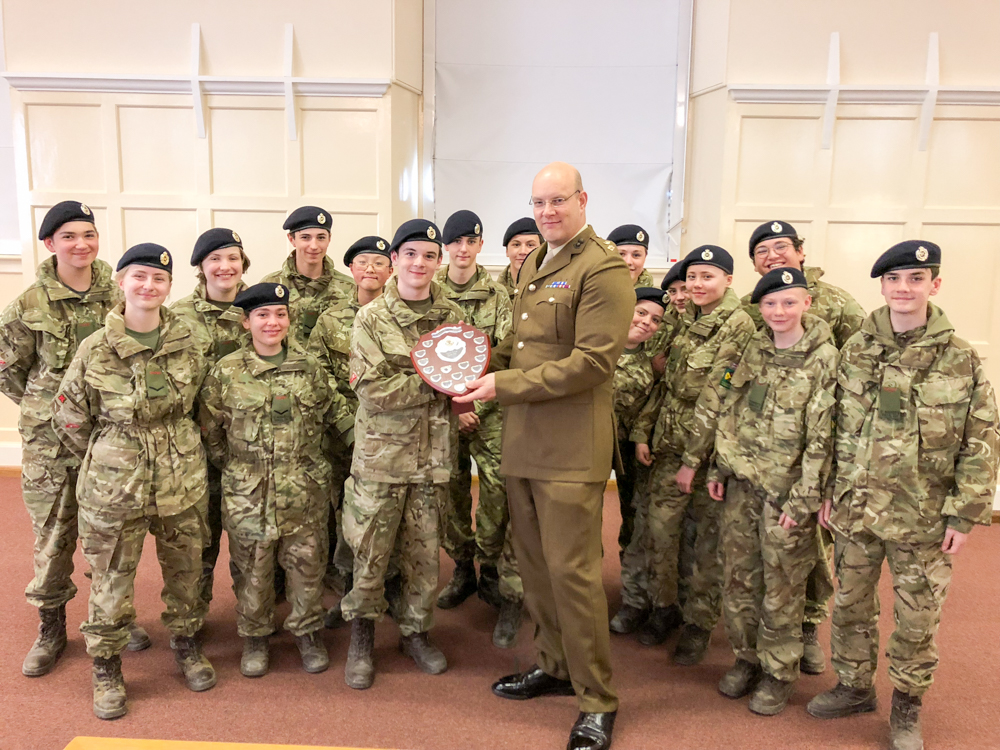 As always, I loved spending time with my friends from CCF, and our mutual respect and friendship are what I believe helped us to win the competition.
(L/Cpl Emily Green)
Mr H. Sadiq – CCF SSI