Duke of Edinburgh's Award Ceremony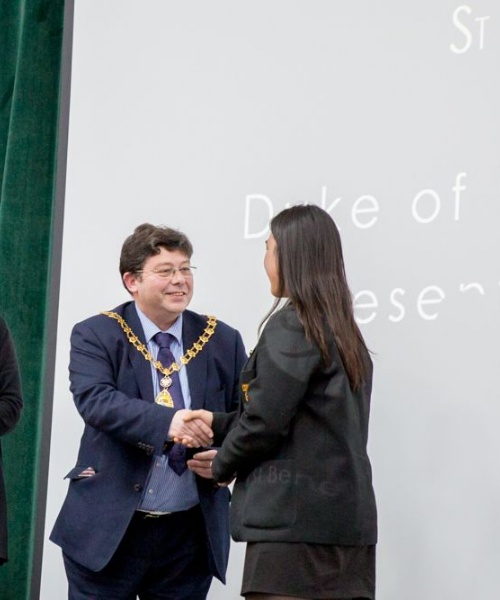 A record number of 117 Duke of Edinburgh's Awards were presented at St Benedict's, by the Mayor of Ealing.
A greater number of St Benedict's pupils than ever before, from Upper 4th (Year 9) to the Sixth Form, are taking part in the Duke of Edinburgh's Award scheme. Of the 117 completed awards this year, 78 are Bronze, 28 Silver and 11 are Gold. In addition to these, there are currently 295 pupils working towards Bronze (173), Silver (67) and Gold (55).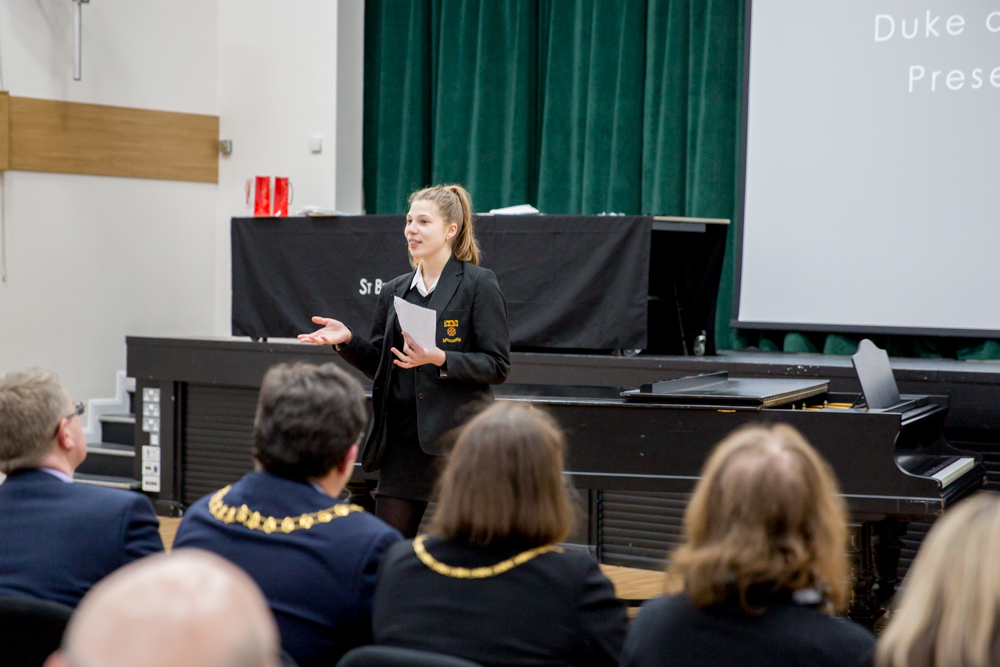 In recognition of this success, a Duke of Edinburgh's Award Presentation Evening was held at St Benedict's on Monday, 19th March, attended by the Mayor of Ealing, Councillor Simon Woodroofe.
The Headmaster, Andrew Johnson, welcomed guests, saying: "I am delighted that The Duke of Edinburgh's Award scheme is such a success at St Benedict's. It provides excellent opportunities for developing independence, self-reliance, resilience and team-work, as well as encouraging pupils to develop their talents and be of service to others."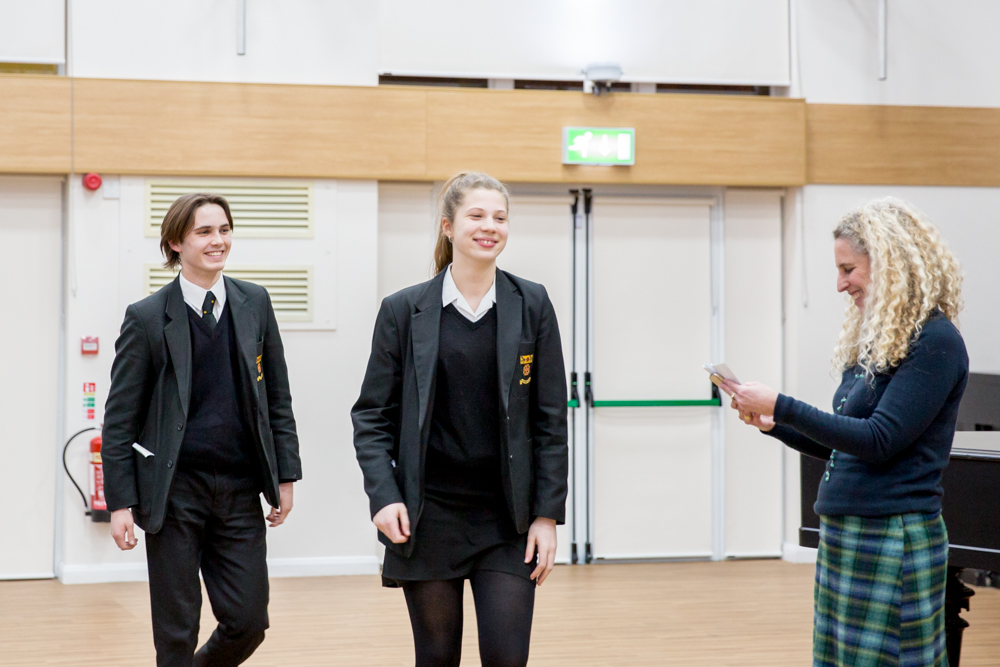 The Duke of Edinburgh Manager of Ealing, Ms Linda Brown, praised St Benedict's for its success in gaining so many awards, and spoke about the resilience required to complete a challenging expedition.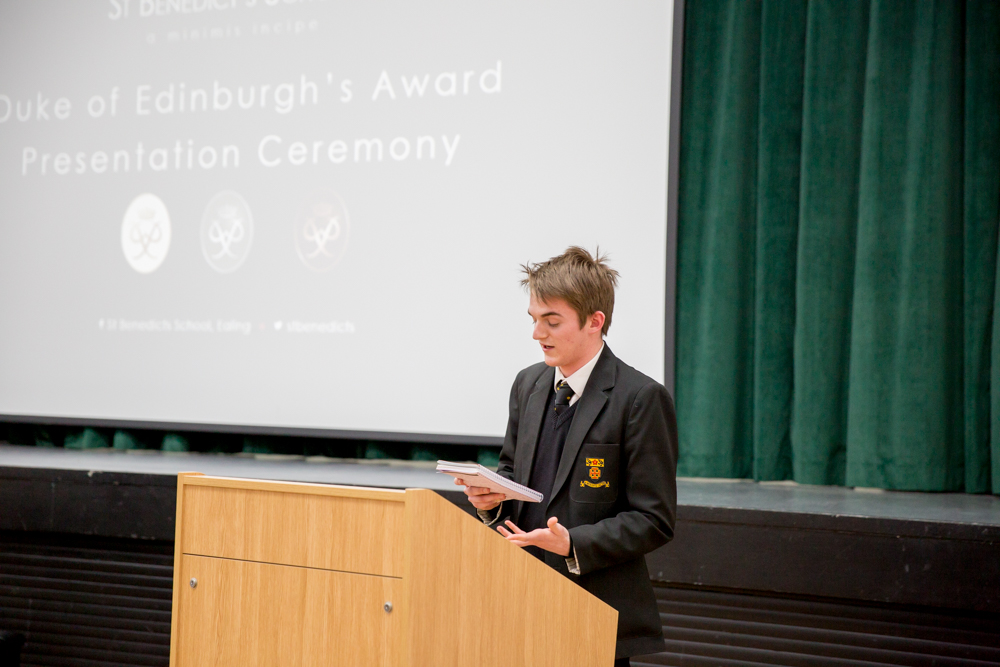 Three Gold Award holders then told the audience about their D of E experience. Trinity Yau described the moment when, perched on a Snowdonian mountain, her group saw a dramatic split in the weather – bright sunshine in one direction, contrasting with black storm clouds on the other side: their route led them into the latter, of course, testing their waterproofs - and determination - to the utmost. As Trinity said, "What's the point of an expedition in sunny weather, anyway?!"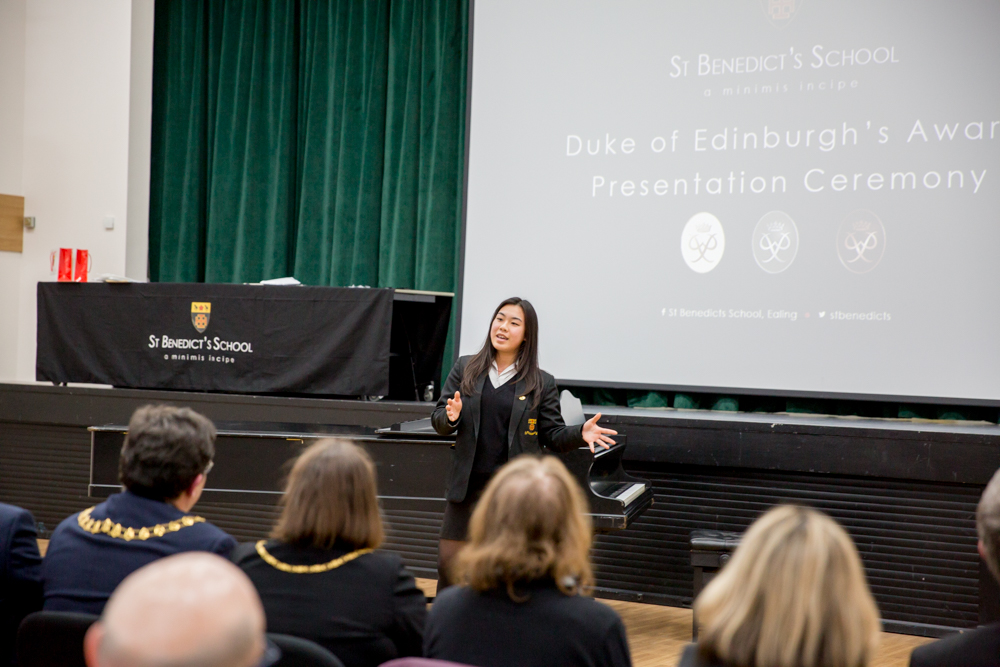 She also told the audience that, for her Gold Skills challenge, she learned to play the flute, gaining grade 5 with merit in just 6 months.
The evening concluded with the presentation of the awards, by the Mayor of Ealing.
The Duke of Edinburgh's Award consists of:
Volunteering: undertaking service to individuals or the community.
Physical: improving in an area of sport, dance or fitness activities.
Skills: developing practical and social skills and personal interests.
Expedition: planning, training for, and completion of an adventurous journey.
At Gold level, participants must do an additional fifth Residential section, which involves staying and working away from home for five days, doing a shared activity.
D of E is highly regarded by universities and employers, who recognise the level of personal development the awards represent. Gold is a particularly impressive achievement, and these awards are formally presented at St James' Palace, often by HRH Prince Edward.
With thanks to St Benedict's Duke of Edinburgh's Manager, Miss Michelle Lee for organising the ceremony, and for her work in co-ordinating the many activities involved in the scheme.