St Benedict's Literary Festival - Celebrating 120 Years of Learning​​​​​​​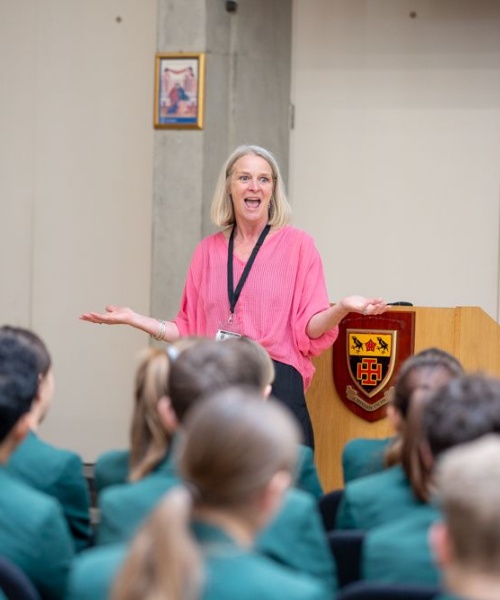 To mark St Benedict's 120th anniversary, we held a Literary Festival in July. Pupils in Years 7, 8 and 10 embarked on their own 2-day literary journey, with the Globe Players, performance poets, a tour of some of London's literary sites and the creation of their own short stories, poetry and raps.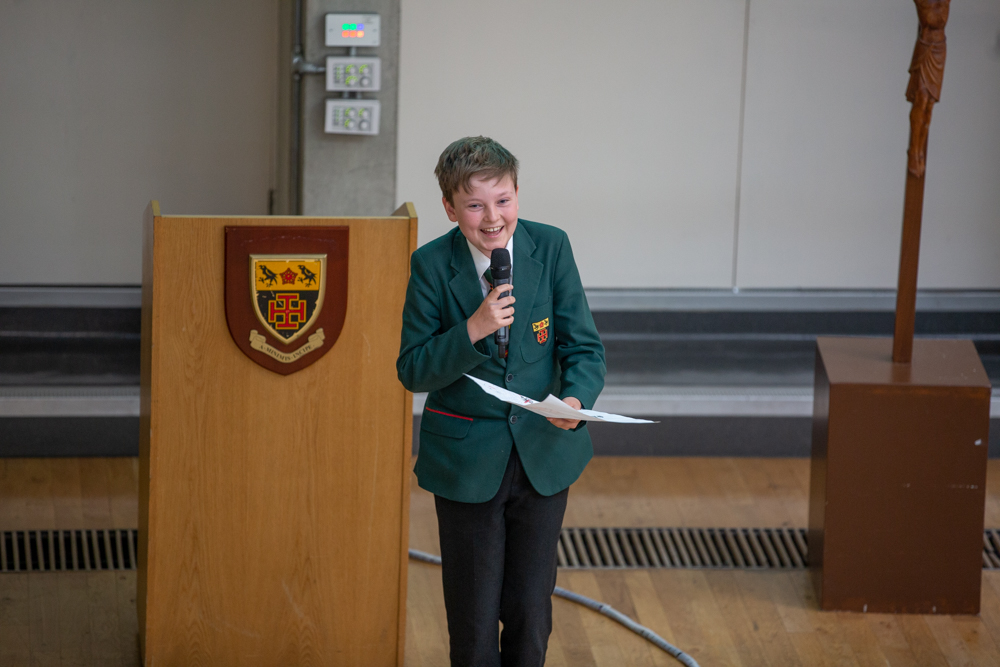 St Benedict's Librarian, Emma Wallace, reports on the Literary Festival.
Literary Festival Booklet
To focus students' minds on the 120-year celebrations and the summer Literary Festival, the English Department ran a competition challenging students to create a piece of work to feature in a Literary Festival booklet.
Thousands of hearts, thousands of dreams,

This is where it all begins."
English teachers provided students with a brief to create their own literary works on the theme of '120' - open to students' interpretation. This resulted in a diverse range of work being submitted, from a historical look back over the past 120 years of the school, to looking to the future and predicting what the next 120 might bring. The best work was selected to feature in the published booklet and includes a wonderful array of short stories, poems and artwork. Below are some examples of the fantastic winning poems.
A Benedictine school where kindness is key, a learning haven for you and me."
Year 7 Literary Tour of London
The two-day Literary Festival commenced during our annual Activities Week in July, as students engaged in a range of events, workshops and trips. On Wednesday 6th July, Year 7s embarked on a literary tour of London, starting off at The Globe in Southwark and a tour of Shakespeare's famous theatre. After visiting this historic site, students walked along the Thames, with teachers pointing out a number of other significant sites we are lucky to have in London, including the Clink Prison, HMS Belfast, Tower Bridge and the Oxo Tower. The year group then queued up to take a ride on the London Eye, experiencing fantastic views across London. The literary tour culminated with a walk through Westminster, as students identified some famous faces in Parliament Square, including Winston Churchill, Millicent Fawcett and Mahatma Ghandi.
Year 8 Personification Poetry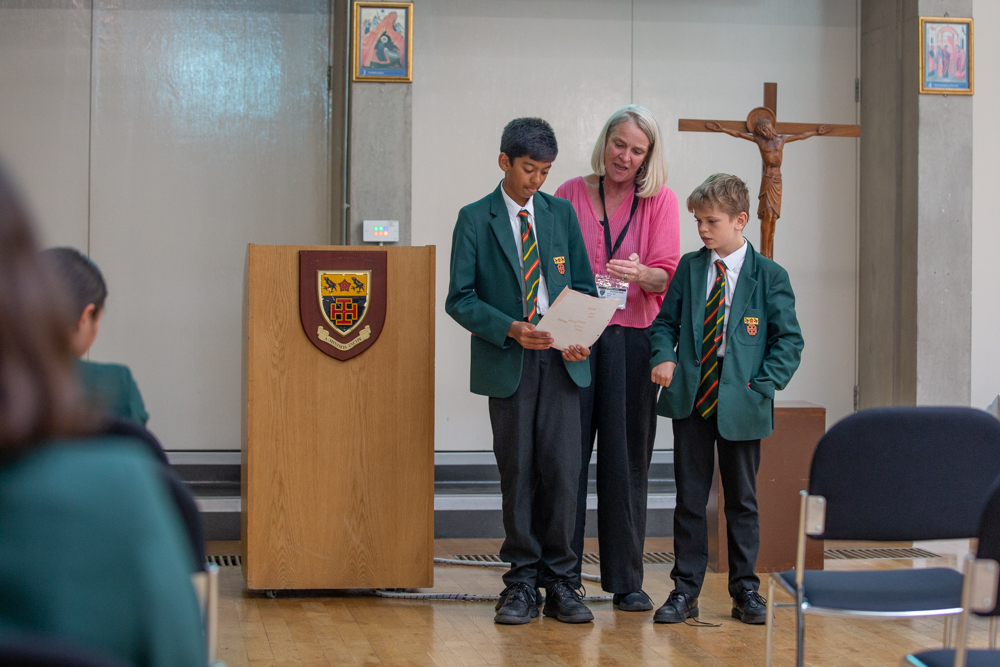 While Year 7 were experiencing Literary London, Year 8s were participating in a day of poetry writing with Jo Stokes from AS Creatives. The morning began with an assembly in the Cloisters, as Jo explained the day's challenge, which focused on students writing their own personification poetry. Jo provided advice on how to personify objects, using the clock in the Cloisters hall as a starting point, stimulating students' imagination and providing ideas.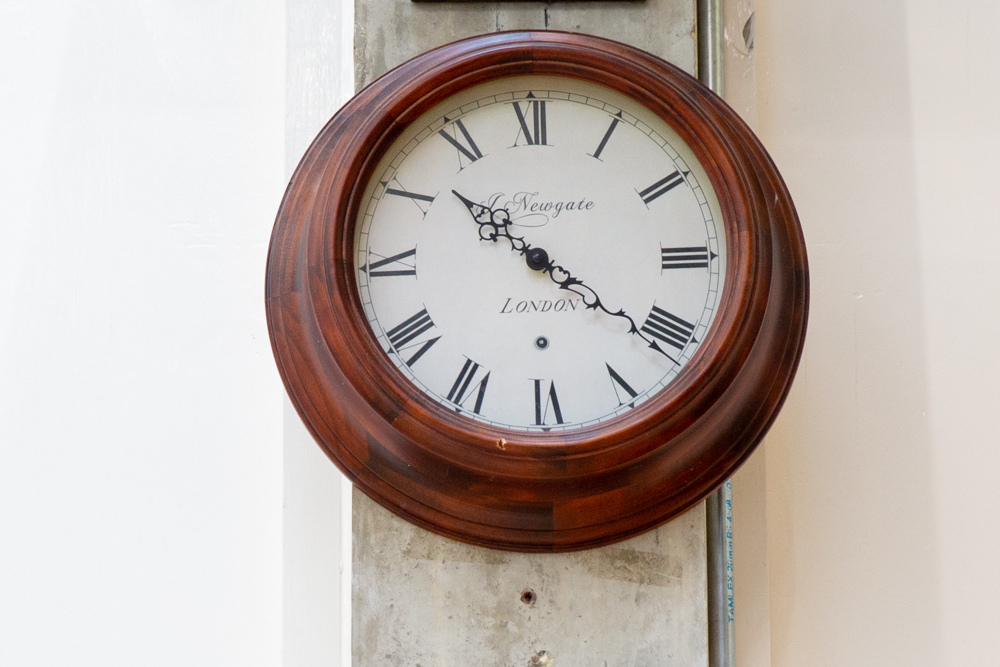 Students were then sent off to explore the school's buildings and grounds to find their own objects to personify. Students drew on a wide range of objects, from the more mundane such as lockers, bins and benches, to the more unique, such as the gargoyles found on the roof of the Eastdown building and the mice carved into the legs of the oak 'Mouseman' library tables and chairs.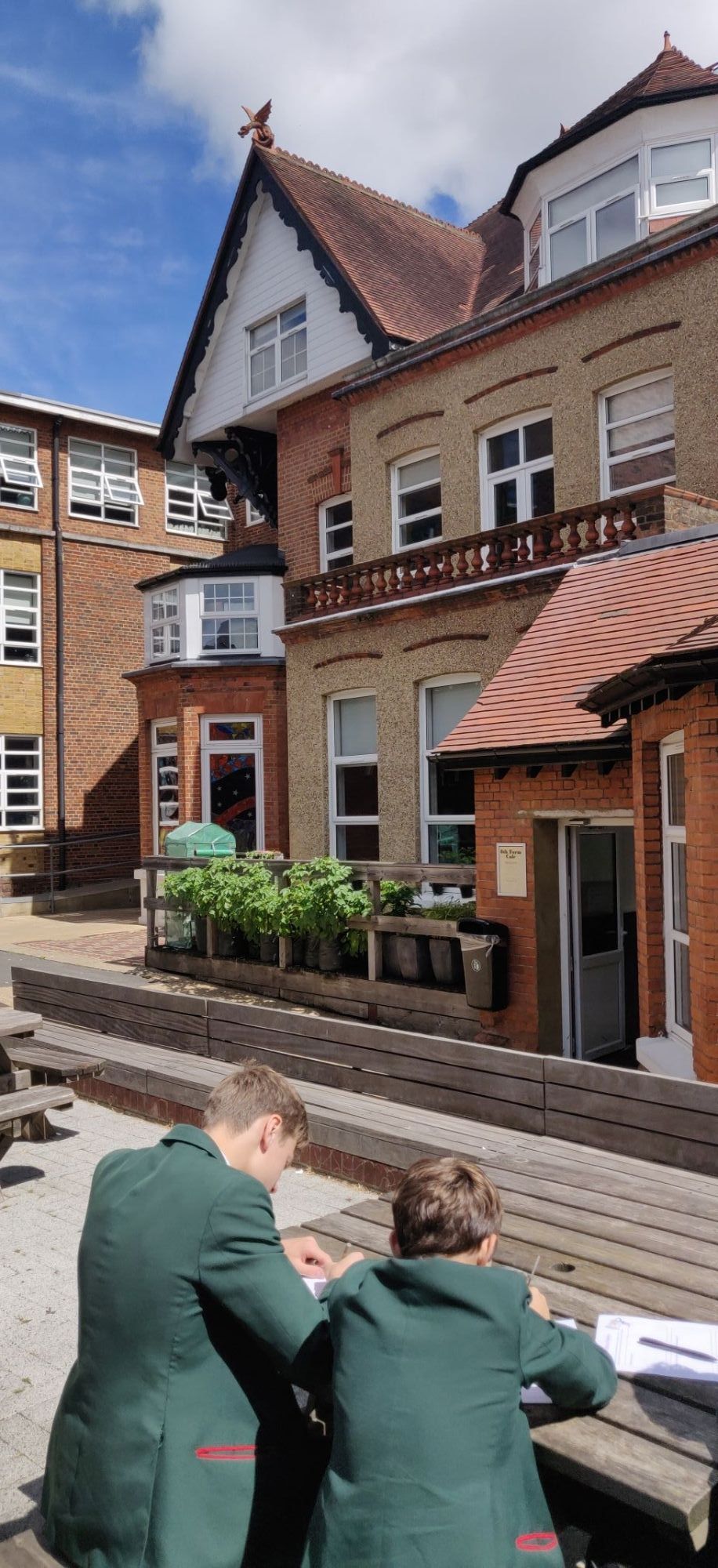 Students were then given time to write their poems, either on their own or in small groups, crafting them with pictures and drawings if they chose. At the end of the day, the year group came together in the hall, with selected students volunteering to read their poems out loud. Their classmates were challenged to guess what objects they had chosen to personify at the end of each poetry reading, which was not always as easy as expected! Jo also helped students with the performance of their poems, recommending when they should add pauses, changes in pace and volume to engage the audience.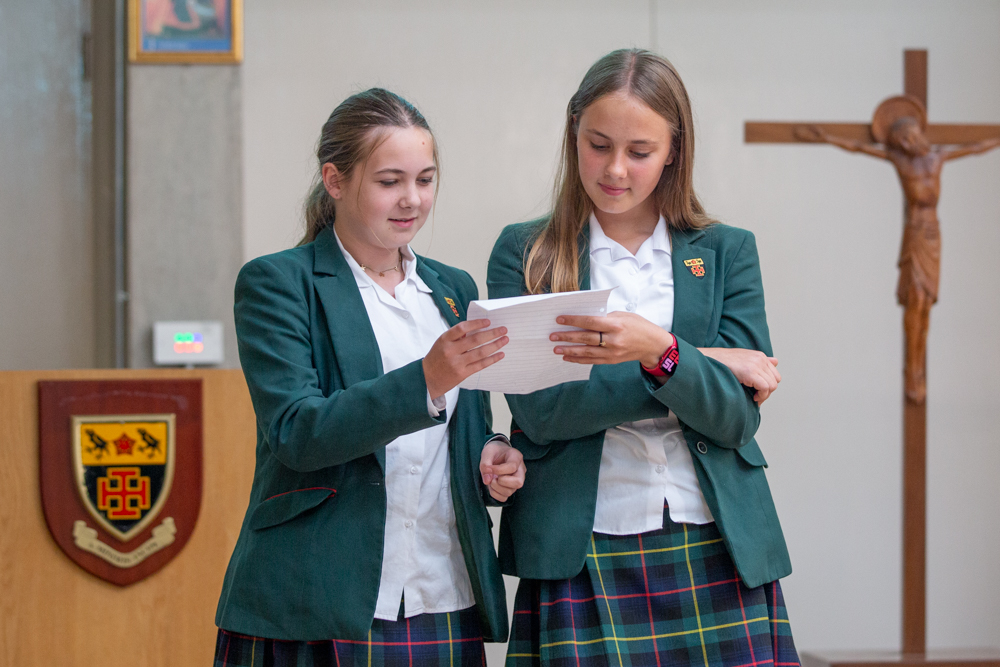 See below some examples of the personification poems Year 8 created on the day:
The Library's Mouseman Mice by Tate O'Sullivan and William Edwards (Y8)
When the bell rings the footsteps start.
The quiet oasis of the library fills with gleaming hearts.
I wish I could be free,
To see what the world could be,
But for me, a wooden mouse is all I can be.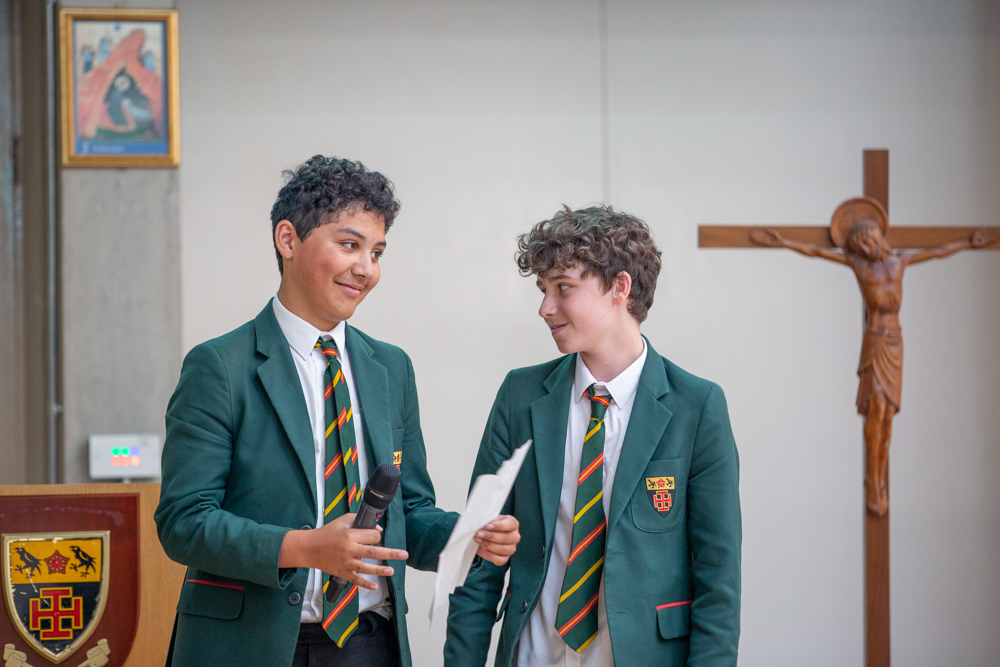 I'm a Bin by Oliver Hennessy-Garcia (Y8)
I see people cherishing the plant next to me,
as if I weren't there.
They open me and strip me of my contents,
as well as my dignity.
I'm a bin.
I hear petty arguments,
which almost break their friendships.
I hear people using me as an insult,
which deeply hurts me inside.
I'm a bin.
Crows cawing to a school of children laughing.
The swaying of trees, the wind dancing."
Me, the Locker by Joe Donoghugh (Y8)
Been around as long as time,
So long, some may call it a crime.
Some ignore me, pretend I am not there,
others just stare.
Why?
Story of my life.
I awake each morning,
from the shrill, loud noise made by that dark red circle.
Then, loud thumping like an earthquake.
Bodies scattered around the building.
Getting opened by unsantized hands,
and slammed!
Why?
Story of my life.
I hear things I don't want to hear.
see things I don't want to see.
Secrets, panics, happiness, crying
See it all.
Pain comes across me like a knife.
Why?
Story of my life.
Why couldn't I have arms and legs?
I could seek revenge on humans.
Generations of leavers,
not one apologising to me or another mistreated object.
Disgusting creatures.
Me, just left to rot.
Why?
Story of my life.
Gargoyle by Veer Suri, Owen Keenlyside and Jake Rizk (Y8)
Change, students, light
The things I see with all my might
From laptops to books
And buildings rising up
Whilst the sun goes down at the break of dawn.
I don't know why
I never will
For I am one lonely thing upon a hill.
On a roof
Where I stand
Protecting all with one bare hand.
For without me all would be lost
One by one,
Consumed by evil
Dissolving into none.
Crows cawing to a school of children laughing.
The swaying of trees, the wind dancing.
1914
Falling to the ground
For this is the world which I live in
Filled with pressure, burning within.

I remember Henry Edwards
Desmond Dore and
Peter Richards.
Soldiers who have
Lost to Hitler
Taken away by
Nazi's thrive.
There they keep
My protection
To go and save our great
Nation
Full of rage,
Retribution and remorse
Hoping to see them forever
More.
Year 10 Shakespeare Day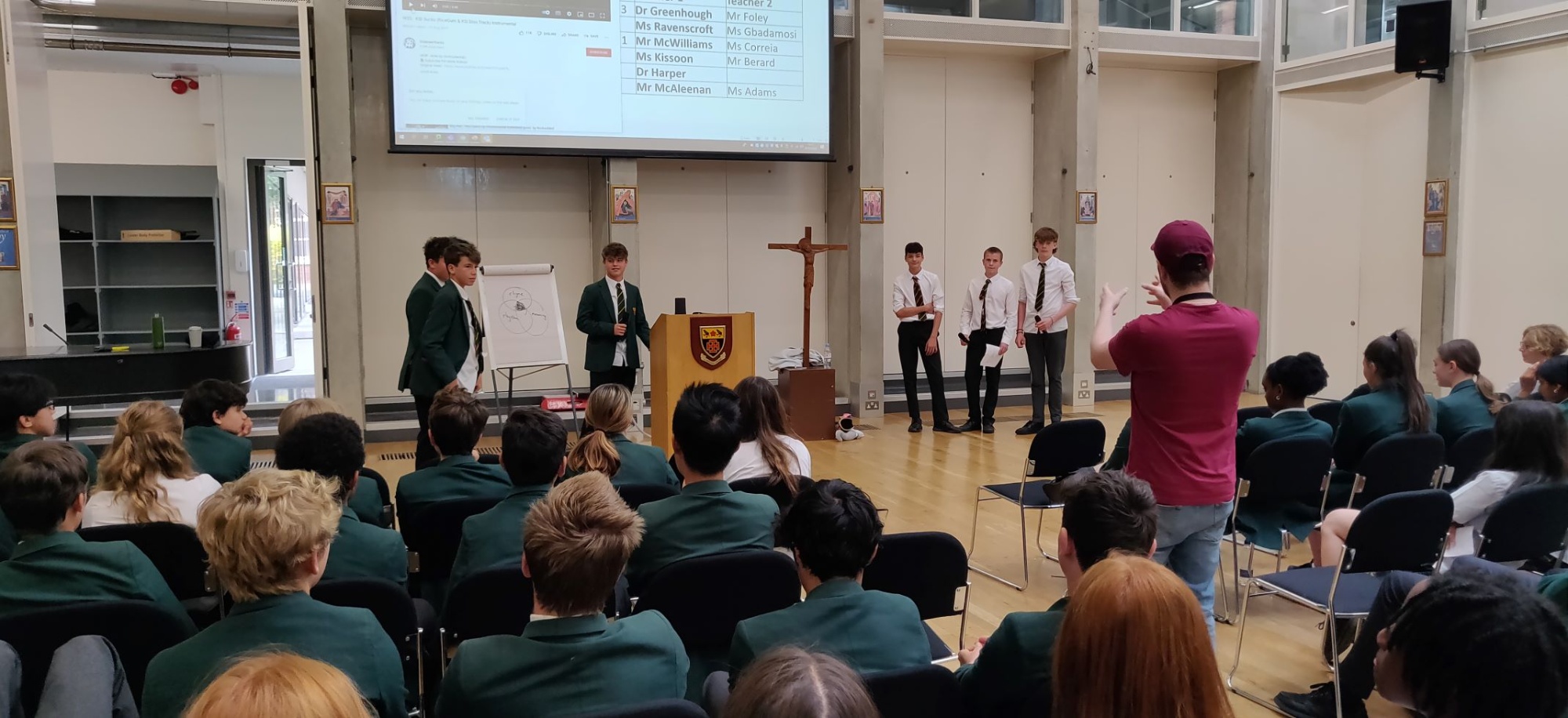 On Thursday 7th July, it was Year 10s turn to join in the Literary Festival celebrations, participating in a Shakespeare themed day. The morning began with a freestyling session with Rob Bradley from the Rap School in the Cloisters, asking the year group to provide him with words of inspiration to weave into a spontaneous spoken rap. Students were suitably impressed and set off on their own challenge to create in groups a rap/spoken word poem, focusing on Shakespeare's Macbeth play, which they had been studying during the year. Students were encouraged to use Macbeth, either by retelling the story through a rap or taking some of the play's main themes, including loyalty, guilt and violence and exploring them through spoken word. Rob visited the classrooms Year 10 were positioned in, offering words of advice and encouragement and explaining the three elements that make a good rap - rhyme, rhythm and meaning. Props such as swords, crowns, witches' hats and cloaks were dropped into to the classrooms to help students bring their Macbeth characters to life and add drama to their rap performances. After practising in classrooms, Year 10 reconvened in the hall to perform their poems to each other, resulting in a diverse range of work, including a rap battle between two groups, a drill rap and some beatboxing. The performances were enjoyed by the whole year group and drew much clapping, cheers and laughter from the audience!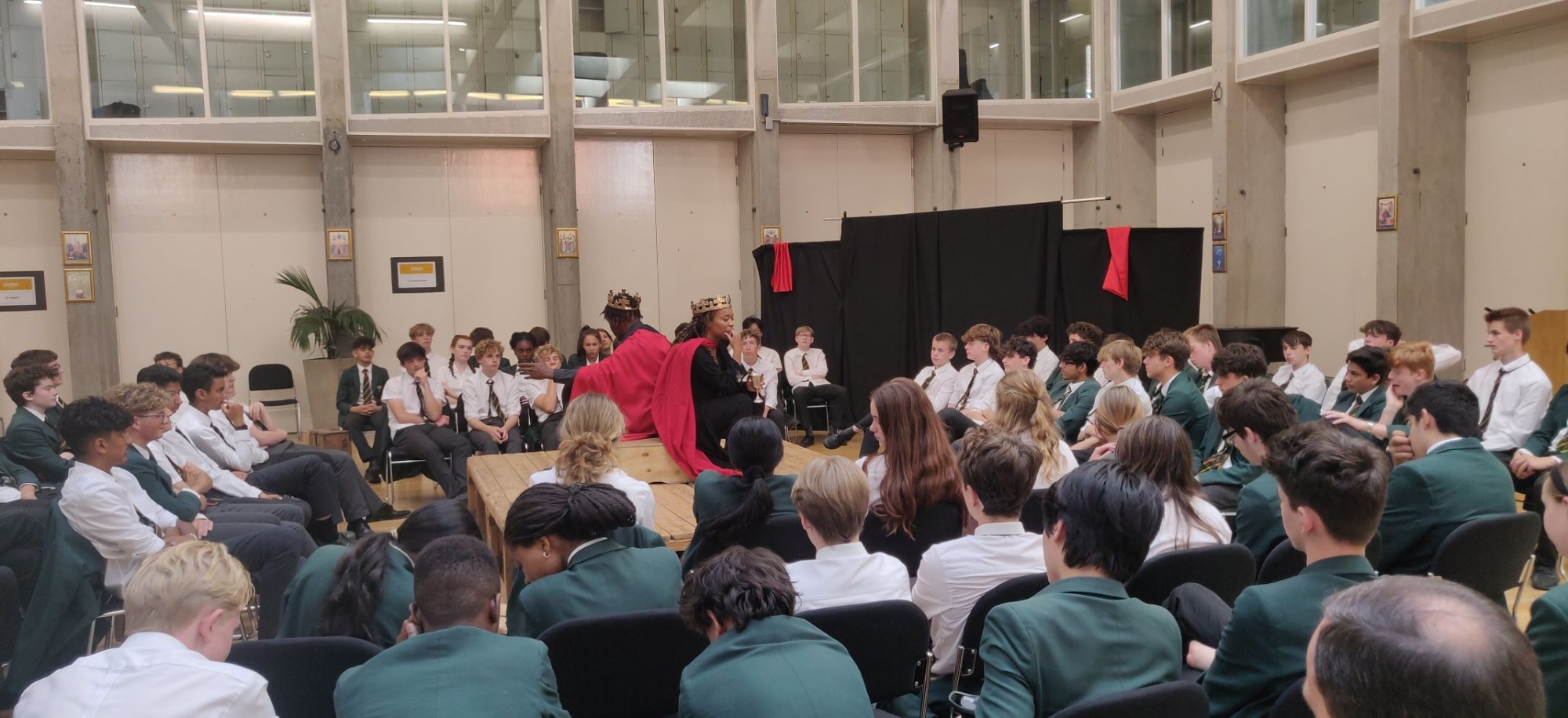 In the afternoon, Year 10 were treated to a condensed performance of Macbeth by the Globe Players, a travelling theatre company with just four actors who took on multiple roles in the play. This was a dramatic and powerful performance, bringing to life scenes and characters that Year 10 had been studying during the year. The actors were also kind enough to join in a Q&A with the year group after the performance, discussing what other plays they perform, how they set up their travelling stage in under an hour and how long the company had been performing for.
And the Literary Festival continues into Book Week…
The 120 Years Literary Festival doesn't end there! We are holding our annual senior school Book Week in November, 7-11th 2022, and will continue the 120-year celebrations. This will include an evening talk with the well-known local author Alex Gerlis, who has made numerous appearances at Pitshanger Bookshop and Ealing Libraries. Alex will be at St Benedict's on Thursday 10th November, 6.30pm, to talk about some of the historical spy novels he has written, including his best seller 'The Best of Our Spies' and 'Agent in Berlin', both the first in their respective series. Ahead of the event, Pitshanger bookshop is offering a 10% discount on Alex's books to parents and pupils.
Poems from the Literary Festival Booklet
Olivia Scott (Y7)
120 years, such a long time to endeavour
Yet our school, St Benedict's, stands as strong as ever,
It has made it through the hardest times
And we remember this by writing rhymes.
At our school, St Benedict's,
So much can happen
You can grow from a small child
To be just like Lord Patten!
From PE to philosophy
Rugby to RE
Hockey to history
And mathematics to music
It all started in 1902,
Sebastian Cave made a new school
Only 3 boys enrolled that year
But many more came so do not fear!
Our school has been here for over a century
It went through a lot as you can see
But now it is the place to be
A learning haven for you and me
Our motto is 'from the smallest beginnings'
Which sums up our school's story quite quickly
An environment full of facts and fun
Old Priorians miss it once they're gone
A Benedictine school
Where kindness is key
It is surely the place to be
A learning haven for you and me.
Lucian Drew (Y8)
The school has stood here for 120 years
120 years of playgrounds filled with cheers
This is our 120-year celebration
The lessons teaching us everything that we have learnt
From term to term
Taking tests
To go over everything that we now know
This is our 120-year celebration
We go to school
And we follow the rules
Like the people that have been there before
This is our 120-year celebration
We remember those that have been here before
And all the teachers that have come and gone
They are the teachers that have inspired us
And this is St Benedict's School's 120th year celebration.
Lucie Remington (Y7)
120 years of work
120 years of perks
120 years of hope
120 years of quirks
120 years of fantastic sports
120 years of amazing reports
120 years of inspiration
120 years of superb education
120 years of stupendous communication
120 years of outstanding concentration
120 years of students learning
120 years of students earning
120 years of students working
120 years of students observing
120 years of breath-taking creativity
120 years of sensational activity
120 years of wonderous abilities
120 years of endless possibilities
120 years of St Benedict's
Deen Hoque (Y8)
This is us; this is who we are;
This is our school, this is our 120.
Thousands of hearts, thousands of dreams,
This is where it all begins.
Through the hallowed halls, and sacred souls,
Our journey of life with generosity and kindness,
Our journey of learning with integrity and fairness.
Sometimes we may fall and yet we get up stronger,
Sometimes we may shed a tear yet smile from ear to ear.
This is where traditions are born, and memories are made.
This is where leaders emerge, and characters are built.
A Minimus Incipe;
This is us; this is who we are;
This our school, to another glorious 120 and more.