CCF: Recruit Camp and Chatham Competition Day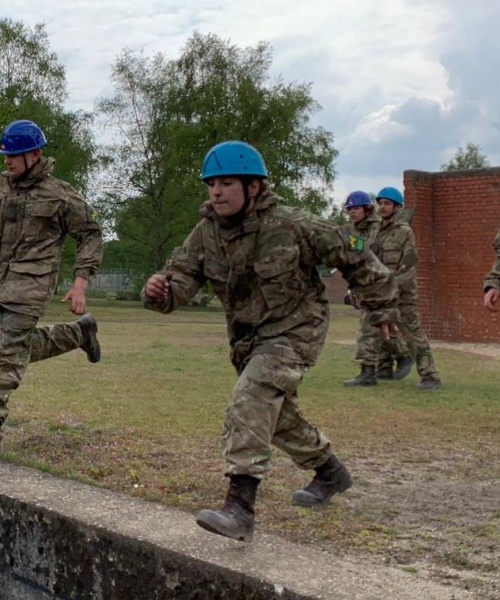 An action-packed Recruit Camp, followed by the Chatham Cadet Competition have kept the St Benedict's CCF challenged recently.
CCF Recruit Camp, 16-19 May 2019
By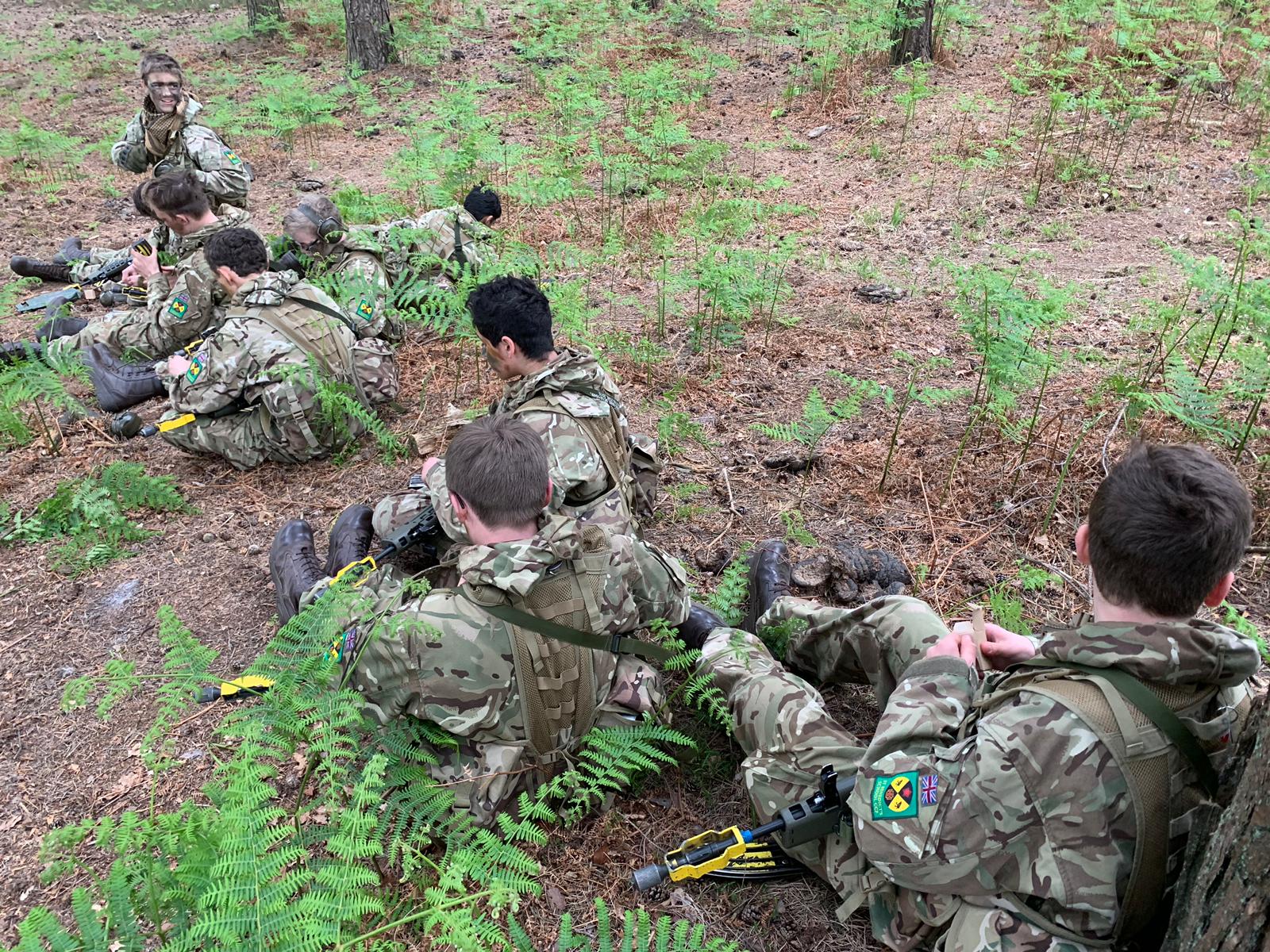 By Cdts Gabriela Makarewicz, Sophia Sandelson, Eleanor Sharpe, & Sophie Tripp
On Thursday May 16th some thirty Teeling Troops Recruits gathered after school with all our kit ready to set off to Longmoor Camp. When we arrived we started with drill and after a lot of hard work and a long journey we finally ate some delicious pizza.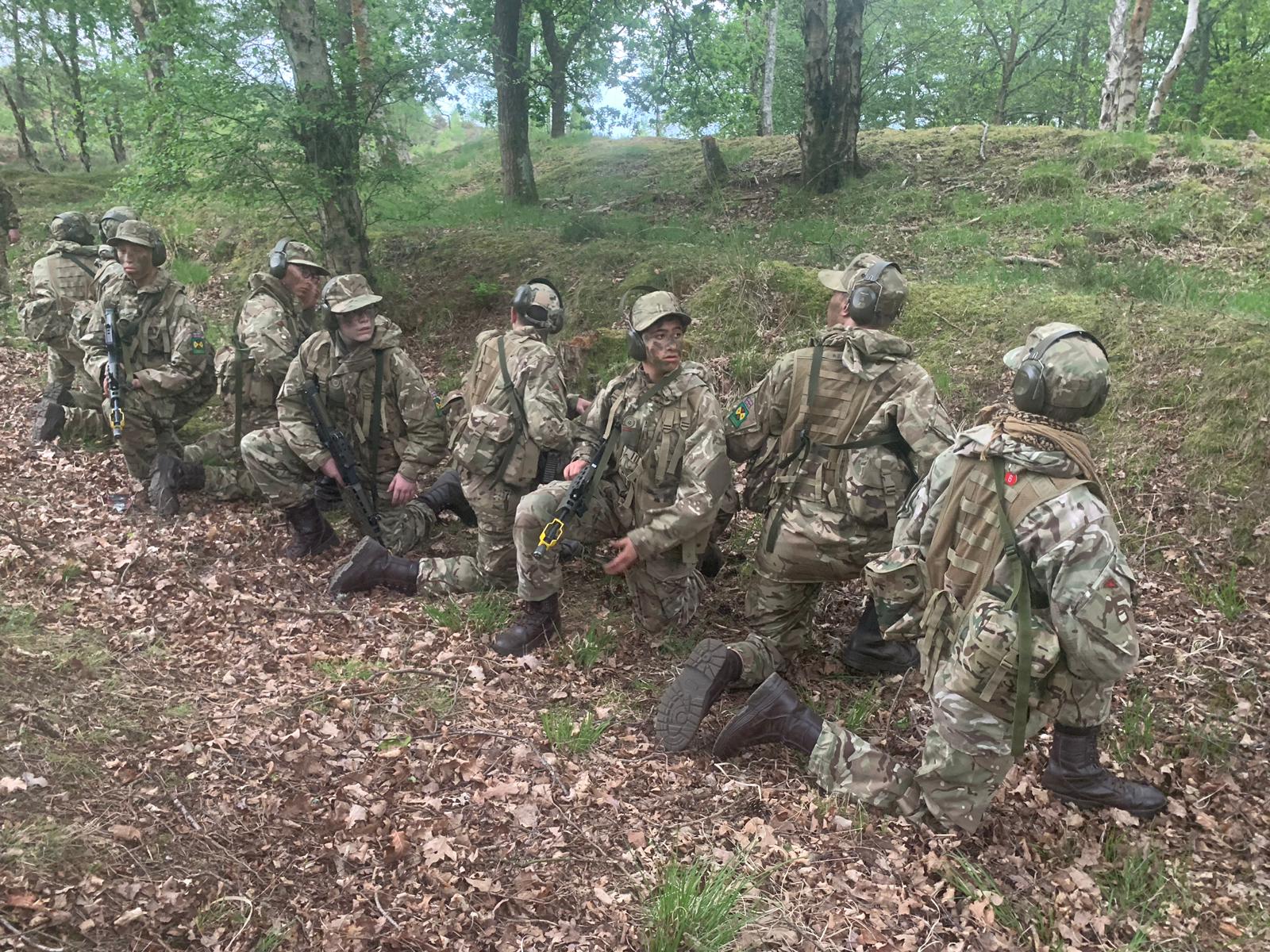 All recruits slept in the army barracks and were woken early on Friday to get ready to embark on 24 hours in 'the wild'. A patrol up to the planned location was 5 km long, carrying all the equipment necessary in order to live and fight in the field for 36 hours. In order to prevent any enemy following us we performed a snap ambush and then had a 'soak' period. This was to wait, hidden, en route to our camp site to ensure that we were not being followed. A recce patrol of the platoon and section commanders, signaller, section 2ICs and runner went to the Platoon Harbour, and then led the rest of the Recruits to the designated location.
The Platoon Harbour consisted of three lines of bashas, one for each section, creating a triangular shape. Our bashas looked outwards, so that we had 360 degree vision in case of an enemy attack. Each section was then responsible for creating a track plan with string which could guide us around the Platoon Harbour at night. We then left our camp and went to practise section battle drills and pepper-potting in pairs while blank firing.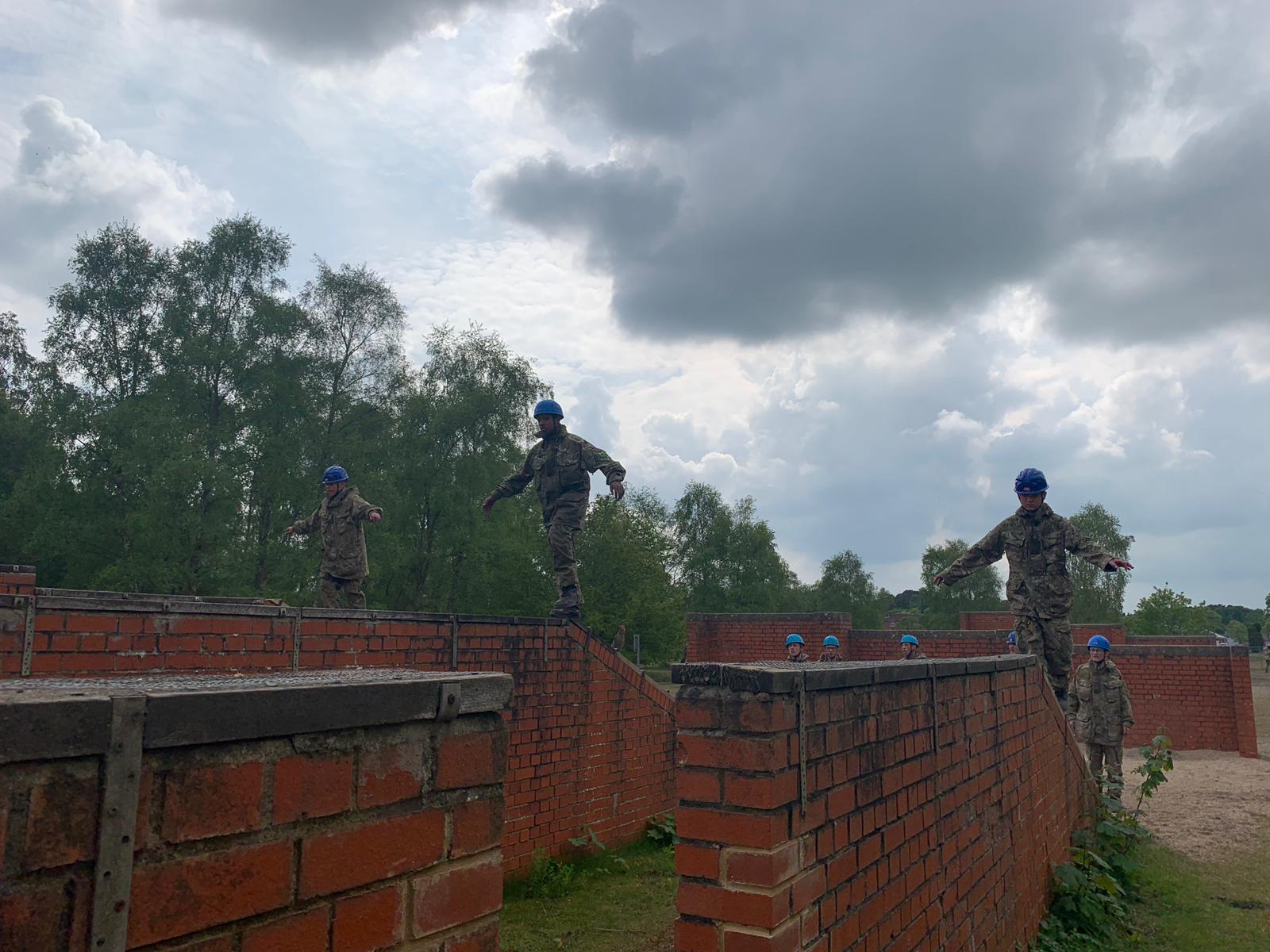 When were were in our harbour, the 2IC had built a sentry point in each corner and written a sentry duty schedule ('Stag Rota') for day and night. This gave us each two one-hour shifts, during which each Recruit surveyed the surroundings throughout the night. Many struggled to wake up, which was very funny for the rest of us, as their groggy faces were priceless! At around 0400hrs on Saturday, our Platoon Harbour was attacked, starting with 2 Section's sentry point. The gunshots meant that we urgently had to 'stand to' and pack up all our gear. We lay in all-round defensive positions with our rifles pointed outwards.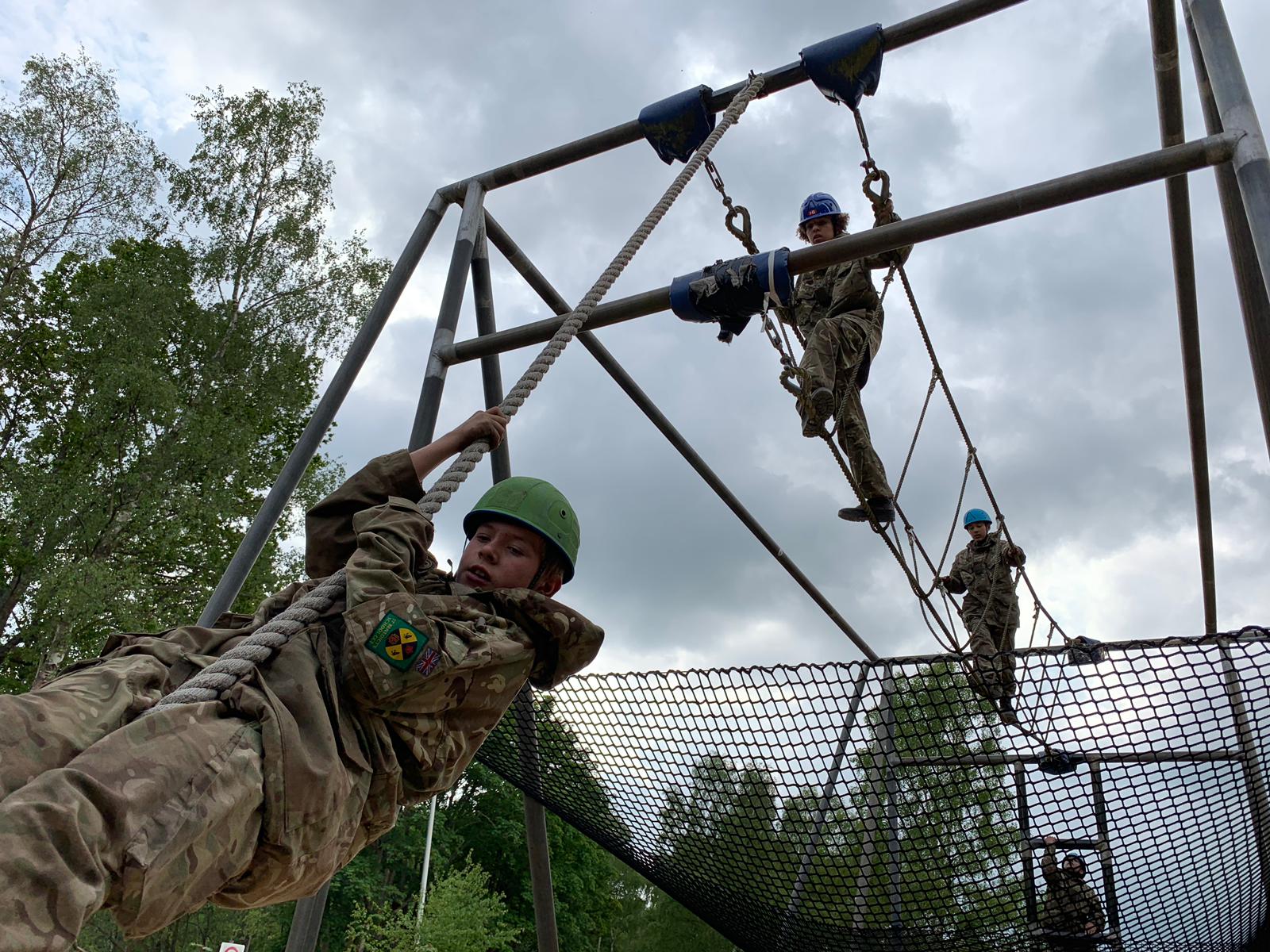 We immediately departed the area so that we were safe, and set up bashas further away to carry out our morning routine. This consisted of the inspection of all our kit, rifles, our bare feet, and empty ration packs (we had to force the contents down our throats).
A really fun part was the using our six Section Battle Drills in an attack, in which we took back an enemy-occupied bridge with cover from smoke grenades. It was a really unique experience which helped us to learn to act quickly under pressure and work as a team.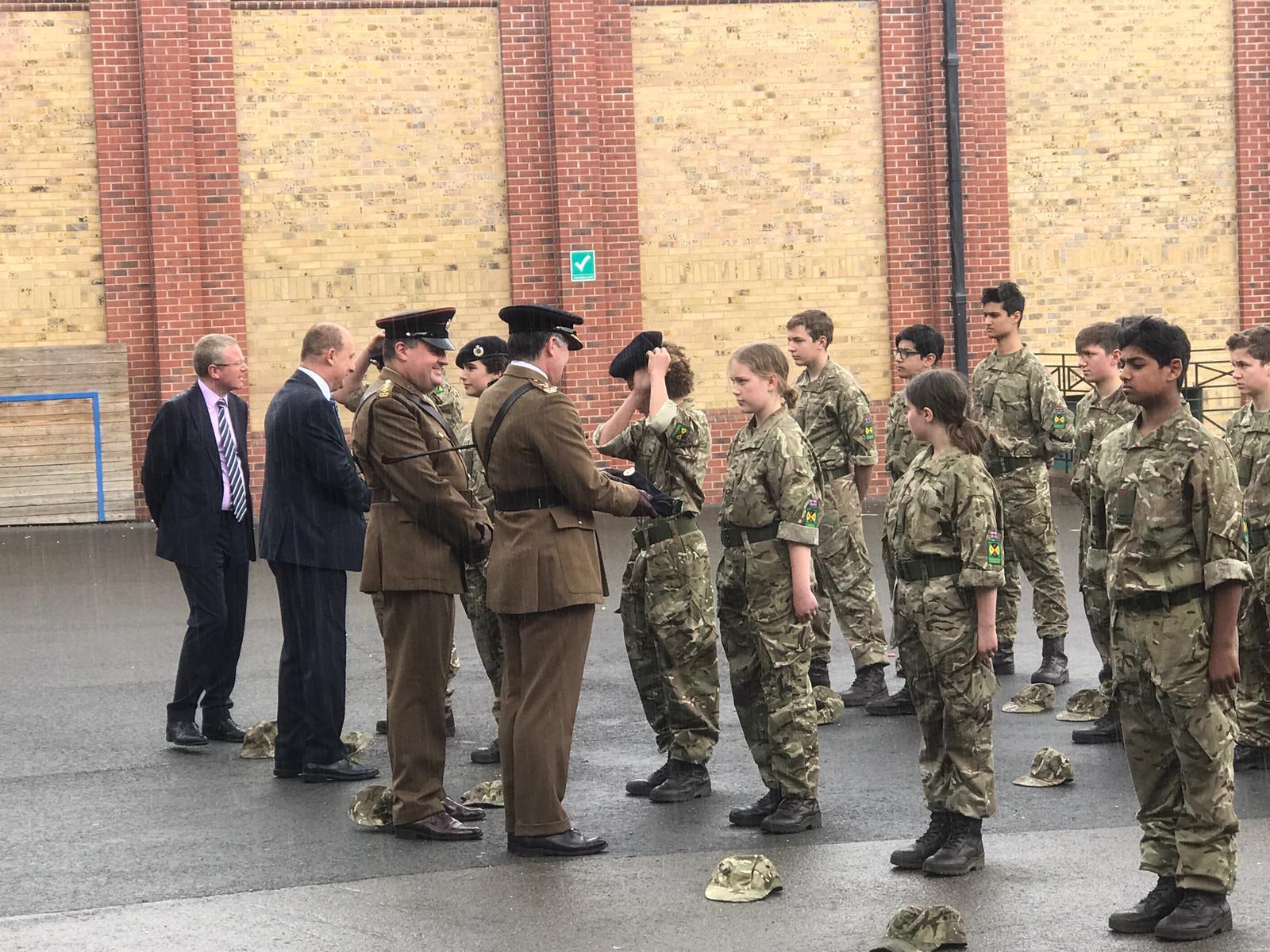 It was still only 0800hrs on Saturday, and we headed back to our barracks for warm(ish) showers: what a relief! The silly boys were very slow and late for the time that we had to be back. As a result we all had to face a punishment of multiple, slow, never-ending press ups.
The cookhouse was a very comforting surprise as it offered warm, tasty meals for breakfast, lunch, and dinner; we ate full English breakfasts, roast meat with potatoes, millionaire's shortbread, and other delicious foods.
Saturday was really enjoyable because we carried out a range of activities engaging our mind, bodies, and focus. Firstly, in sections we practised an army obstacle course, which included getting over a blank six-foot wall and jumping between 'rooftops'. Then we had a very informative First Aid session about how to save someone's life using CPR and other techniques. Finally, we had a go at shooting; unfortunately, the live-firing range at Longmoor was closed, but the DCCT (Dismounted Close-Combat Trainer) provided a realistic simulation which was extremely fun and very convincing - the guns even recoiled into our shoulders when we shot. Some Recruits even attained their marksmanship badges. As evening drew near we had a very fun, very competitive, inter-section 'March & Shoot' contest, combining shooting and the obstacle course. We timed the run of the obstacle course, before going back into the DCCT and firing at simulated targets 200m away - not at all easy.
After a hard-earned dinner, we had a lesson on rifle cleaning and so cleaned our personal rifle, which we used for the two days, very thoroughly. Furthermore, we did a quick run-through of the parade which would occur the following day, and moulded our berets ready for the event.
On Sunday morning, we set off early back to St Benedict's and practised for the parade. We also prepared the area and ourselves, making sure that our turnout was impeccable. Finally, it was our 'passing out' parade! A Colonel from the cavalry had come to award us our berets and prizes. The parade was a great success despite the constant rain. The prizes went to some very hard-working recruits. Natalia McFadzean won best attendance; Benjamin Dovey won best turnout and drill; Laurence Traeger won best shot, Mark Cattell won best field soldier, and Sophia Sandelson won best Recruit. Also, Daniel Norris went up to receive the prize for 1 Section as the winning section of the year. After the parade ended, there was a group CCF photograph.
All of the cadets had an amazing time at Recruit Camp, and we are all so excited for the continuation of incredible experiences within the CCF. A massive thank you to Capt Hullis and SSI Sadiq for organising the whole trip and making this opportunity possible for us.
Royal School of Military Engineering, Chatham: Cadet Competition Day, 15 May 2019
by Rcts Rami Ahmad & Ethan Barter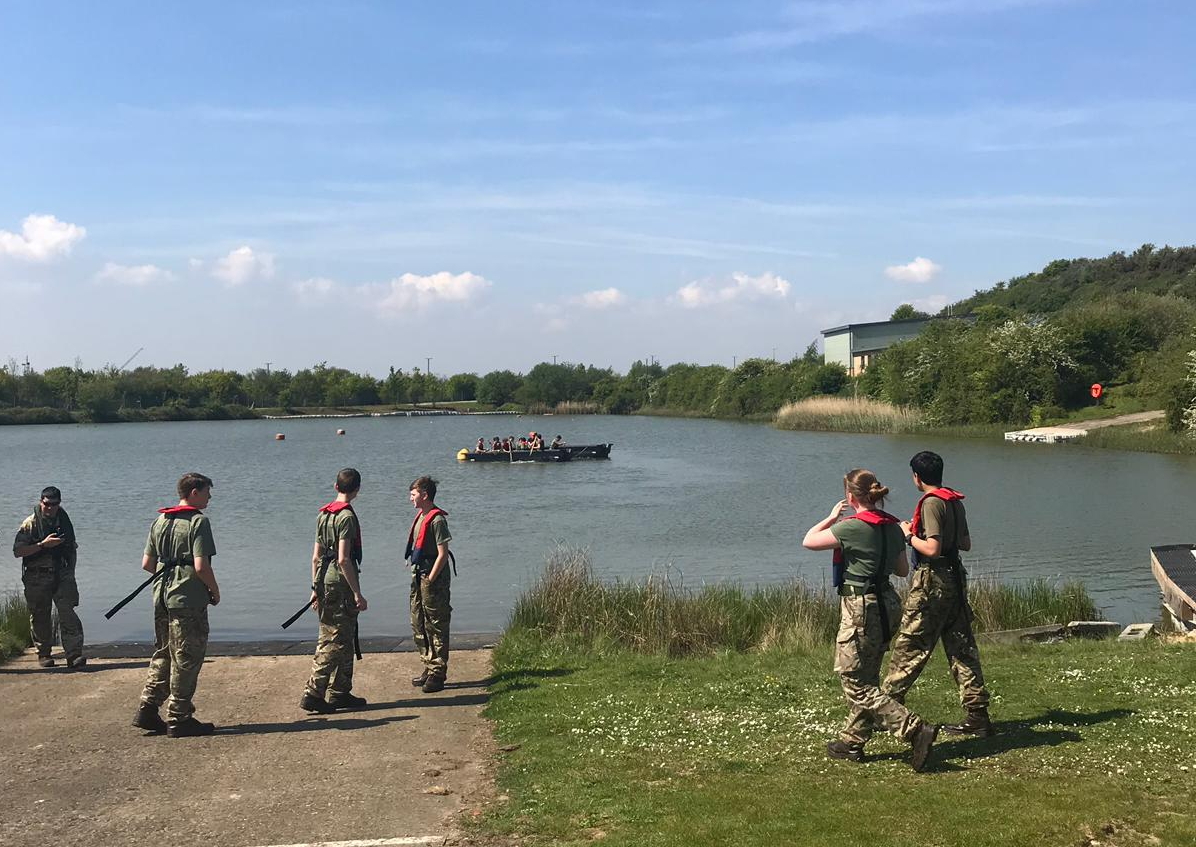 During this day at the Royal School of Military Engineering, a group of fifteen members of the Contingent took part in a competition involving ten ACF and CCF teams. The various tasks and stands included sniffer dogs, army weapons, controlling a JCB, a combat-boat race, brick-laying, surveying, a tour of the training workshops, command tasks, a climbing wall, and an indoor assault course. The tasks were – at times – very challenging, but also very rewarding. The fact that they varied greatly made the entire day one which everyone could enjoy: some types of tasks that could be undertaken best by one type of person, and other types of task called for a different character.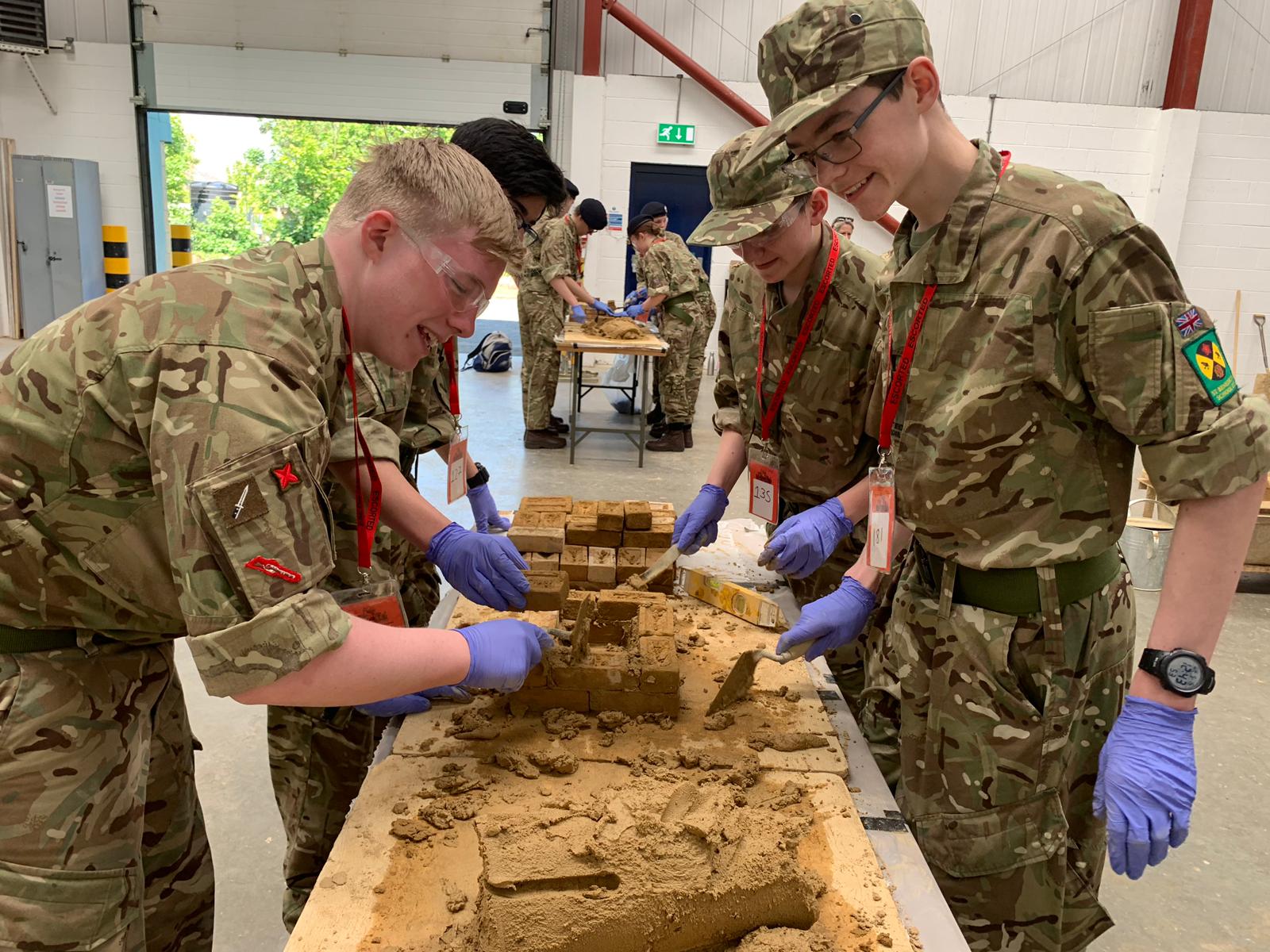 We left St Benedict's at 0600hrs on Wednesday 15th, a very early start given that many of the team were going on a four-day Recruit Camp the following evening. After a briefing, we set out for our activities. The first stand was with the sniffer dogs, where we saw how the army's dogs sniff out certain illegal items; Rct Ethan Barter stated: "Personally, I loved meeting and seeing the sniffer dogs and observing their great capabilities. I can't believe that they can sniff out bombs!" At the same stand, we were shown bomb-squad ('EOD') suits and various weapons.
1RSME Regiment train 'Sappers' in a huge range of trades, from plumbing and wiring to constructing whole buildings, and part of the aim of the day was to open our minds to the idea that there are more jobs in the Army than just being an infantryman. As well as workshop tours, we were given control of JCBs in a challenge where we had to try to operate them accurately in order to move objects, being timed and ranked accordingly. We also learned how to make brick walls, which was quite difficult but was quite fun. (Winston Churchill used to build brick walls as a form of relaxation.) Later we did surveying, using a special camera to measure the distances to objects, which we thought was pretty cool.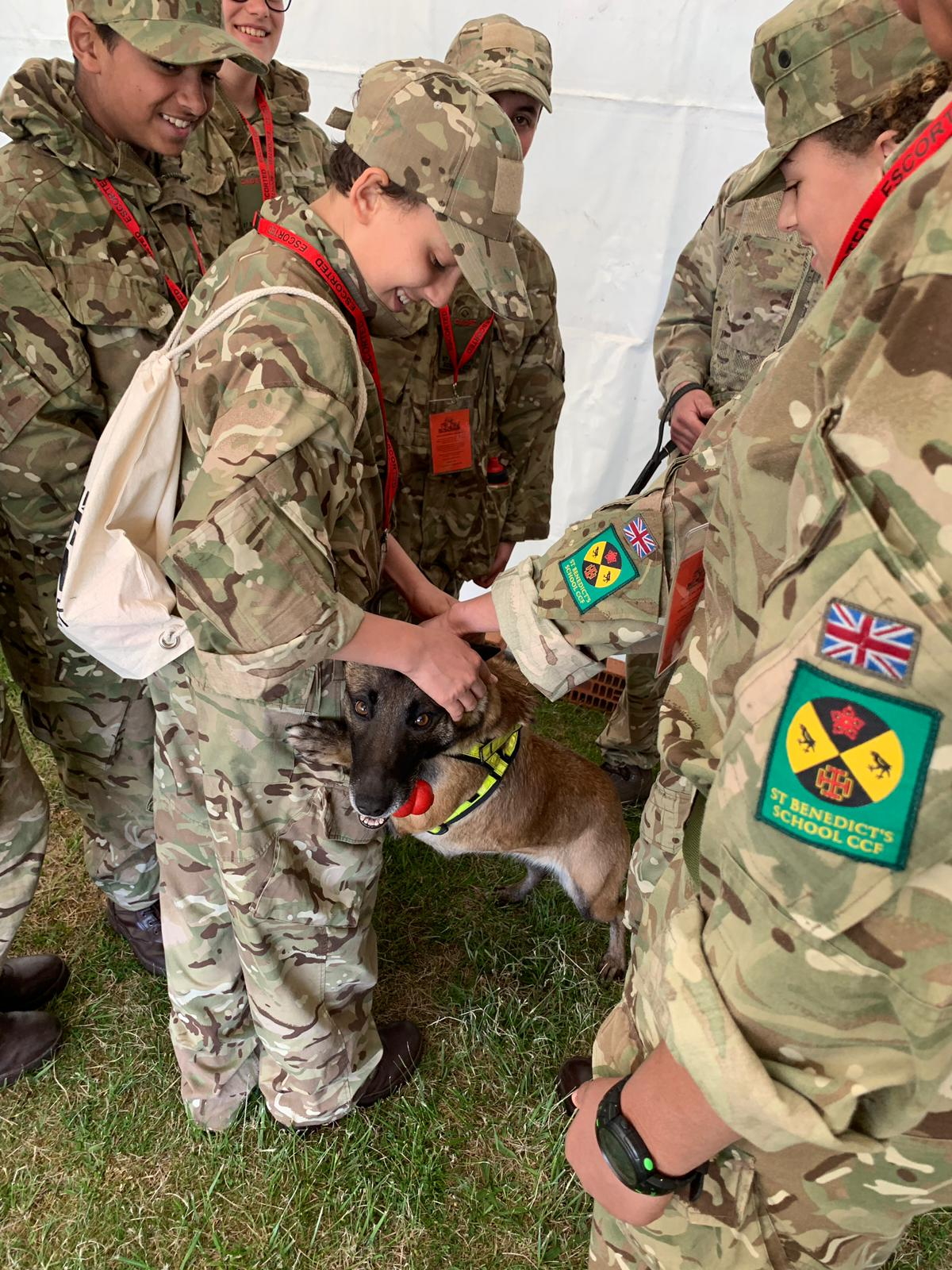 For the combat-boat race we had to solve a logic puzzle (of the 'You are on one side of a river with a fox, a chicken, and a bag of corn...' variety) while actually doing it in real life, paddling a small boat out into the lake. This was a perfect test of teamwork; Rct Rami Ahmad commented that "one of my favourite parts was taking part in the combat-boat race, as it was a nice combination of physical and mental ability."
After lunch we carried out command tasks, which were quite enjoyable, followed by climbing, which proved quite difficult as we did it at the end of a long day. As if that were not enough, our last activity was the indoor assault course, which was very tiring as we did multiple laps for fifteen minutes.
In summary, as Lt Billinge pointed out, "this was a fantastic opportunity for our younger cadets to visit the Royal Engineers and compete against nine other units. As the youngest team, they didn't quite manage to repeat our win of last year, but they acquitted themselves extremely well, with second places in the brick-laying and the physical activities: rock climbing, gym circuits, and command tasks."
We believe that all the Cadets and Recruits who attended thoroughly enjoyed the entire experience; the staff at the RSME were very helpful and engaging, and it was obvious how carefully prepared the event was. We would all love to go again, and hopefully win next time!