Wonderful Cricket Tour to Sri Lanka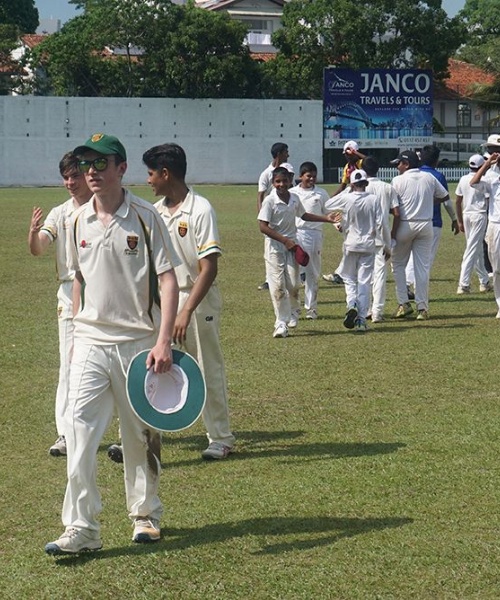 St Benedict's U14 and U15 cricket teams embarked on an exciting tour to Sri Lanka over the Easter holidays. As well some great cricket against outstanding teams, the itinerary included unforgettable excursions and a wonderful introduction to Sri Lanka's natural beauty, culture and traditions.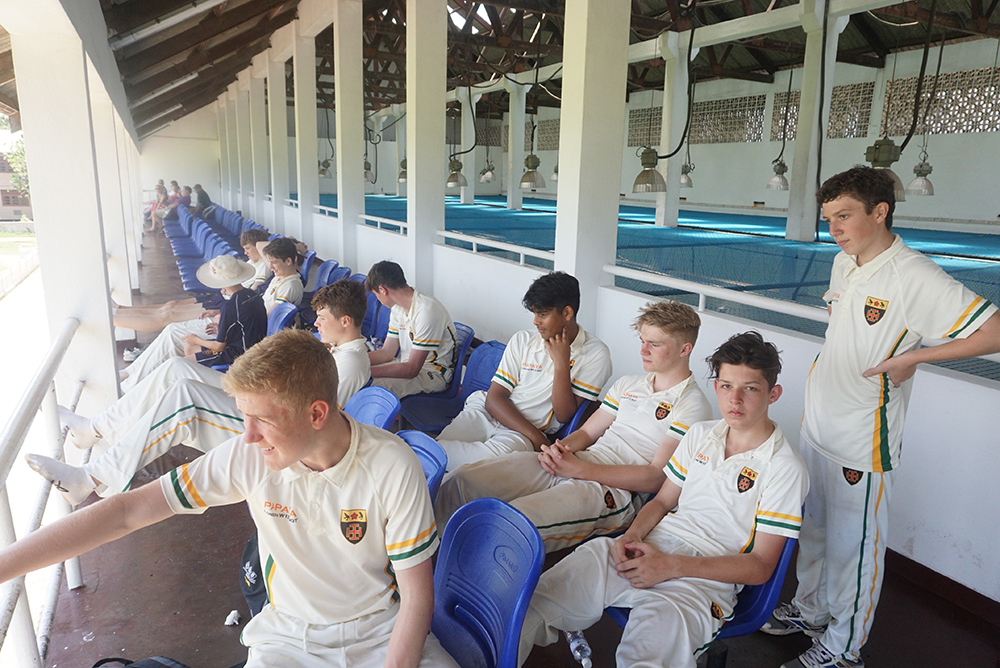 In a packed itinerary, the boys played a total of seven fixtures over ten days, including an unforgettable match at the magnificent Galle International Stadium: fringed on two sides by the Indian Ocean, it is considered to be one of the most picturesque cricket grounds in the world! They stayed in three different locations - Kandy, Hikkadua and Mount Lavinia, near Colombo – and the tour included several fascinating excursions, taking in tea plantations, turtle and elephant sanctuaries and a visit to the Temple of the Tooth in Kandy - one of the most important Buddhist sites in the world. In contrast, there was also a city tour of Colombo and a Sri Lankan Culture Show, which reached its climax with fire walking!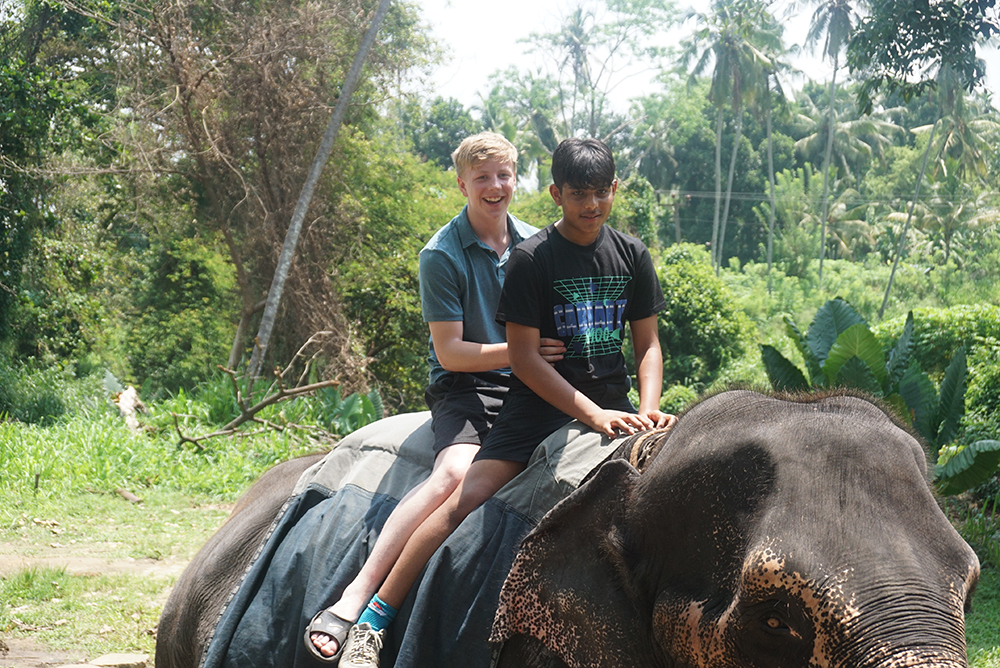 A highlight of the tour was a wonderful afternoon at the Foundation of Goodness in Seenigama near Hikkaduwa. This inspirational charity has transformed the lives of rural communities in Sri Lanka since the tsunami of 2004, and is supported by the MCC. After touring the Foundation, the boys played football and cricket with a group of happy, smiling, talented and relentlessly enthusiastic children.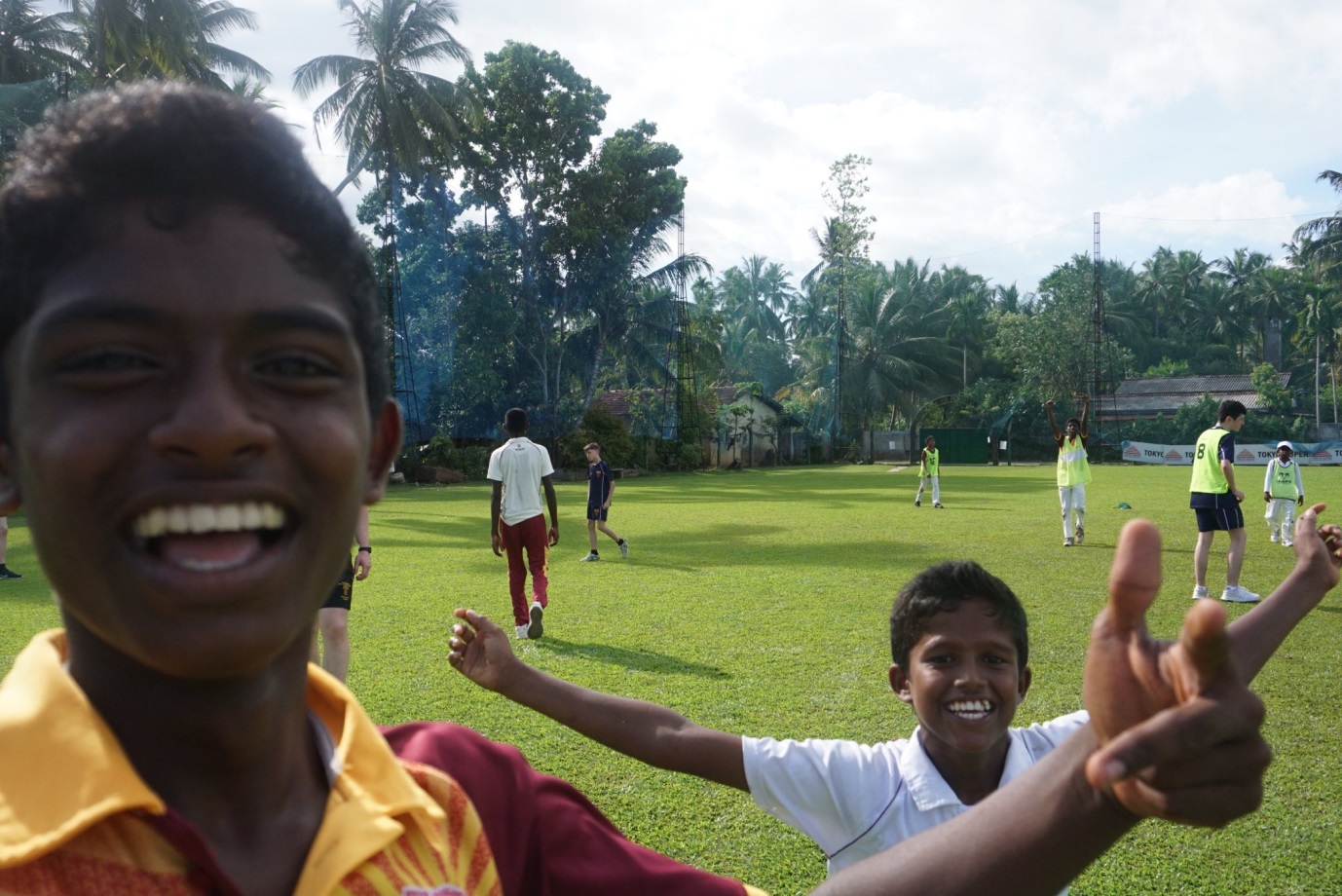 Later in the week, we were delighted to present a cheque for £7,000 to the Foundation of Goodness, raised by St Benedict's pupils over the course of the year. The presentation was made at the Cricket Café in Colombo, and was attended by Rangana Herath, the most successful left-arm bowler in the history of test cricket and a great supporter of the Foundation.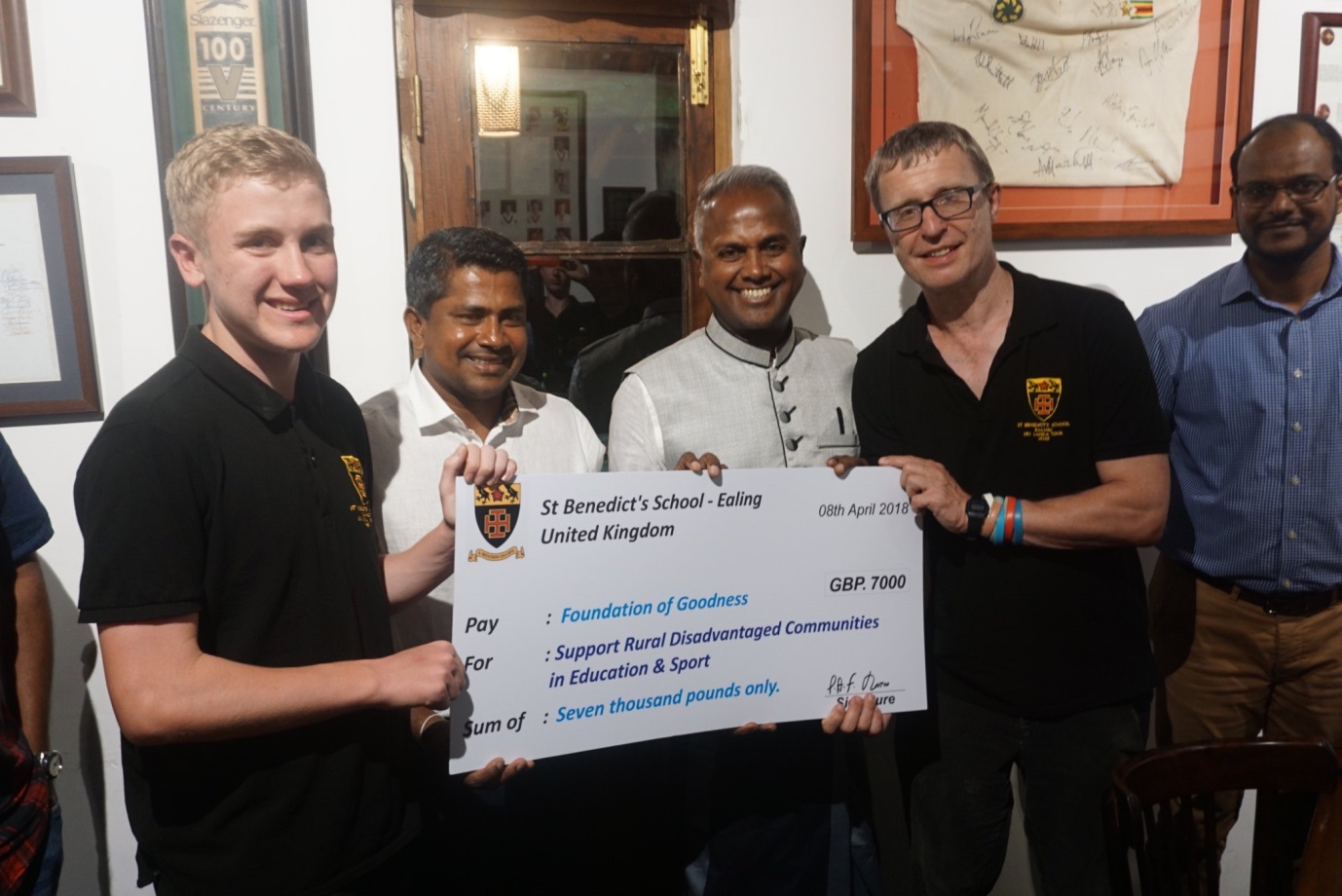 This brilliant tour provided wonderful experiences, and featured three great wins in challenging and unfamiliar conditions.
Fixtures
MONDAY, 2ND APRIL
Dreams Academy, Rathnapura 191-8 (Conor Lambert 2-32, Barney Morris 2-32), St. Benedict's 130 (Conor Lambert 56, Laurence Daly-Jones 23 not out)
Dreams Academy won by 61 runs
Man of the match: Conor Lambert
The whole day was a great experience, with the first match on tour offering a mixture of real positives and harsh lessons: Dreams Academy had recovered from 10-3, while the St Benedict's team collapsed from 108-3! This was a very big match for the opposition, who had travelled a long way to play us and had to stay overnight.
WEDNESDAY, 4TH APRIL
T20 1: Ranabima Royal College 162-2, St. Benedict's 143-6 (Conor Lambert 38, Finley Carty-Howe 37, Cathal Sheehan 31)
Ranabima Royal College won by 19 runs.
Man of the match: Finley Carty-Howe
T20 2: St. Benedict's 228-2 (Conor Lambert 66, Barney Morris 59 not out, Dom Taylor 40 not out, Ethan Wetherell 27), Ranabima Royal College 181 (Laurence Daly-Jones 2-5)
St. Benedict's won by 47 runs.
Man of the match: Barney Morris
This was a great all-round performance to achieve the first win on tour! 228 was a huge total which the opponents threatened until their superb opener was caught by Barney Morris for 97, one of two great catches by Barney in his man of the match performance.
FRIDAY, 6TH APRIL
St. Benedict's 89, United Southern Cricket Academy 90-3 (Laurence Daly-Jones 2-20)
United Southern Cricket Academy won by 7 wickets.
Man of the match: Laurence Daly-Jones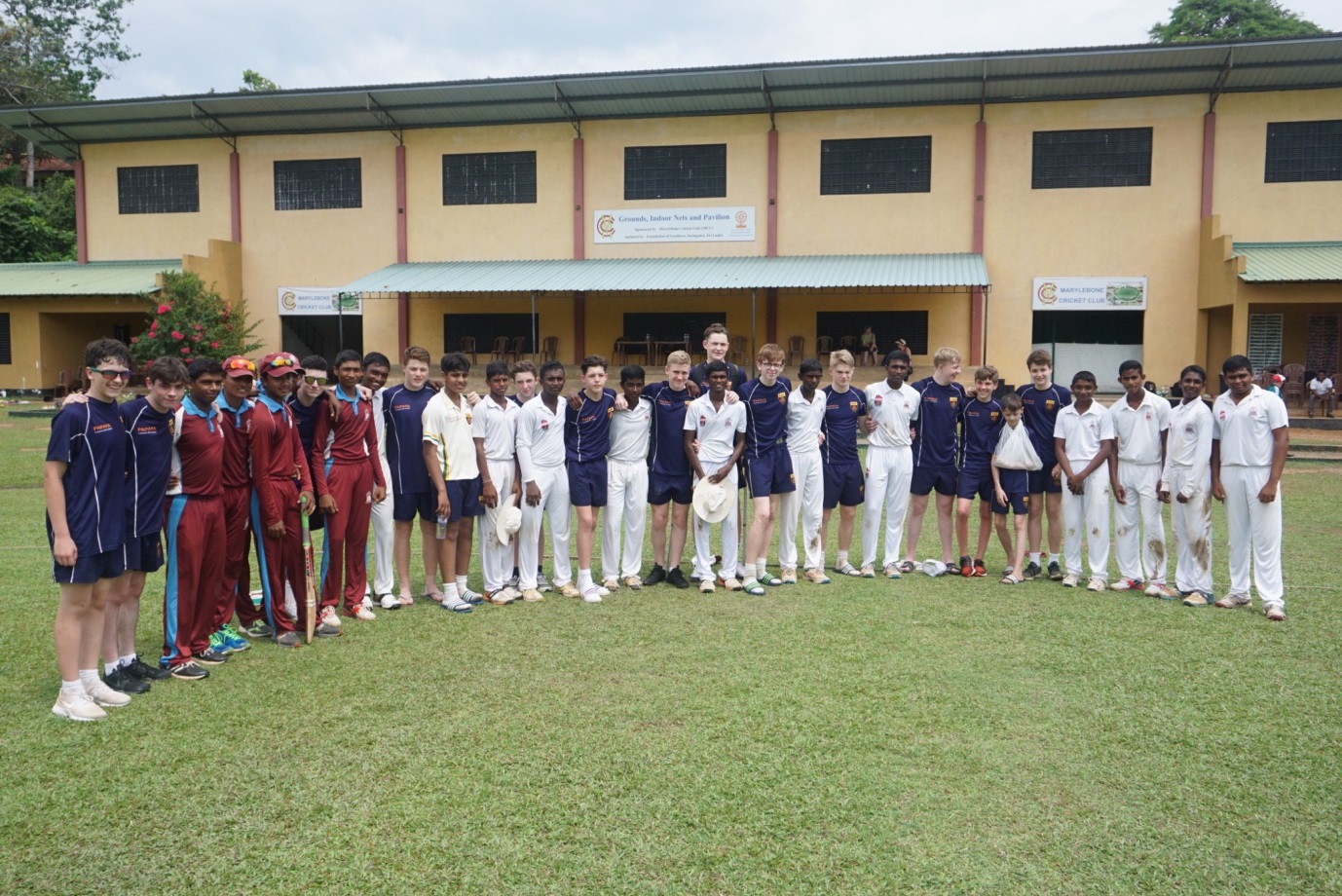 SATURDAY, 7TH APRIL
St. Benedict's 194 (Jared Braddock 69, Cathal Sheehan 37), Galle Academy 67-8 (Laurence Daly-Jones 2-9, George Curtis-Raleigh 2-11)
St. Benedict's won by 53 runs based on a revised target of 120 from 20 overs (rain).
Man of the match: Jared Braddock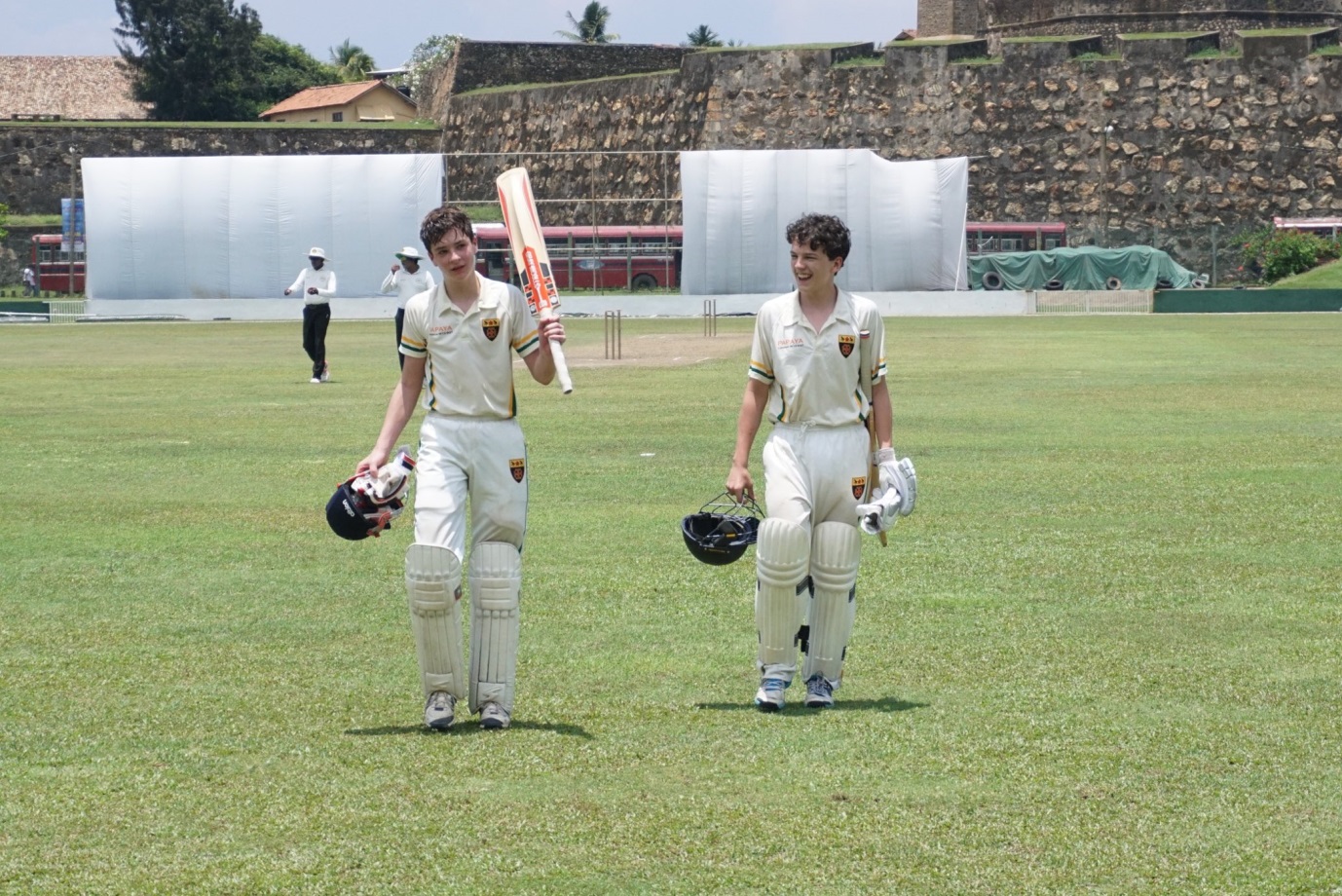 There were excellent performances from the U14 trio of Jared, Cathal and George. Jared's partnership of 82 with Cathal rescued the team from a precarious 78-6, and George provided two wickets in two balls.
It was a privilege to play and win in the magnificent Galle International Stadium.
TUESDAY, 10TH APRIL
St. Benedict's 213-9 (Jared Braddock 84, Ethan Wetherell 25, Finley Carty-Howe 24 not out), Champs Academy 163 (Laurence Daly-Jones 3-19, Barney Morris 3-25)
St. Benedict's won by 50 runs.
Man of the match: Jared Braddock
Our third win of the tour! Another innings of great authority and maturity from Jared held the innings together. George and Louis P. bowled 16 consecutive overs of spin for only 50 runs, which put our opponents under pressure and helped Laurence and Barney to take wickets.
THURSDAY, 12TH APRIL
St. Benedict's 170 (Barney Morris 40), St. Thomas', Mount Lavinia 172-4 (Barney Morris 3-27)
St. Thomas', Mount Lavinia won by 6 wickets.
Man of the match: Barney Morris
Best tourist: Finley Carty-Howe
Most improved player: Cathal Sheehan
Best fielder: Daniel Clifford
Most runs: Conor Lambert
Best batsman: Jared Braddock
Most wickets: Laurence Daly-Jones
Best bowler: George Curtis-Raleigh
Player of the tour: Barney Morris