St Benedict's Model United Nations Society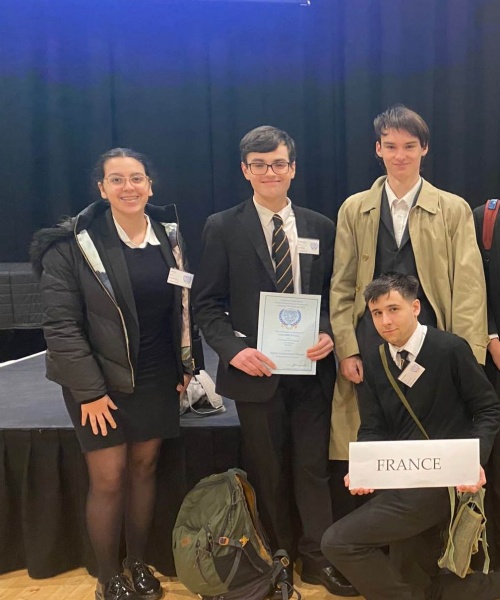 The St Benedict's Model United Nations team represented France on Saturday 25th February at a conference held in Guildford. Congratulations to Sam, who was a 'Highly Commended Delegate' on the Security Council in the closing ceremony.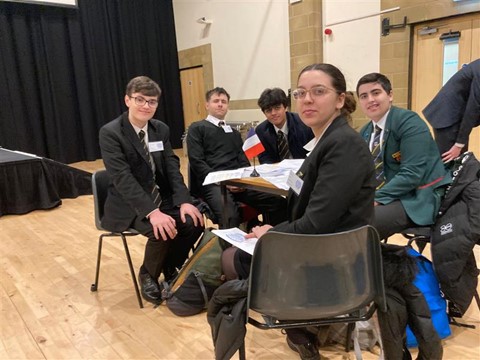 Model United Nations delegate Angela G reports:
Model United Nations (MUN) is an academic simulation designed to replicate the United Nations in session. Here at St Benedict's, we are proud of our MUN Society for being a group of perceptive and astute individuals, qualities which were clearly demonstrated in our individual performances at Guildford High School.
Delegates for either France or Brazil, we began the day with a cordial welcome from the GHS MUN team, rehearsed the proceedings and afterwards split into our committees to commence with a day of thoughtful and fruitful debate.
Our day was split into two halves, the Morning Session consisting of internal debate within committees. I, in the ECOSOC committee, was given the question of tax evasion. The Afternoon Session was a gathering of the general assembly where all delegates representative of all countries consolidate and debate the actions that should be taken in response to a fictional scenario set by the chairs.
Congratulations to the whole of the St Benedict's MUN team, Guildford High School, and the several other schools participating who displayed exemplary debate on the topical issues proposed. Special congratulations are extended to Samuel Bricknell (L6) from St Benedict's who was awarded 'Highly Commended Delegate'. This is a significant achievement due to the sheer amount of thinking and argumentative stances that must be improvised on the spot. What a successful and insightful day!
Angela (L6)