The Importance of Reading ​​​​​​​​​​​​​​
St Benedict's Librarian, Emma Wallace, outlines the many ways in which St Benedict's inspires and encourages pupils to enjoy reading.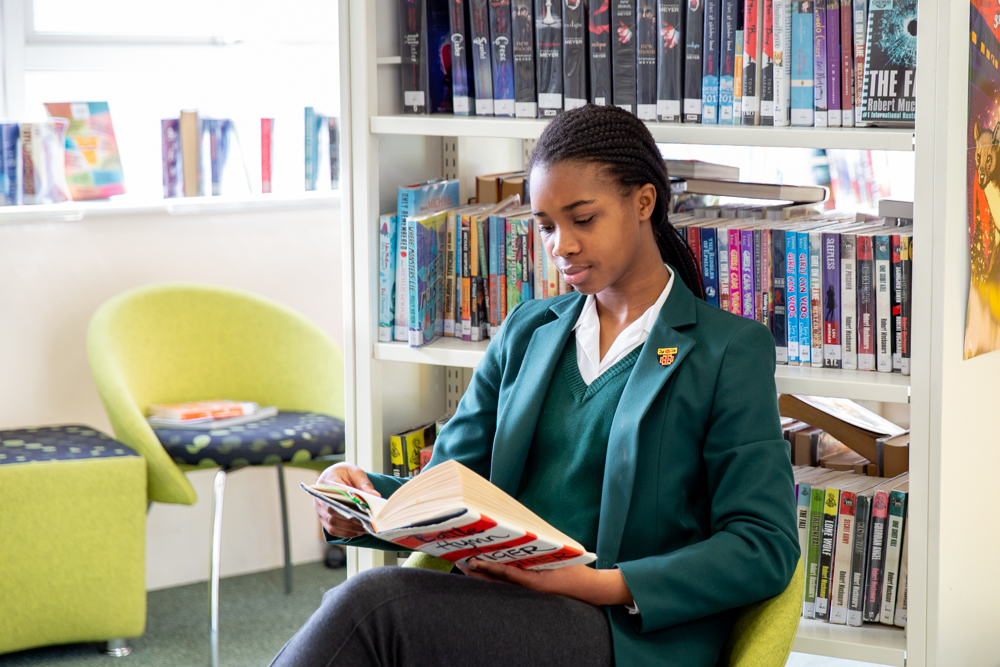 At St Benedict's School, we believe reading should be central to a pupil's education, underpinning academic study and enriching their social and cultural experience, both while at school and in their future, adult lives. There are innumerable studies showing the benefits of reading, such as its ability to expand pupils' language and vocabulary skills, help them develop better writing and spelling skills, enhance creativity and improve concentration. It has also been proven to help with equally important 'softer' skills, such as helping pupils build relational and empathy skills, as well as reducing stress and tension, something that is so important in today's often hectic world. From this evidence, the senior school library aims to place reading at the heart of learning at St Benedict's, ensuring that pupils have every opportunity to develop their own love of reading.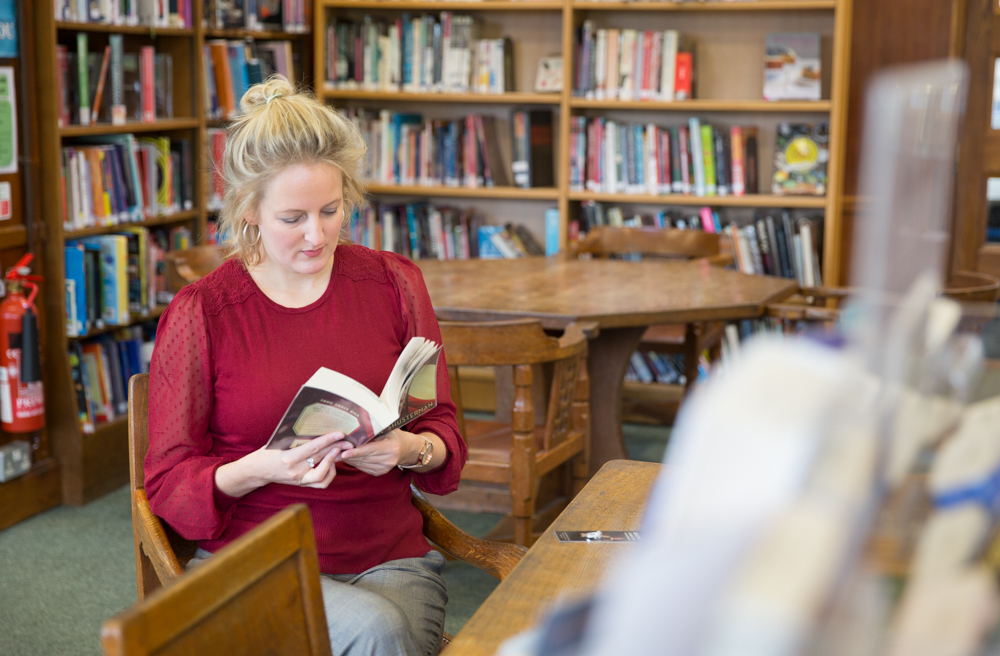 One of our key objectives in the library is to make reading enjoyable. There are many competing elements on children and teenagers' time, from social media to after-school activities, sports and hobbies. This makes it even more important that reading is positioned as something fun and autonomous, rather than graded and enforced. Reading is one of the first opportunities a child has to start to explore and choose books for themselves, independent from adults. We consequently want to cultivate a space where pupils can take ownership of their 'reading for pleasure'. To create a positive relationship with pupils, the library aims to be a welcoming and bright space that encourages pupils to get involved in library activities, as well as browse and borrow books. We have a specially designated area in the Middle School Book Room, which provides pupils with a modern, informal space including beanbags and sofas to sit back, relax and read during break or lunch, before and after school. We also have a team of library staff who are always on hand to assist pupils with their reading needs, talk about books and recommend or order alternative titles. We want pupils to feel that they can choose and direct their own reading choices, without the fear of being judged in those choices.
It is essential that the library holds a collection of resources that pupils will be interested in, inspired and challenged by. We continually update the range of books in the library, purchasing the latest author publications, series, book award shortlists and winners to keep the collection fresh and current. There is such a wealth of material being published in the Young Adult book market, that it is at times hard to keep up - plus create enough shelf space! We consequently make sure we buy books in consultation with the readers, providing pupils with the opportunity to make book requests. This is particularly important with reluctant readers, who may feel the library does not have anything to offer or are daunted by the thought of reading a chapter book. From talking to pupils, we have established the need to buy more sports related fiction and biographies, have developed a collection of dyslexic-friendly shorter reads and an extensive graphic novel and journal collection.
Another way we engage pupils in the library is to ensure we have frequently changing displays of books to encourage pupils to browse and borrow something new. Even though we are told not to judge a book by its cover, it can often tell us quite a lot about the book inside. We therefore have lots of book display units, presenting the book front covers, plus frequent themed displays that welcome pupils as soon as they walk in the library. We often tie these displays to wider school events, such as Classics and Modern Languages week, along with wider national events including Fairtrade Fortnight. The displays showcase both non-fiction and fiction books, as well as artefacts and posters to bring the topic of choice to life. We also hold competitions connected to the displays to provide pupils with the opportunity to get involved. Past competitions include 'design your own magic spell' (Harry Potter Book Night) and 'invent a Dystopian book title.' These displays and competitions aim to support and reinforce pupils' wider curriculum learning at school.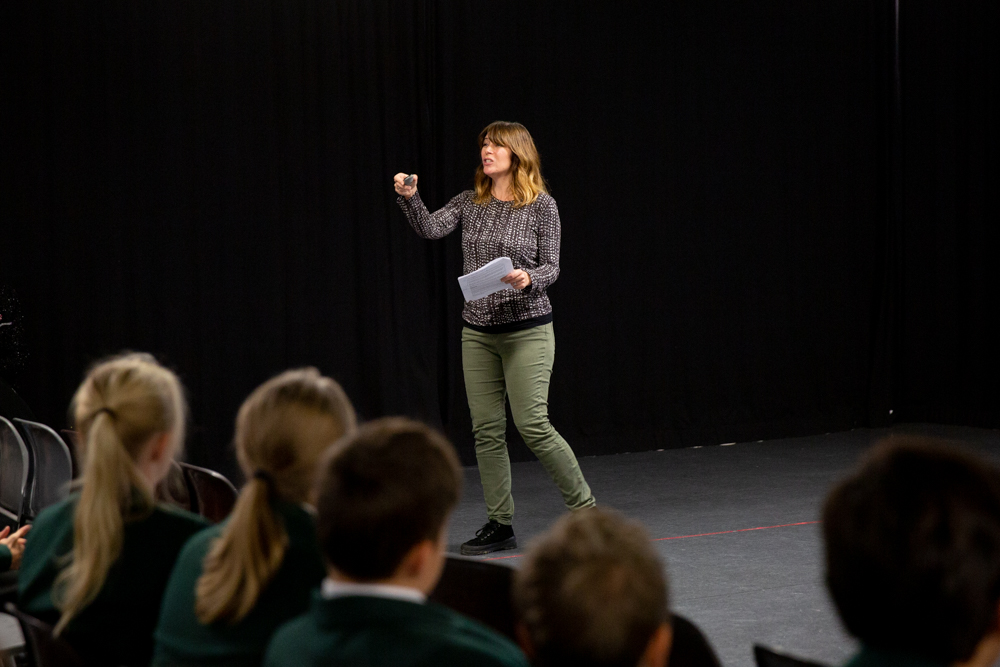 To ensure that reading is kept at the forefront of pupils' minds, we have a rolling calendar of literary events during the academic year, to engage and inspire. One of the biggest of the year is Book Week. This year, local author Faye Bird talked about her books to years 7 and 8, comic illustrator Richey K. Chandler ran a day of drawing workshops, and lunchtime activities a 'Harry Potter and the Philosopher's Stone Question Time' and a classic ghost story reading. The majority of these events were held outside the library's four walls, drawing in a wider school audience. There are also whole school activities to emphasise the importance of reading across all subjects, including a 20-minute 'Drop Everything and Read' session and a 'Short Story in a Day', where each period begins with a couple of paragraphs from a classic story.
World Book Day in March is also an excellent opportunity to celebrate reading at St Benedict's. Themes in recent years have included a murder mystery - with five Cluedo-esque suspects dotted around school - and a 'Reading Comes to Life' campaign, based on photos of teachers dressed as famous book characters, emerging from behind pupils reading the classic books! And our latest WBD campaign challenges pupils to map their 'Reading Journey', exploring a range of books – from Mark Haddon's The Curious Incident to Sherlock Holmes – which all feature the London Underground, followed up with a quiz on quotes and characters. In addition, the school canteen will be providing a London Underground themed menu, including such tasty items as Shepherd's Bush pie, Green Park salad and Victoria sponge!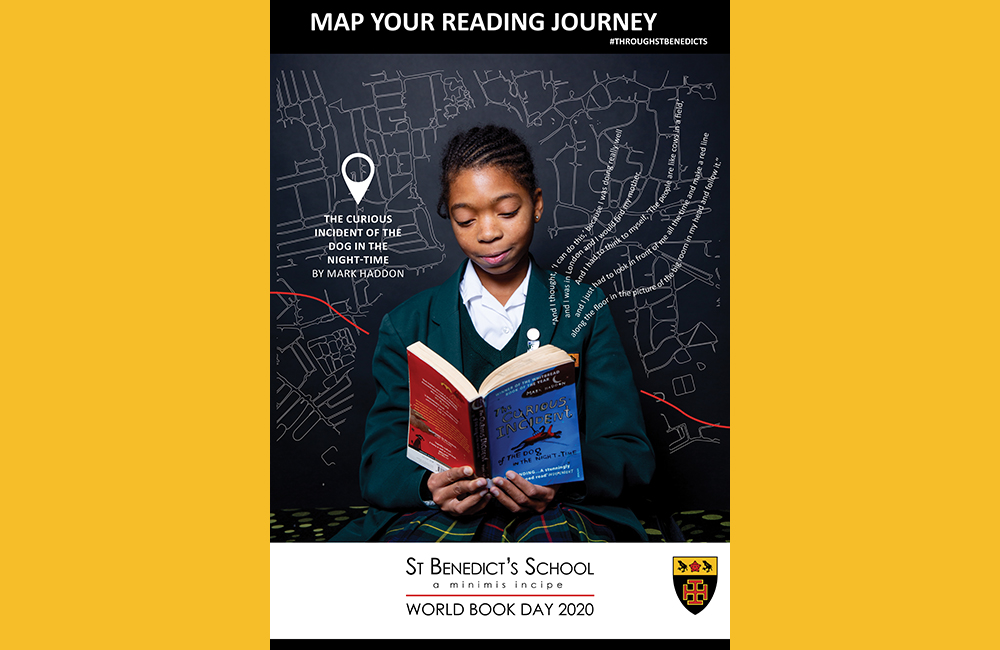 It is important that pupils possess the skills and language to be able to select, debate and critique the books they read. To facilitate this, we run library lessons for year 7 and 8 pupils, working closely with the English department. In these lessons pupils are led through a programme of library skills, covering the different types of resources available in the library and how to locate them, class discussions around fiction genres, along with how to rate and review books effectively. This empowers pupils to independently search and select books they want to read, and also possess the verbal and written skills to discuss the books they have read.
To help pupils identify books of interest and step outside their reading comfort zone, the library has created a set of reading lists for different year groups. This is an excellent way to expand pupils' book choices, providing alternatives and encouraging experimentation with a new author or genre. We also have a number of longer, themed reading lists, such as feminist literature, gothic novels and most recently, a Dystopian reading booklet to run in parallel with year 8 reading Hunger Games and discussing dystopia as a literary genre. We have also just launched a 'Bibliotherapy' booklet, which lists books in the library that support emotional and mental wellbeing. From these reading lists, pupils are set frequent reading challenges over the school holidays, to read and review a certain number of books. This is an excellent way to ensure that pupils keep reading out of term-time, and provides an opportunity for pupils to share with each other the books they have read when they return, inspiring ideas for future reads.
Along with book lists to challenge and inspire, we run two book clubs in the library, open to anyone who enjoys reading and would like to share in that experience. These offer an opportunity to take part in lively, weekly discussions around the latest books they have chosen to read as a group. We also shadow the Carnegie Awards shortlist in the summer term and take a small group of keen readers to the annual Ealing Teen Read Awards, run by Hounslow Schools Library Service. This is a lovely activity as it challenges pupils to read the six shortlisted books in a designated period, share thoughts on the books with the group, identify their own winner and then get involved with other schools in the area to choose an overall Ealing winner.
It is from this wide range of events, competitions, book clubs, reading lists and reading challenges that we aim to bring reading to life and engender a lifelong love of reading in our pupils. Their involvement in reading, across subjects and year groups, through formal and informal learning alike, helps to reinforce the value of reading and ensure they develop the skills to create their own reading world. The library, with its reading spaces, books and programme of activities, aims to be a focal point for pupils' reading and the perfect heart of the school for this to occur.