A Myth For Our Time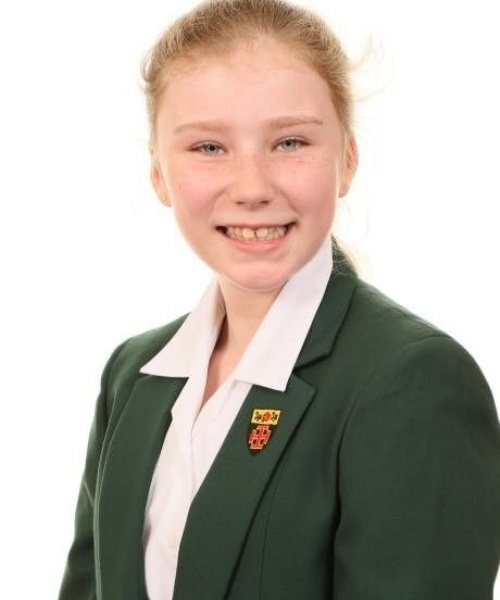 Congratulations to Georgia (Year 7), who has won First Prize in the latest Helikon Centre Writing Competition - A Myth For Our Time.
A MYTH FOR OUR TIME By Georgia Toolan (Year 7)
Could this guy actually stop snoring? I mean for twelve hours straight the low pig- like grunts echoed in my ears making me want to punch him and tell him to shut up!
The flight attendant said we would be landing in twenty minutes. At least in twenty minutes I could check WhatsApp, Tik Tok, Instagram, Snapchat and Facebook. I mean not checking my social media accounts every half hour was punishment enough, but sitting next to this bozo was just torture! I mean I HAVE to check if Greta Thunberg's latest campaign against air travel has reached a million e-signatures yet! And while I'm at it: what is this bozo troglodyte doing travelling between continents, polluting the environment and endangering my mental health? I must report him to Megan so she can shame him on social media.
CLICK. That's the selfie I need to send her for the "Fly & Shame" website.
The snapshot made the nitwit jerk up, hitting his head on the chair. I couldn't help but smile as I thought, 'you had that coming!!! '.
As I finally stepped out into the cool Charlotte Airport I sighed with exhaustion. A few minutes later I was on WhatsApp checking what I'd missed when someone warm and small put their arms around me! Alarmed, I looked up and realized it was just my grandma. She smiled sweetly and told me how pleased she was to see me. I gave an untruthful disheveled smile and backed out of the warm embrace.
As we drove for hours she asked me so many questions- too many questions! "Could this woman ever stop blabbering?" I thought as the light from my phone slowly killed my eyes. "Now put your phone away dear, we're going up the mountain," she said cheerily. I mumbled under my breath and reluctantly put my phone into my pocket.
"Darling, you may begin to feel a little motion sick as we go up the mountain's winding roads but just try and keep your eyes straight ahead," Gran said.
"Ok," I answered snobbishly, not caring at all what she was yapping on about this time. And guess what, twenty minutes later I was puking off the side of a mountain… I heard her shrill voice ask me if I was alright but I wasn't at all listening. Just at that moment, yes, the moment where I wasn't listening, my phone- my precious, darling phone- slipped out of my pocket and down the mountain! "OMG, MY PHONE IS GONE FOREVER!!!! COULD THIS DAY GET ANY WORSE!!!!!" I screamed and burst into tears. And that is the last thing I remember of that night: myself having an existential tantrum on the edge of the mountain and my grandma trying to convince me that making myself a sacrifice would not make my phone come back… "To be without a phone, or not to be. That is the question!"
That night was tragic- my bed was hard and lumpy, the food was inedible and, as you already know, my phone was assassinated by my stupidity. But that's not even the worst of it. I figured out the next day that this Podunk town in North Carolina didn't even sell phones- I mean come on! Its like the universe is punishing me but I have no clue why? And because there are only a few things that please me in the world- one of them being my phone- I fainted at this horror story! Wait until Megan hears about this!
As I sat bored-to-death on the couch eating chips, I dreamed of a better world, one where my phone was in it and people went to jail for being annoying, failing to support the right causes or failing to think the same as me ,#PROJECT UTOPIA (NO ONE HAS MORE ORIGINAL IDEAS THAN ME!) Just then, my frumpy grandma- who would go to jail in my world- came into my presence and rudely disrupted my idea-flow. "Later on, we're going to the soup kitchen as volunteers but right now we're going to Dr Draper's Dentistry to help out the poor. Did you know that Dr Draper just came back from Africa? He was helping those who couldn't afford proper dentist work- he's a lovely man!" Gran grinned. Really, first my phone and now this. Wasn't posting a "like" on social media enough? It didn't look like I had much of a choice though, so I guess I was going to do stuff.
Dr Draper had set up a temporary surgery in the church hall just off the mountain road. It was a free clinic for the poor of Appalachia. My grandmother, a retired nurse, volunteered there as a dental hygienist. I could never have comprehended the true horror of cleaning up someone's spit until that morning. And it was the first time in my sheltered middle-class life that I had experienced poverty in the flesh. Dr Draper and my grandmother treated for free any of the local rural poor. "All rotten teeth look the same," my grandma told me. She also explained how poverty, unemployment and drug addiction blighted local communities. Slowly, I began to realise the hardships that these people endured. The work Dr Draper and my grandmother did for them was often the only kindness they received. In my clumsy way, I began to help Gran with some of the menial tasks, such as cleaning up and emptying the waste.
As our wages for the morning's work, Dr Draper treated us to pancakes for lunch at the local diner. The blueberry syrup and chocolate sauce seemed sweeter than normal to me. It was strange to me that there were no vegan or dietary appropriate choices on the menu; stranger still that I did not complain or even feel like complaining.
After filling our stomachs, Gran took us over to the soup kitchen where we volunteered. Gran and I worked together as a pair; she peeled the carrots and I peeled the potatoes. The other volunteers were very welcoming and we all worked well together. From the chatter, I realized that some of the volunteer ladies did not have much themselves, and yet still they cheerfully gave up time for others. Towards dinner time, Gran and I were stationed on the food serving table. I thought the dental surgery had opened my eyes but when I saw those poor hungry people coming, my heart was filled with pity. I did not know what to say, but next to me, Gran chatted cheerfully with our guests. She knew many of them by name and welcomed them as she would a guest into her own house, dispensing food and good humour in equally generous measures. My initial shock subsided, as I grew into my new role as my grandma's junior sidekick.
The time passed quickly and soon we were clearing plates and washing up alongside the other volunteers when the evening news came on in the kitchen. "Breaking news! Scandal as Greta and Megan take private jet to a party in Barbados. Prince Harry comes to the rescue, offering to fly them home in his personal helicopter." 'It's ok,' says prince, 'I paid for the fuel myself from my dad's allowance.' Social media goes wild."
"I bet you wish you had your phone now darling," Gran chuckled.
"No Gran," I replied in a Damascene moment of clarity. "I think I've realized what real charity is. It is an exhausted dentist snoring next to me on the plane home from a month of volunteering in Africa. It is not virtue signalling. That is the modern myth."
By Georgia Toolan; 29 November 2020