Selfless commitment at Dunkirk: Dom Gervase Hobson Matthews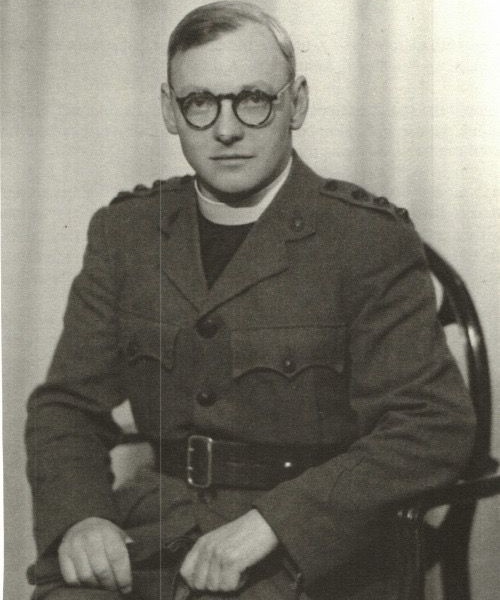 Eighty years ago, a Benedictine monk and chaplain to the forces was killed as he stayed with the wounded at Dunkirk. A teacher at St Benedict's for 10 years, Father Gervase volunteered as a military chaplain because so many of the boys he had taught had sacrificed everything to serve their country.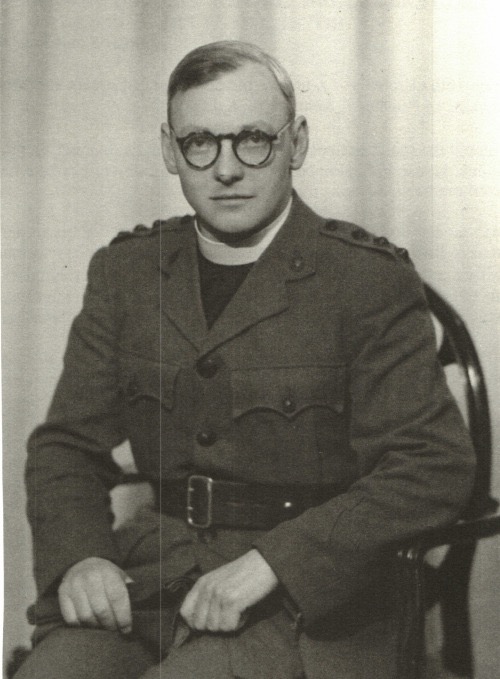 May and June this year marked the 80th anniversary of the evacuation of Dunkirk, when 338,000 British, French and Belgian troops were rescued from its beaches by the Royal Navy and fleets of "Little Ships".
Among those left behind was an Old Priorian (former pupil of St Benedict's), Dom Gervase Hobson Matthews OSB. A monk at Downside and Ealing Abbey, he had taught at St Benedict's (then Ealing Priory) for more than a decade. In September 1939, he volunteered as a Chaplain to the Forces and embarked with the BEF for France. During his last leave he confessed that becoming a military chaplain had been a big sacrifice but he had made it because so many of the boys he had taught had given up everything to serve their country.
In May 1940, Dom Gervase was given an evacuation pass, to go aboard one of the boats at Dunkirk and return to England. But, having escorted a group of nursing sisters to the coast, he decided to go back and rejoin his military unit. With the Battle of Dunkirk just four days away, Dom Gervase could not have been under any illusion about the risk he was taking.
Father Gervase recorded all his experiences in his diary, in which he included details of his letters, the things he saw, and the places he visited.
His chalice, given to him on his ordination day, is still used at all St Benedict's School Masses.
May 25th, Saturday
During the afternoon 18 German planes came over and dropped a number of bombs, six of which fell very close. It was pretty awful. The whole place seemed about to fall and most of the windows crashed to pieces. It was horrid listening to the whine of the bombs and the frightful explosions. The large and very fine parish church (at the Lady Altar of which I said Mass this morning), about 100 yards away, had a direct hit and was smashed up completely. I found the tabernacle door blown open, the lid blown off the ciborium, the lid of the lunette also blown right off, and the Hosts covered with dust and plaster; climbed over the debris (which was beginning to smoulder) and took the Blessed Sacrament to a nearby house – for which I was patted on the back by some French soldiers! It was terrible going into the houses to look for the people. No civilians were killed but a number were injured. A French soldier and two British soldiers (from No 5 C.C.S.) [Casualty Clearing Station] were killed. I anointed the French soldier just before he died, and afterwards I buried him in the newly-improvised military cemetery outside the town. (Louis Pastre, 406th Rgt.) Sent a field card to Pon. Have no idea whether any mail is able to get across.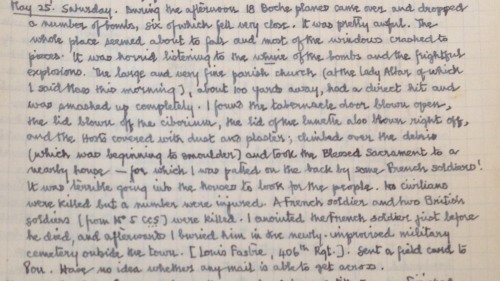 May 29, Wednesday
Abandoned belongings and, with skeleton kit, led marching column to the sand dunes; thence in convoy to the coast (Coxyde) and to La Panne, where destroyers and other boats are beginning to take troops to England. Opened up the C.C.S. in a large air-raid shelter on (or rather under) the front. Billeted in a house overlooking the sea and the evacuation – men wading waist-deep to boats to take them to the destroyers and troop ships. British battleships bombarded the German lines towards Ostend. Intense anti-aircraft fire from innumerable guns on the shore, as German planes flew overhead. Incredible noise. Shells and bullets whizzing in all directions! Tracer bullets at night.
May 30, Thursday
Was able to say Mass for the first time since the church at Steenvoorde was destroyed on Sunday. Lord Gort visited the C.C.S. Wrote to Pon, hoping the letter will get to England. Fr James called.
A priest has certainly to stay."

Dom Gervase Hobson Matthews, OSB
May 31, Friday
Was with the wounded from 3 a.m till 6.30. Peter Hardy, 150th Fd Amb. R.A.M.C died and I buried him later in the improvised military cemetery. We had to throw ourselves to the ground during the burial to avoid fire from enemy planes and our own A.A. bullets. The Boche began to shell the evacuation. A bomb fell very close after lunch and our windows were smashed. Saw a German plane dive into the sea during a colossal air battle.
His last entry in his diary ends: A priest has certainly to stay.
Hours later he was killed, the first Catholic military chaplain to die in the Second World War.
His diary, which ran right up to the night before his death, was found on his body on the beach, and was returned to the War Office before being given to Downside.
His chalice, given to him on his ordination day, is still used at all St Benedict's School Masses.