Music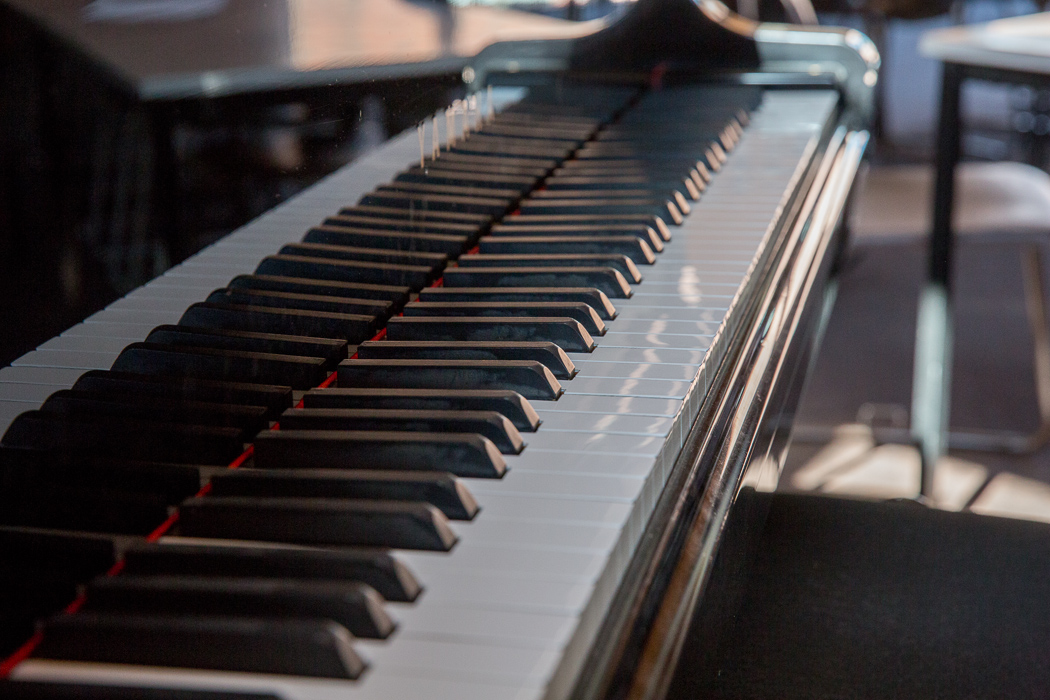 Introduction
Music is an integral part of school life at St Benedict's. We aim to foster an approach of independent learning and practice through the study of performance, composition and critical analysis. Through the study of musical history and form, pupils have the opportunity to discover the wider context and origins of different genres of music.
Weekly individual instrumental and voice lessons are offered by a team of specialist visiting music teachers, and opportunities abound for solo and ensemble performance. Co-curricular groups include School Orchestra, String Group, Wind Band, Concert Choir, Percussion Ensemble, Guitar group, and many others. Pupils are encouraged to form their own bands and ensembles with the full support of the Music Department.
Formal and informal concerts take place throughout the year both within school and at public venues such as Ealing Abbey and St John's, Smith Square. Recent major concerts include Carl Orff's Carmina Burana, Fauré's Requiem, Harvey Brough's Requiem in Blue (2014) and Mozart's Requiem. The Music Department is currently involved in a long-term partnership with the professional ensemble Voces 8, providing workshop, leadership and performance opportunities for pupils of all ages, including the Junior School.
Form 3 to Upper 4th(years 7 to 9)
Music is part of the curriculum, and pupils develop their performance, composition and analysis skills through the study of a wide range of topics, such as Jazz/Blues, Film Music, Reggae, Samba and Programme Music. There are many opportunities for composition using both Sibelius and Mixcraft software, and pupils gain vital skills required to compose successful pieces of music which demonstrate strong melodic, structural and harmonic content. During these Middle School years pupils are encouraged to engage in the many ensembles on offer as well as embracing opportunities for extended study.
GCSE
Approximately 25-35 pupils study Music at GCSE, following the Edexcel syllabus. The course content is divided into Solo and Ensemble Performance (30%), Composition (30%) and Appraising (40%). Areas of Study are divided into Instrumental Music, Vocal Music, Music for Stage and Screen and Fusions. The study of these genres gives pupils the opportunity to reflect on, analyse and evaluate music using their knowledge and understanding of musical elements, musical contexts and musical language. This will enable them to make critical judgements about the repertoire and context of music within each area of study.
A level
The Eduqas specification provides learners with the opportunity to study music in an integrated way where the skills of performing, composing and appraising reinforce knowledge and understanding of musical elements, contexts and language. In addition to the appraising examination, all learners will be assessed in both performing and composing. However, the specification allows learners to specialise in either performing or composing by providing two options for Components 1 and 2. Learners must choose either Option A in both Components 1 and 2 or Option B in both Components 1 and 2. All learners must study Component 3.
Option A allows learners to specialise in Performing: 35% of Component 1 will be allocated to performing and 25% of Component 2 will be allocated to composing.
Option B allows learners to specialise in Composing: 35% of Component 2 will be allocated to composing and 25% of Component 1 will be allocated to performing.
Component 3: Appraising (40% – Written examination: 2 hours 15 minutes)
Learners will develop knowledge and understanding of music through three areas of study from the choices below.
The Western Classical Tradition
Rock and Pop, or Musical Theatre, or Jazz
Into the Twentieth Century