Politics students attend Westminster Conference
A level Politics and Government students heard from a range of distinguished politicians, including Ken Clarke, Nick Clegg, Anna Soubry, Kier Starmer and Jacob Rees Mogg.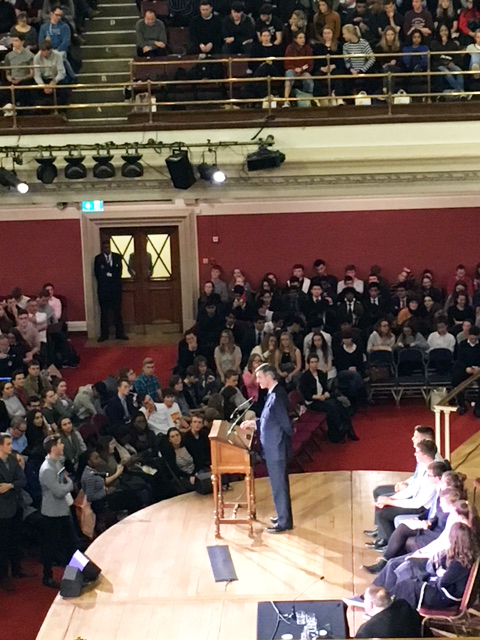 Paulina Sienniak (L6) reports:
The Lower 6th Politics students attended a conference at Central Hall, Westminster shortly before the end of last term. Everyone was impressed by the eloquence of the speakers and found the experience to be very interesting.
Firstly, we heard from John Bercow, the speaker of the House of Commons. He discussed the inner workings of his job and how he has attempted to make parliamentary scrutiny even better. He spoke in a compelling manner, which made us all understand his position as speaker. Kier Starmer, the shadow Brexit Secretary, spoke next. Once again he spoke very well and commented on the importance of challenging what you read or hear– whether that be a particular view or information.
After a quick break, we were fortunate to listen to Kenneth Clarke speak. The hall applauded the veteran politician, and as he spoke the room was listening with great admiration. Once again, Brexit dominated the topic of discussion, and many questions were asked and answered with great detail.
We also listened to Anna Soubry and Jess Phillips, who tackled issues that women faced in politics. As there were many girls in the room we found them very inspirational for having tackled so many challenges in order to get where they were. Jess Phillips was particularly informative about the life of an MP, describing her great devotion to her constituents.
Our last two speakers were Jacob Rees Mogg and Nick Clegg. Jacob Rees Mogg split the hall in half, as it burst into both applause and boos, almost imitating the House of Commons. The queues to the microphones quickly resembled the queues to the canteen, with students hungry for answers to their questions. Nick Clegg ended the event with a speech on the importance of small parties in politics, a potential attempt to convince us to vote Liberal Democrat at the next election. He too spoke eloquently and answered questions with enthusiasm, even when they were quite critical.
All the Lower 6th pupils enjoyed the experience and were very grateful to Mr Joyce and Mr Wijnberg for giving us this opportunity.