Lord Patten meets the St Benedict's scholars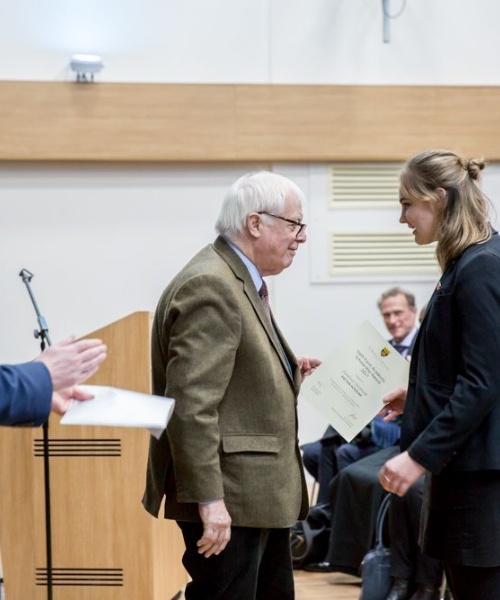 Lord Patten attended the annual Scholars' Evening on November 13th. In his address, he said that he had been "wonderfully happily educated at St Benedict's", adding that it had formed his "strong view of what schools should be like."
St Benedict's held its annual Sixth Form Scholars' Evening on November 13th in the Orchard Hall. It was attended, as always, by Lord Patten of Barnes - alumnus, Patron of the School and Chancellor of Oxford University. Chris Patten was the last British Governor of Hong Kong and is a Crossbench member of the House of Lords.
The new Lower 6th academic scholars were presented with their awards by Lord Patten, Abbott Martin Shipperlee and the Headmaster, Mr Johnson.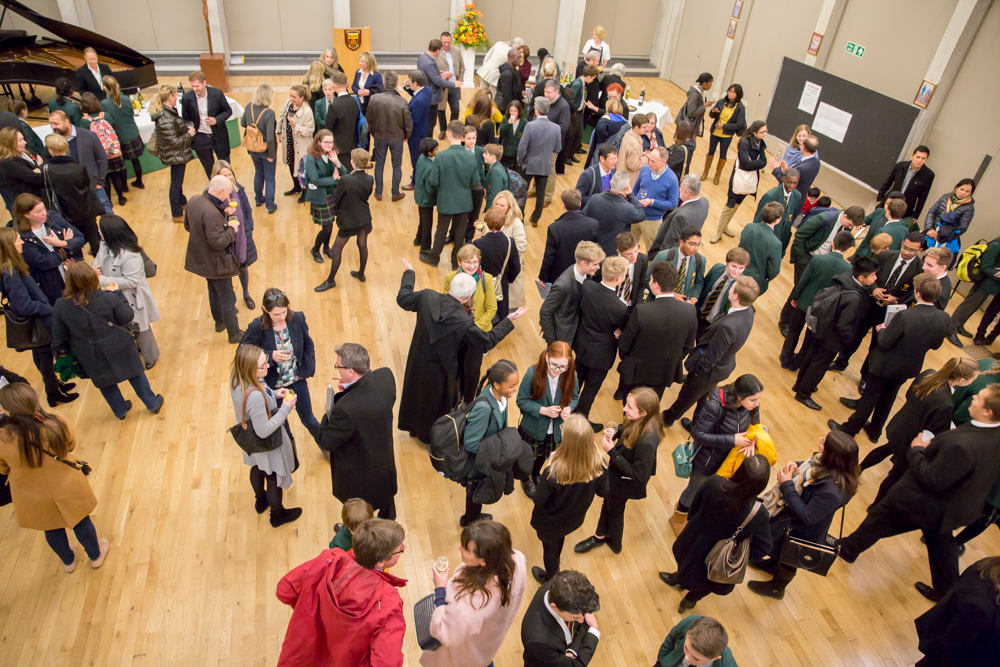 The evening was attended by parents and academic scholars of all ages, from Form 3 upwards, and began with an outline of the Academic Challenge programme at St Benedict's, given by Mr Stefan Scicinski. This wide-ranging programme, which includes various lively discussion forums, independent research projects and weekly talks, is designed to challenge all pupils intellectually, throughout the school.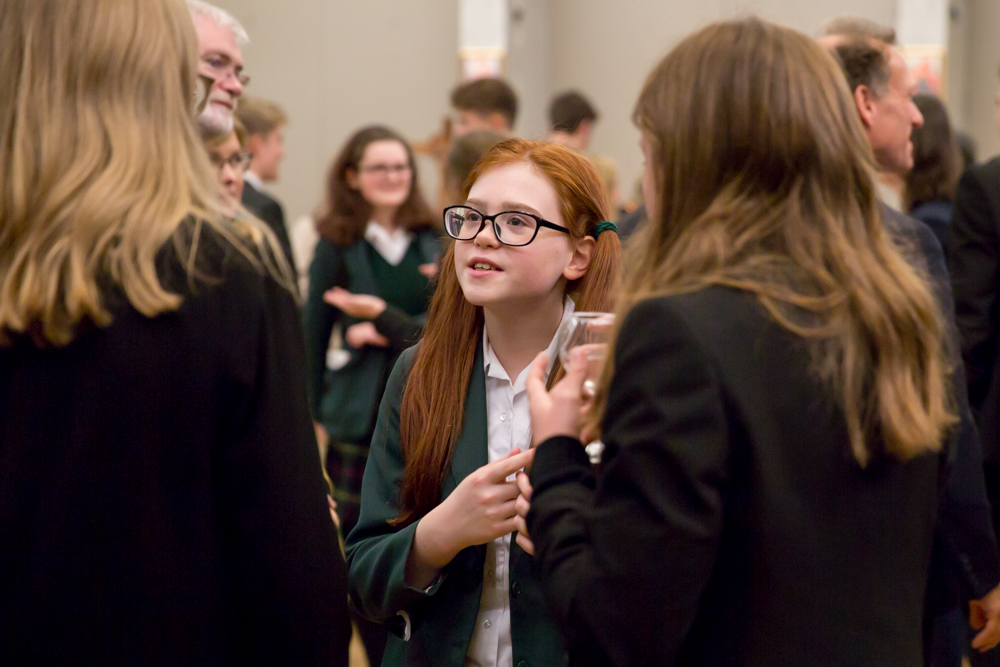 Three Upper 6th Patten scholars then gave presentations on how their awards had enabled them to develop their academic interests. Matthew Barrett, who wants to study German at university, described how the immersive experience of a two week intensive German course in Vienna had dramatically improved his ability to speak the language, especially as he had been accommodated by a host family. To prove the point, Matthew spoke in perfect German, which was translated by Mr Thomas!
Next, Victoria Szymanska, who hopes to study Medicine, spoke about a course for aspiring medics she had attended at Imperial College. The course had given her confidence as she prepared her application, and had confirmed her interest in Medicine.
Finally, Aine McColgan gave an inspiring presentation about what it means to be a scholar, encouraging the younger scholars in the audience to be curious, active and independent in their learning, and to challenge themselves intellectually at every opportunity – through Oxbridge essay competitions, masterclasses and courses. Aine, who wants to study Natural Sciences at university, had organised a group trip to a lecture on particle physics, given by CERN. She is this year's winner of Lord Patten's prize for outstanding scholarship.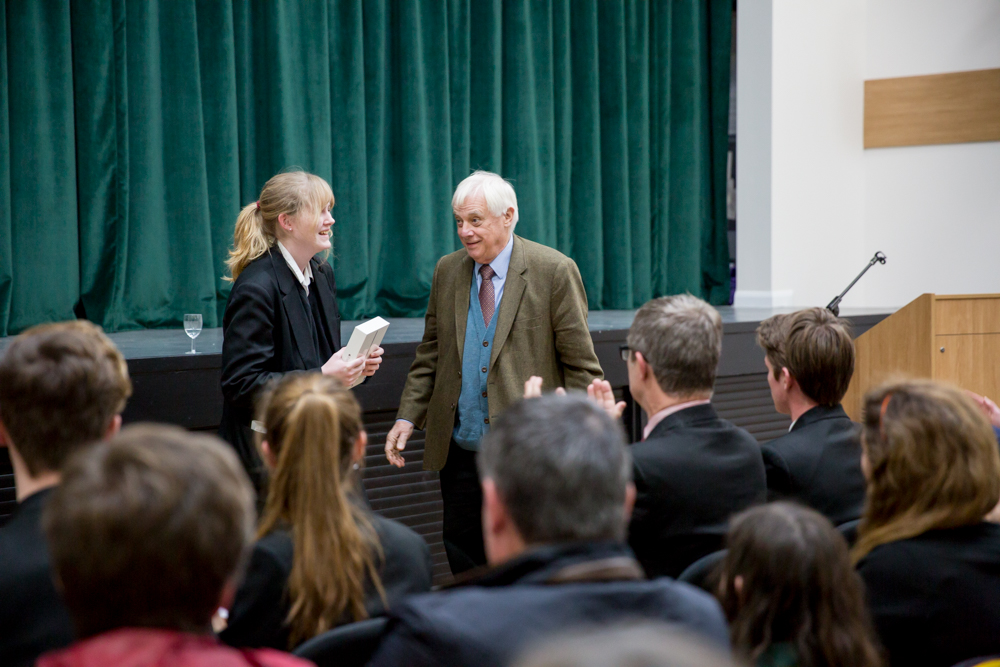 The evening concluded with an address from Lord Patten, who said: "I was wonderfully happily educated at St Benedict's, which formed my fairly strong view of what schools should be like. School is about being more than an exam factory, and should develop talents to the full, educating rounded human beings. It's the total experience, preparing boys and girls to make a contribution to improve society; to put back what we get out." Lord Patten concluded by saying: "I am delighted to see that the school is in such good hands. It has been the greatest pleasure to hear what these young people have been doing as scholars and I wish them, and all the other scholars, the very best of luck."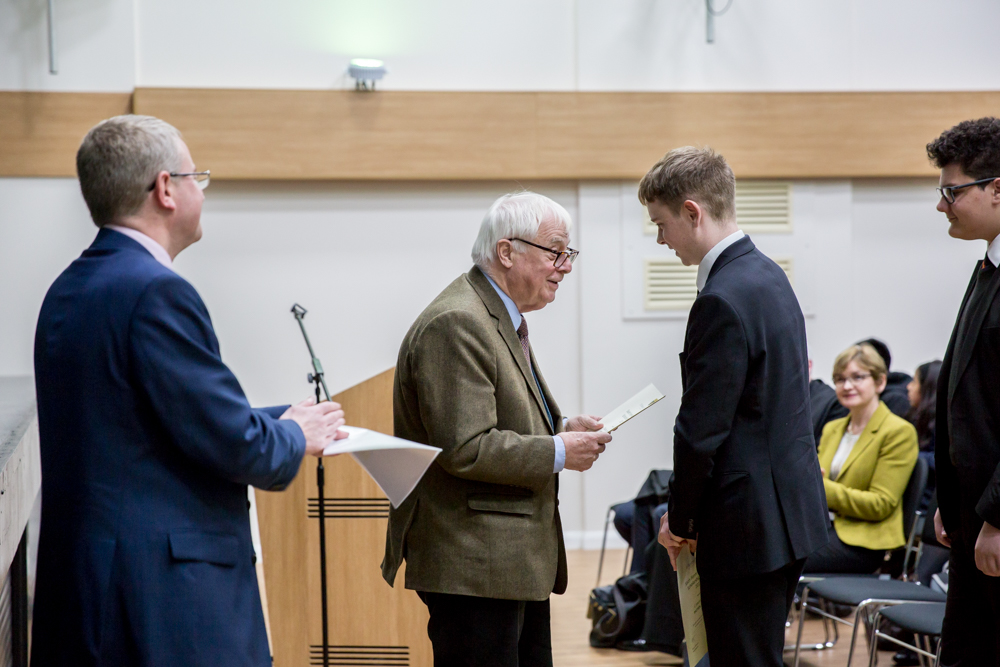 Lower 6th Academic Scholars 2017
Sixth Form Academic Exhibition
William Adams
Eddie Bannister
Emily Baynes
Patten Scholars
Fernanda Da Silva
Max Lubowiecki
Conor Moon
Paulina Sienniak
Abbot Scholars
Phoebe Daly-Jones
Jules Dehon
Coel Ellis
Sam Symes