Tournament victory for the u13s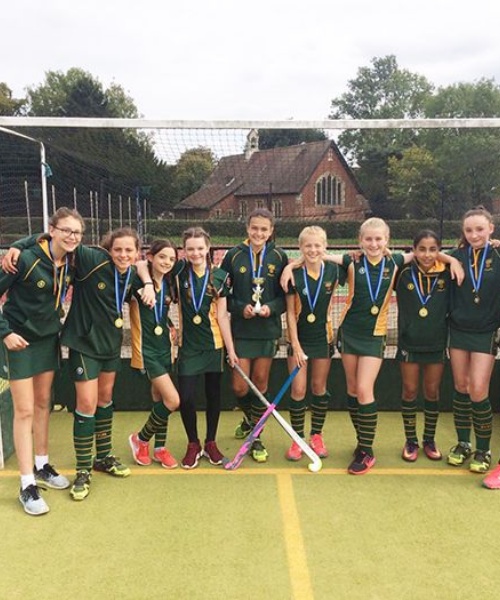 Congratulations to the St Benedict's U13A Hockey team, who won the St Edmund's, Ware Tournament on Saturday, September 23rd!
Their coach, Mr O'Hara, reports:
After a very early start and a long journey, our girls arrived at St Edmund's, Ware, with high hopes for the much awaited tournament.
A challenging first game against Forest School finished in dramatic fashion with Izzy Haran scoring the winner with the last touch of the game, after Mia Hobbs had smashed in a brilliant goal to give us the lead. Izzy Haran continued to lead the way with two goals in the next two games, which saw a 1-1 draw with Belmont and a 2-0 win over Saffron Walden, with Sara Hadji-Heshmati also on the score sheet.
Two frustrating games against Queenswood and St Edmund's both resulted in 0-0 draws with goalkeeper Isabella Downer producing some fine saves to keep us in both matches. Knowing that draws wouldn't be enough, the girls picked up their game in the penultimate match by playing wonderful passing hockey, and beating Heathmount 1-0, with Rachel Kelly getting her name on the score sheet. In a must-win match against Joyce Frankland, the girls played their best hockey of the tournament and finished comfortable 2-0 victors with two spectacular goals from Rachel Kelly.
After some nervous waiting on the remaining fixtures, the girls were surprised but delighted to be named tournament winners and were awarded the trophy.
All girls played as a team with a confidence, positivity and maturity that made me extremely proud to be their coach. To have played seven matches and only conceded two goals shows just how good they were. While all players were exceptional, Natalia McFadzean bossed the midfield with her constant work rate and Sofia Orti, who played with a newfound confidence, were my two players of the tournament.
Massive congratulations to all the girls, and I look forward to progressing further with them this season.