Politics trip to Westminster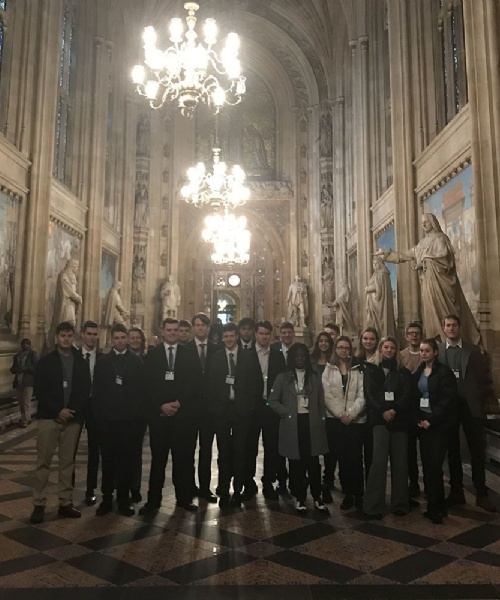 A level Politics students attended Brexit debates in Parliament, met their MP and visited the Supreme Court.
Ben Michael reports:
On 30th January Lower 6th Politics students visited Parliament and the Supreme Court.
Our trip began in Parliament, with a workshop where we participated in really fun and engaging activities to do with different voting systems. My favourite part was when we were divided into political parties and contested in an election. My party managed to win with the most number of seats! We then took part in a quiz on our general political knowledge of elections and the voting systems. Once again, my team came first! We were then lucky enough to meet our local MP for Ealing Central and Acton, Dr Rupa Huq. She gave us a really interesting insight into her life as an MP, and advice if we wanted to get involved in politics. She was very inspiring and interesting to listen to.
We then spent some time watching the debates from the public galleries of both the House of Commons and House of Lords. In the latter we were lucky enough to see the Brexit bill being debated with several high profile members speaking, including Lord Mandelson who suggested that it might be necessary to have a second referendum on the terms of any Brexit deal. In the Commons we watched Brexit Minister Steve Baker respond to Urgent Questions concerning the publication of an economic analysis of the likely impact of Brexit.
After a quick lunch we went to the Supreme Court, the highest court in the land, where we witnessed five of the justices taking evidence from various companies complaining about the selling of counterfeit goods. It was very interesting to watch them interpret key laws under the pressure of a packed public gallery!
The trip was a great educational experience and all Lower 6th students enjoyed the trip. We are all very grateful to Mr Joyce and the Politics Department for giving us this wonderful opportunity.