Spotlight on Spotify
Four St Benedict's pupils visited the Spotify London office, to find out about the company that is changing how we listen to music…
Spotify's Global Agency Lead, Pete Beeney, keynote speaker at the recent St Benedict's Careers Fair, had offered a tour of the Spotify London office to the pupils posing the best questions at the end of his talk. On Friday 26th January the lucky pupils – Lauren West, Ben Michaels, Sebastian Ruano-Knapp and Sophie Slaughter – were treated to lunch (burgers and shakes - Five Guys!) and a trip to Argyll Street, next to Oxford Circus.
The ability to turn up, work hard, be adaptable and positive is of massive value.
Spotify has over 140 million active monthly users and 4,000 employees since its launch in 2008. The visit gave them a fascinating insight into what it's like to work in a company that wants to revolutionise how music is distributed.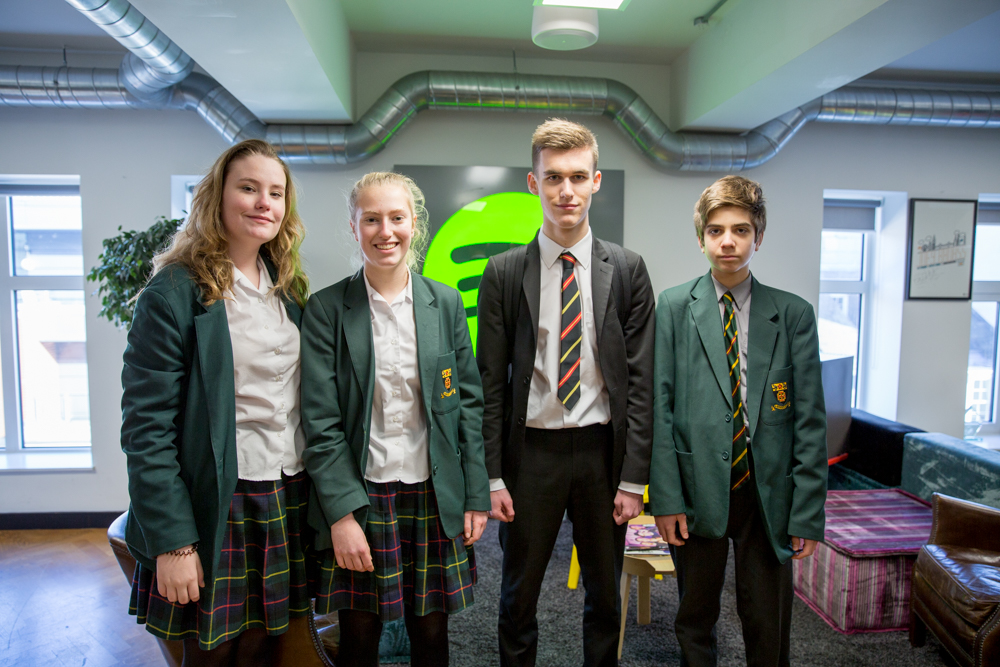 At the Careers Fair, Pete had spoken about the importance of being open to opportunities, personal growth and risk taking, all of which had led him to the top of this highly successful company: "The ability to turn up, work hard, be adaptable and positive is of massive value."
Unsurprisingly, his words were reflected in the working environment and ethos at Spotify: everyone noticed the inspirational artwork, relaxed atmosphere, and the open, collaborative work space – all of which supported Spotify's creative approach.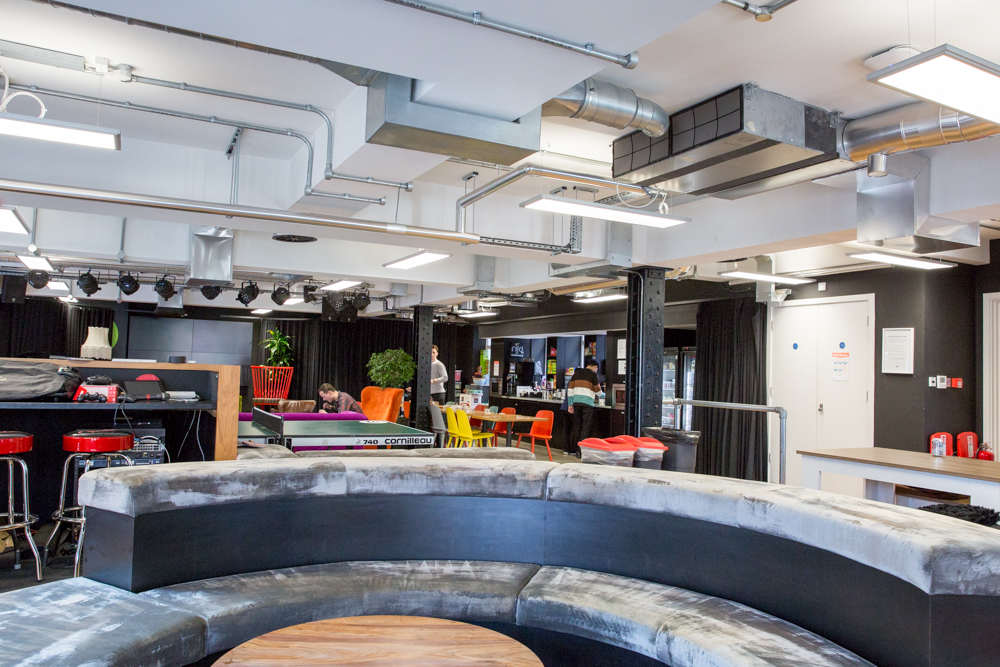 Pete emphasized the importance of people and the unique Spotify culture. He also explained how important data and analytics are to Spotify. As a digital streaming service, Spotify is rich in digital analytics, and understanding and using data is critical to success.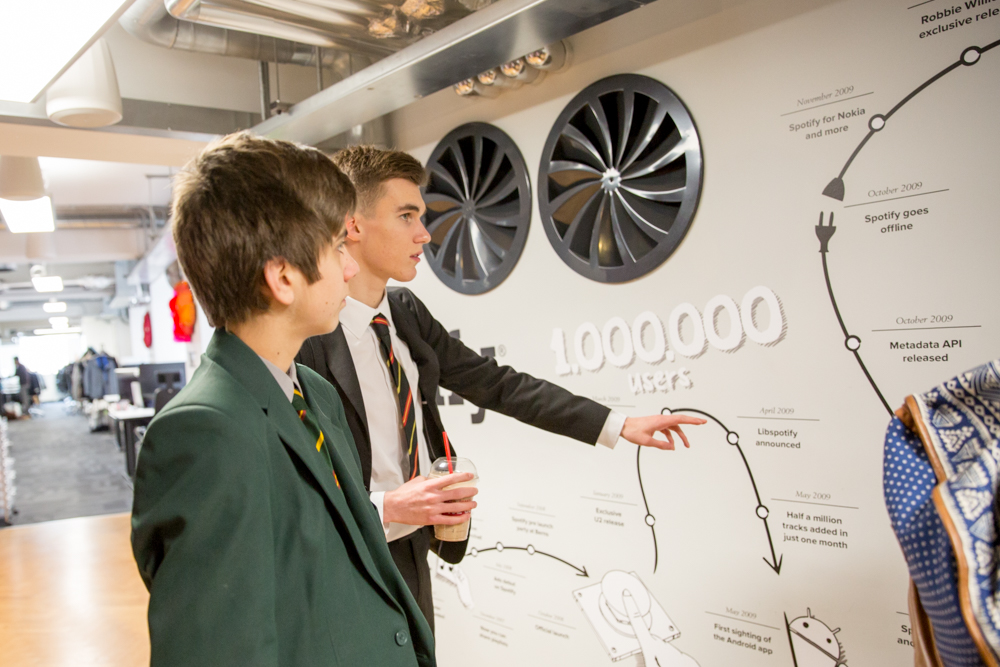 Mrs Kathyrn Norris, from St Benedict's Careers Department, said: "Spotify is smart without being about wearing suits: it's relaxed without being lazy; it's collaborative whilst still recognizing that every individual brings something unique. Above all, everyone shares a vision. It is probably best characterized by Pete Beeney. Lauren and Sophie noticed how open and polite he was to every colleague he encountered, as well as incredibly generous in his time and explanation with us. Ben was delighted to have more insightful advice on his comedy app, Laughs, as he currently investigates whether he wants to secure another round of investing.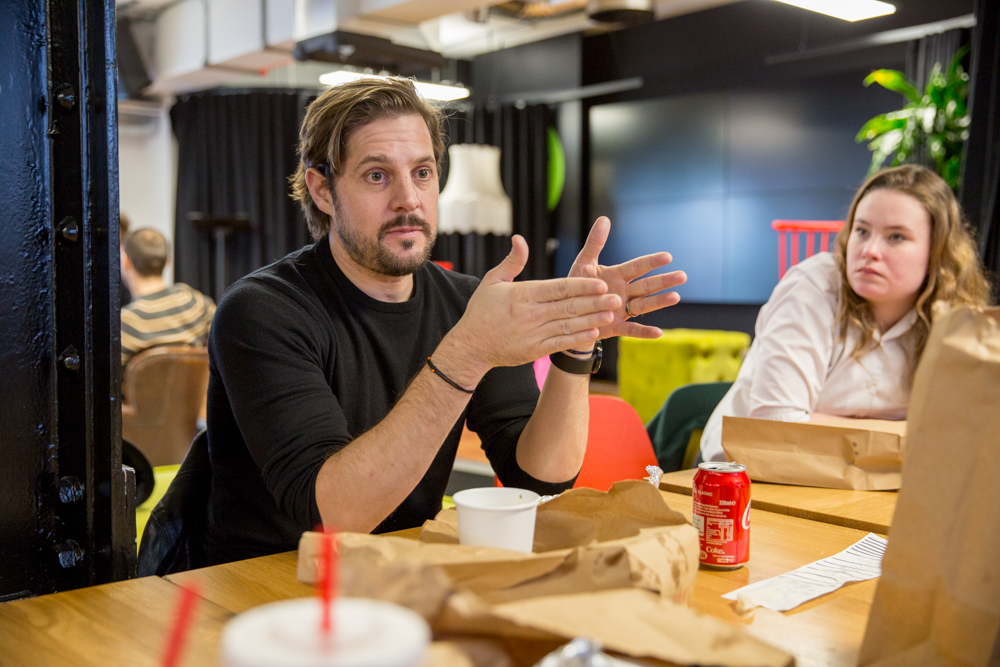 And as we completed lunch with a tour of the office, it became clear that at Spotify the office is not a place where people have to go to work. Instead, their work place is a place where people choose to work together."
After the visit, Pete said: "I feel privileged to take part in their learning experience, and hope it helps provide some valuable insight as they start to plan the next stage of their lives."
Ben said: "I really enjoyed my trip to Spotify and I am very grateful that I had the chance to meet Pete Beeney! The thing I enjoyed most about the tour was getting to know Pete and getting great advice about my own business called Laughs. Pete was very supportive of my app and gave me great ideas on how to make it successful, even offering me support if I need any! It was wonderful to see the culture and environment that Spotify employees work in. The openness and inclusivity of Spotify very much attracts me to want to work there. I loved every moment of the trip and cannot thank Pete enough for giving me the opportunity to visit Spotify.
Sophie said: "I thoroughly enjoyed my experience at Spotify and understanding the ideas behind the business. These included wanting fair profits for the artists as well as giving them an insight into who is listening to their music."
The winning questions:
1 Lauren West (L5/Y10)
"If you were creating a playlist of 3 songs to describe what it's like working at Spotify, what 3 songs would you choose?" (Pete chose Changes by David Bowie; Faith by George Michael and Truckin' by the Grateful Dead, for the line 'What a long strange trip it's been'.)
2 Sebastian Ruano-Knapp (U4/Y9)
"If you had to choose between a very academic candidate or a very innovative candidate for a position in your team, who would you choose and why?"
3 Benjamin Michael (L6/Y12)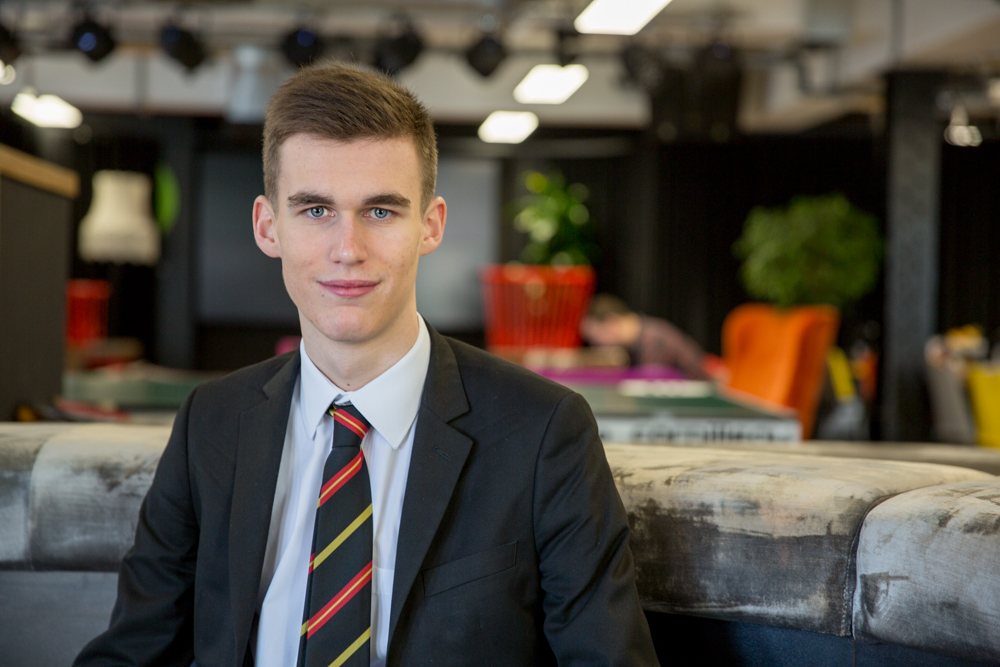 "Last year I launched my own comedy social media app and I've secured £75K investment. As a young entrepreneur what advice would you (and Spotify) give me on how to grow my consumer base?"
4 Sophie Slaughter (U5/Y11)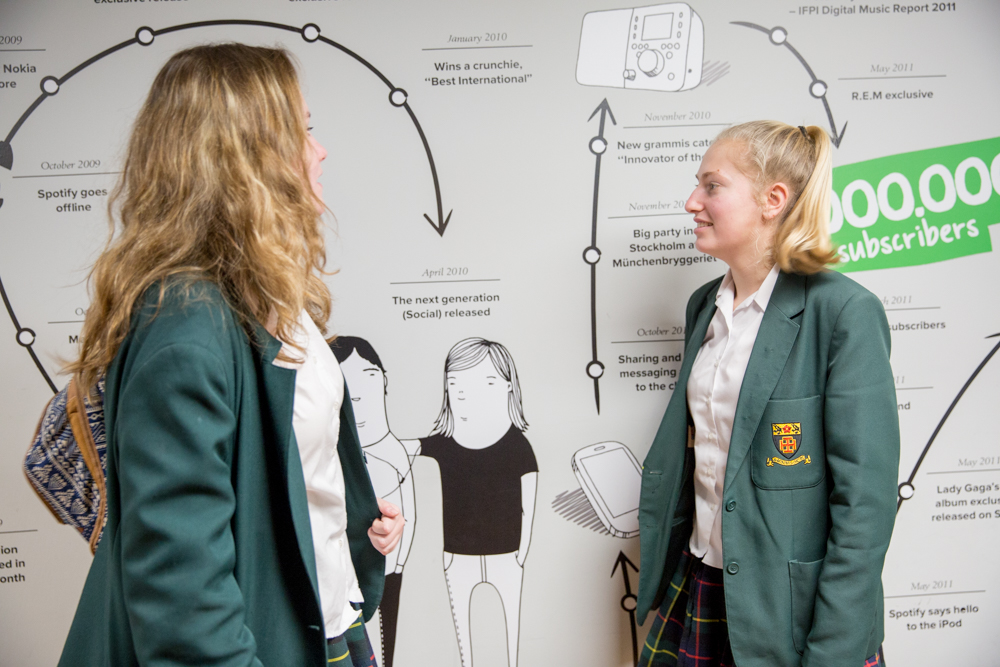 "How do you utilise young graduates to predict new trends and stay ahead of the competition from free online music companies?"