St Benedict's Music Festival 2018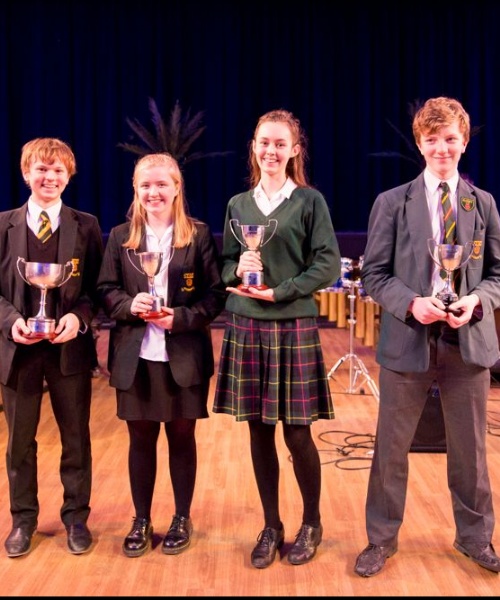 Once again, there were some outstanding performances at the Music Festival Final, adjudicated by conductor Nicholas Chalmers.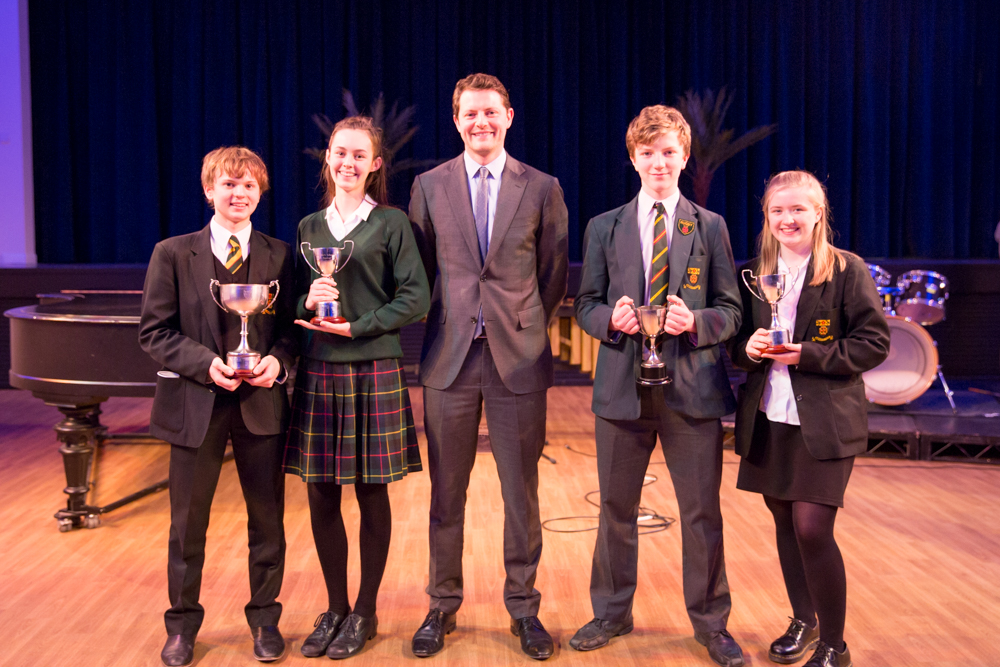 The St Benedict's Music Festival concluded with the Finalists' Concert, on Monday January 29th in the Orchard Hall, with fine performances from the winners of each heat. The Festival had been running throughout the previous week with 250 solo and group entries.
This year's adjudicator was conductor Nicholas Chalmers, who is widely recognised as having established some of the most exciting and highly successful artistic projects in the UK in recent years. He is the artistic director of the award winning Nevill Holt Opera (Best Festival 2016), conductor with Northern Ireland Opera and a founding artistic director of Second Movement, a London based chamber opera ensemble.
An impressive programme of extremely assured performances presented Mr Chalmers with a formidable task. He congratulated St Benedict's on the excellence of its music department, commenting in particular on the high standard of singing throughout the school, the talent of the pupils and the evident quality of music teaching. He also thanked the accompanist, Mr Peter Jaekel, and gave helpful feedback to each competitor.
Music Festival 2018 Results from the Final
Flohouse Cup Douglas Ashby (Marimba and Piano)
Fabian Theory (Westlake) and Sonata Pathetique, Mvt I (Beethoven)
Senior Section Cup (L6 & U6)
1 Rosalind Sheehan (Voice) : I'm still hurting (Jason Robert Brown)
2 Victoria Szymanska (Violin) : Czardas (Monti)
3 Alex Holmes (Drumkit) : No one knows (Queens of the Stone Age)
Intermediate Section Cup (L5 & U5)
1 Valentina Elner-Kupcha (Clarinet) : Brazileira (Milhaud)
2 Duncan Ashby (Marimba) : Prism (Abe)
3 Dominic Lopes (Bass Guitar) : Detroit (Miller)
Junior Section Cup (F3, L4 & U4)
1 Jem Mawer (Drumkit) : Full English Breckerfest (Alderidge)
2 Lucas Holmes (Piano) : Forcing the Pace (Norton)
3 Toby Daniels-Shayvard (Voice) : Cherry Tree (Armstrong Gibbs)
During the adjudication, the winners of the Junior and Senior Ensemble/Band classes performed: