The St Benedict's Careers Fair 2017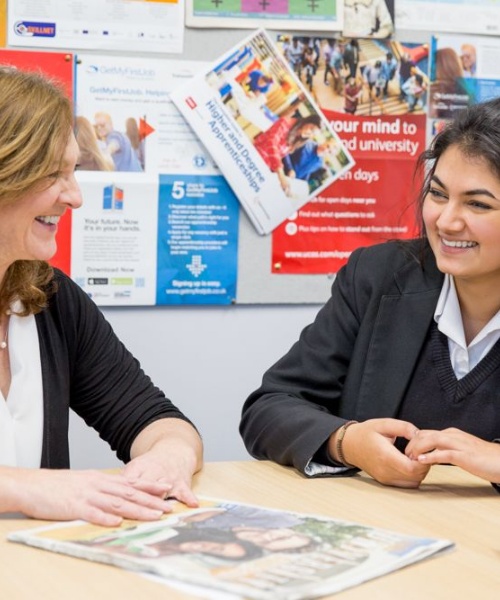 The St Benedict's Careers Fair will provide a unique opportunity for our pupils to explore their possible futures and career pathways, on Thursday November 30th, 6.00pm-8.30pm
The event comprises 3 main features:
- 140 companies with mentors manning stalls throughout the evening, representing careers from accountancy to archaeology, music to medicine
- Six expert speakers representing careers in academia, creative industries, law, STEM, theatre, university and industry interview techniques
- A Keynote speaker from Spotify delivering his perspective on his personal career journey.
We are absolutely delighted to welcome Pete Beeney, the Global Agency lead at Spotify. Launched in Sweden in 2008, Spotify now has over 140 million active monthly users - including the vast majority of St Benedict's pupils!
Pete Beeney has spent the last 5 years at Spotify helping brands and agencies to understand the behaviours of streaming music listeners, assisting them to craft more effective communications. He has worked with a range of diverse brands, from Unilever to BOSE, having collaborated with the latter to help win a Bronze Lion at Cannes for "Better Content through Data".
'A CAREER IN LAW' His Honour Judge Robin Bedford
Admitted as a solicitor in 1988, appointed a District Judge in 2007, sworn in as a Circuit Court Judge in 2013 and authorized to sit as a Judge of the High Court in 2016, His Honour Judge Bedford will deliver a unique insight into entering and pursuing a career in law.
'CAREERS IN THE CREATIVE INDUSTRIES' Bassistry Ltd:
Marcel Pusey, Mark Welland, Richard Cassell
Bassistry won the Shell Livewire Business Award in 1995 and provides award winning song-writing, world music and contemporary music experiences for children at schools and colleges throughout the UK, Hong Kong, Australia, Singapore and the USA.
Successes include Ivor Novello Awards, Emmy Nominations, albums and performances with major international artists. Bassistry have a wealth of experience and knowledge to share with young people!
'ACCESSING ACADEMIA'
Dr Richard Curtis
A Senior Lecturer at Kings College for 20 years, Dr Curtis will present on how to drive a successful career in academia. He is a leading figure in European and UK Superplastics and qualified as both a Chartered Engineer and a Chartered Scientist.
'WOMEN AND STEM'
Professor Barbara Shollock
As Academic Director of WMG at Warwick University, focusing on engineering and applied science and innovation, Professor Shollock will be talking on careers in STEM.

She holds degrees in Engineering from the USA and a Doctorate from the University of Oxford.
'TIPS, TECHNIQUES AND TALKING - SUCCEED AT INTERVIEWS'
Kate Chacksfield, Media Coach, ChaxMedia
A broadcast media career spanning local radio and national television, the BBC and SkyNews, equipped Kate to found ChaxMedia, specialising in media, interview and presentation skills.
She will focus on the tips and techniques required to ensure students succeed at university interviews!
'SO YOU WANT TO GET INTO THEATRE?'
Oran Doyle & Rory Quinn (OPs 2010)
Graduating in History from York, Oran completed a Masters in Creative Producing at the Royal Central School of Speech and Drama and now works as a freelance producer across London. Rory followed an English degree at Durham with stage training at Rose Bruford College and works as an actor/musician, represented by Michelle Braidman Associates.
Together they will describe their route from St Benedict's to a career in theatre - and the grit required behind the glamour.
The St Benedict's Careers Fair 2017 promises to be an invaluable and informative event for our senior school students.