Eco Council donates £1,000 to Fairtrade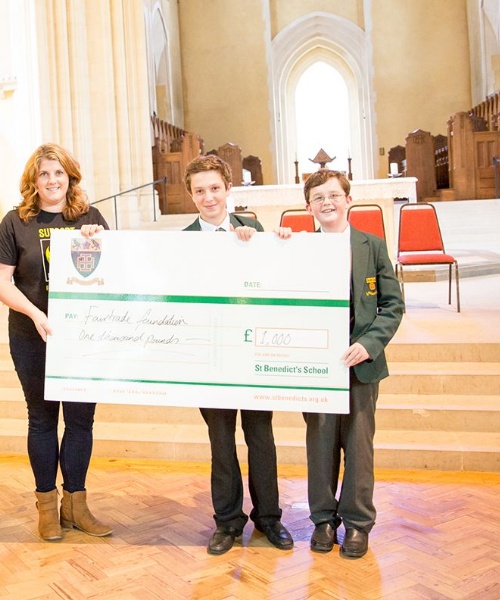 A Fairtrade Presentation and Workshop for all pupils in Form 3 and Lower 4 (Years 7 and 8) took place at St Benedict's. Eco Council then presented a cheque for £1,000.
Joanna Milis, Education Manager at the Fairtrade Foundation, came to St Benedict's to talk about Fairtrade's work. Pupils learned that Fairtrade makes a difference to the lives of the people who grow the things we love, by changing the way trade works through better prices, decent working conditions and a fair deal for farmers and workers in developing countries. A live link to a tea farmer in Kenya gave pupils the opportunity to speak directly to someone who is benefiting from Fairtrade's work.
The Eco Council has raised £1,000 for the Fairtrade Foundation, and a cheque was presented to Ms Milis in assembly afterwards.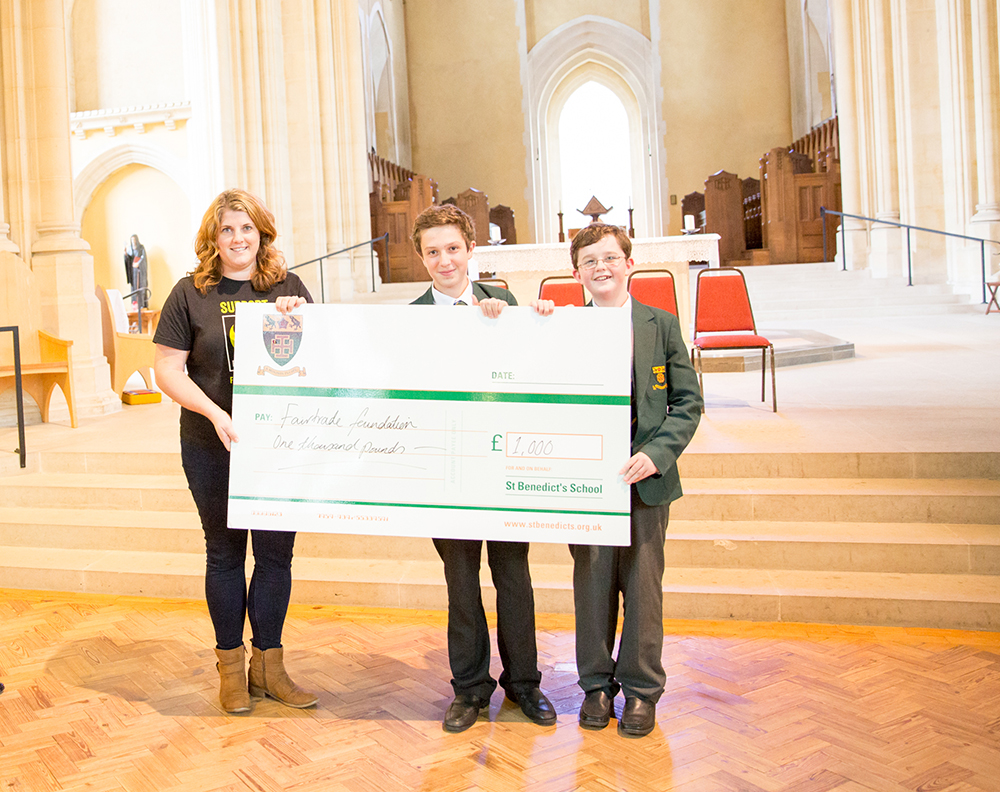 Joanna Milis receives £1,000 from St Benedict's School
Conor Dolan (Lower 5th)
Form 3 and Lower 4 attended a Fairtrade Presentation and Workshop organised by the St Benedict's Eco Council. Ms Joanna Milis, from Fairtrade Education, spoke about the global economy, product chains and global citizenship, and illustrated the work that Fairtrade does to support farmers all over the world.
This was very interesting, and the highlight was the live link to speak to Patrick, a tea farmer in Kenya, who answered our questions and spoke to us directly. Patrick had a wicked sense of humour and had both pupils and teachers laughing! He was clearly very passionate about his job.
Laurence Daly Jones (Lower 5th)
After the Fairtrade Presentation, Conor and I presented a cheque for £1,000 to Ms Milis, who accepted our donation on behalf of Fairtrade. The money had been raised through our Eco Council cake sales, film nights and lunchtime activities, which raise awareness of this great cause. I really enjoy all the fundraising because I like helping people who are less fortunate than us.